Naruto: How is Hidan Immortal?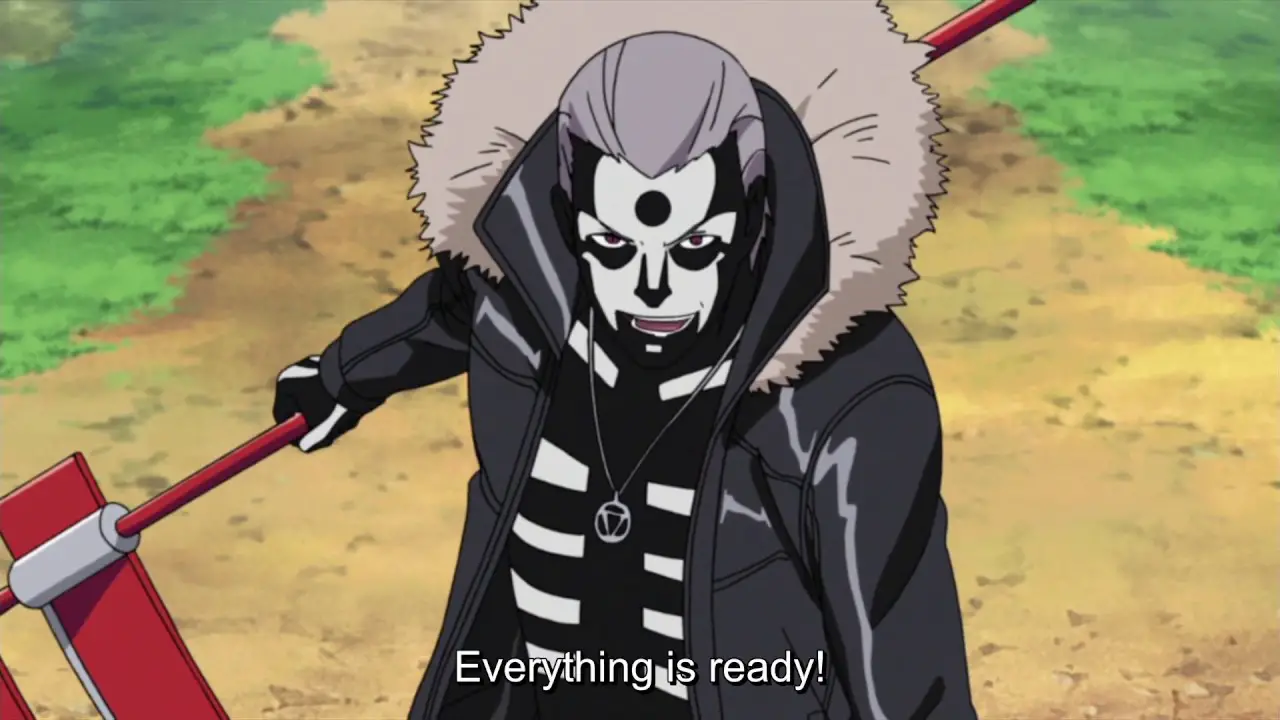 Hidan was a former member of Akatsuki, paired alongside Kakuzu. He had an immortal body due to which physical attacks didn't affect him and he stayed alive even after his own head got decapacitated. There isn't a whole lot of information about Hidan's immortality and is never explained in the canon story. But there are only a small amount of sources such as fanbook and Boruto Anime which give us insights about Jashin and immortality.
---
How is Hidan immortal?

Hidan is immortal due to a secret Ninjutsu that involves sacrifices of people and is acquired due to successful experiments done in the name of Jashinism. He is the first successful case to acquire so we can assume that nobody else has an immortal body due to Jashin. His complete belief in The Way of Jashin is due to him acquiring immortality.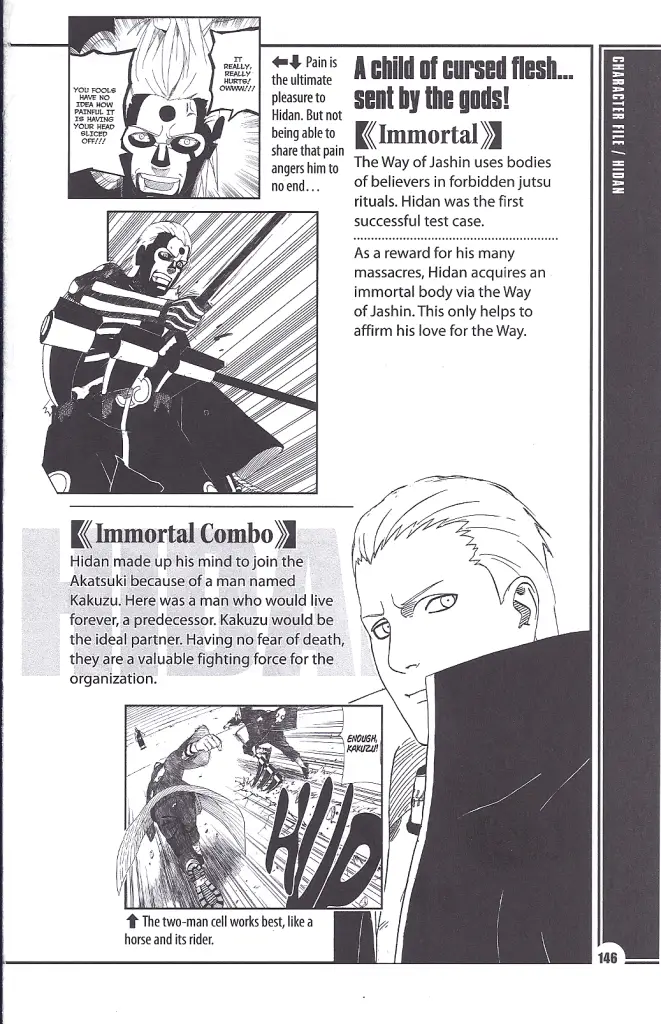 Though Hidan specifies his immortality as a power due to his way of Jashin, it is actually just one of forbidden Jutsu requiring several sacrifices. In a way, it is similar to the Summoning: Impure World Reincarnation technique that summons dead people back to the real world by using a living body.
---
Addition info about Immortality in Boruto

In Boruto – Next Generations, Kakashi, Guy, and Mira (daughter of Asuma) goes to the Land of Hot water for a mission. Ryuki, a member of Land of Hot Water and also a follower of Jashin and Hidan tries to attain immortality by sacrificing several young girls. From this, it is pretty clear that several living people have to be sacrificed for attaining immortality.
---
Cursed Art: Blood Rite Death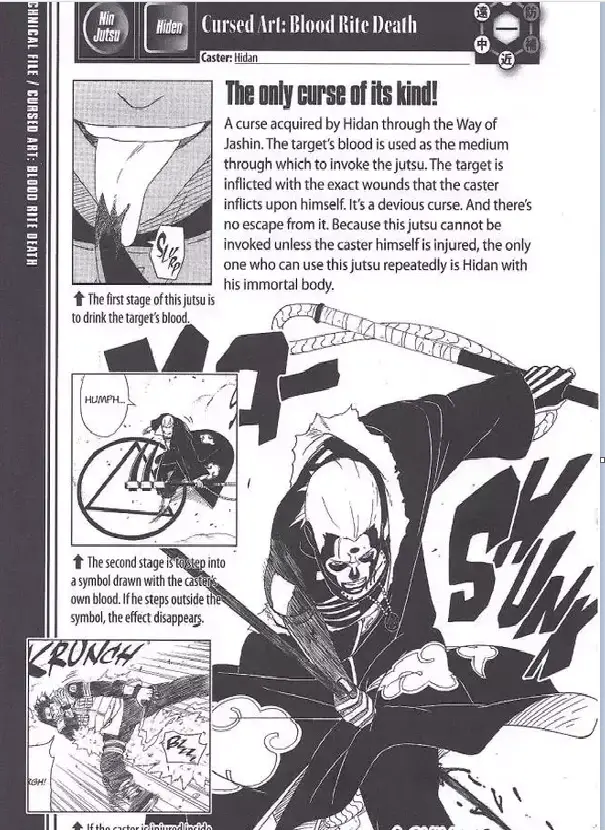 Hidan acquired this curse technique through his Way of Jashin. After ingesting the blood of the target, the target is inflicted with the same wounds as the caster inflicts upon himself. Thus Hidan alone can use this technique since it involves the caster to injure himself and only Hidan with his immortal body can perform it. The caster will have Grim Reaper-like patterns all over his body.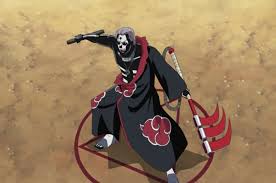 Steps to perform Curse Art ritual:
Caster has to drink target's blood.
The caster must enter into a symbol drawn by caster's own blood.
The injury suffered by caster will be equally suffered by the target.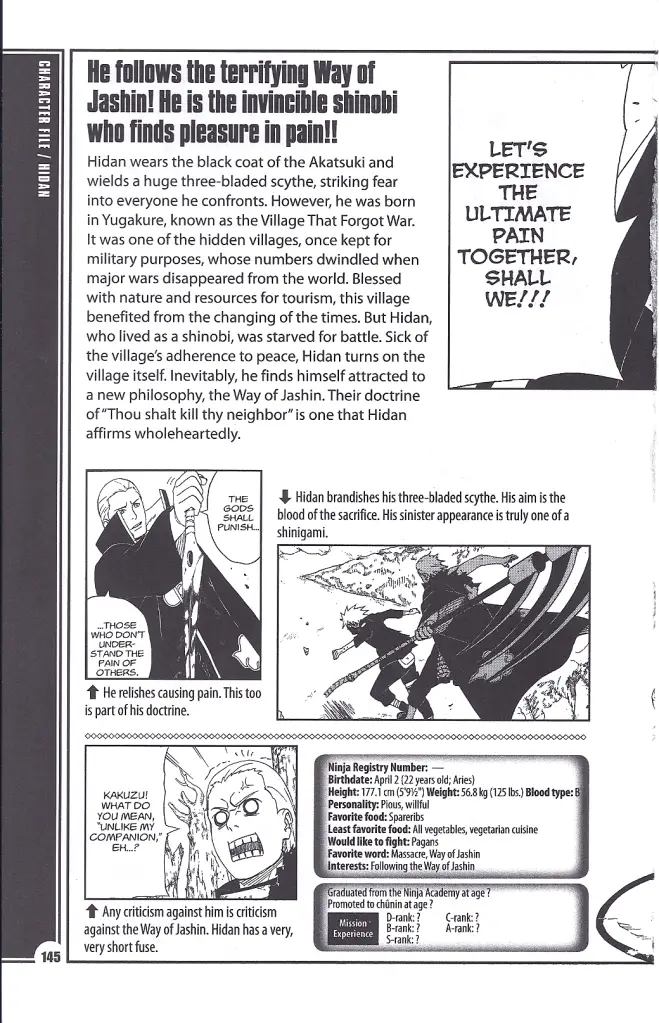 ---
Relation between his Immortality and Cursed Art Technique

His immortality technique and his cursed blood rite death are independent of each other. But the immortality allows Hidan to use the Cursed Art technique since only he can remain alive using it. Others can use Cursed Art technique but will end up killing themselves since one has to injure herself to perform this technique.

In Boruto Anime, Ryuki uses a slight variation of this, Curse Technique: Body Controlling Manipulated Blood. By using this he controls another person via a puppet by injecting their blood initially. The controlled person has the same Grim Reaper-like pattern on her body as Hidan has when he performs the Curse. This can be a confirmation that both Immortality and Cursed Art techniques are independent of each other.
---
Immortality Jutsu Weakness

The only way to kill Hidan is to malnutrition him. He stayed alive even when his head was decapitated by Asuma.
---
Cursed Art Technique weakness

Hidan will also feel the pain when he is inflicting injuries to himself. He has to stand in the symbol to perform this technique and it takes time to start the ritual.
---
Kakuzu and Hidan – Immortal Combo

The only reason Hidan joined the Akatsuki is his interest in Kakuzu's immortal body like himself. Hidan considered Kakuzu as his predecessor. Since Kakuzu cannot kill Hidan, there will no need to change partners when Kakuzu enters his fits of rage which previously has killed his partners. Kakuzu and Hidan though disliked each other used immortality to their advantage since they can both attack freely.