Hunter X Hunter Best Arcs: All Arcs Ranked From Worst To Best.

Hunter X Hunter is one of the best anime series of all time. With its adventurous, action-packed story combined with gritty and dark moments, Hunter X Hunter leaves an everlasting impact on the viewers.
There are seven arcs in the anime. I haven't included the manga arcs that haven't been animated yet, so there will be spoilers.
7. Greed Island Arc
Episodes: 59 to 75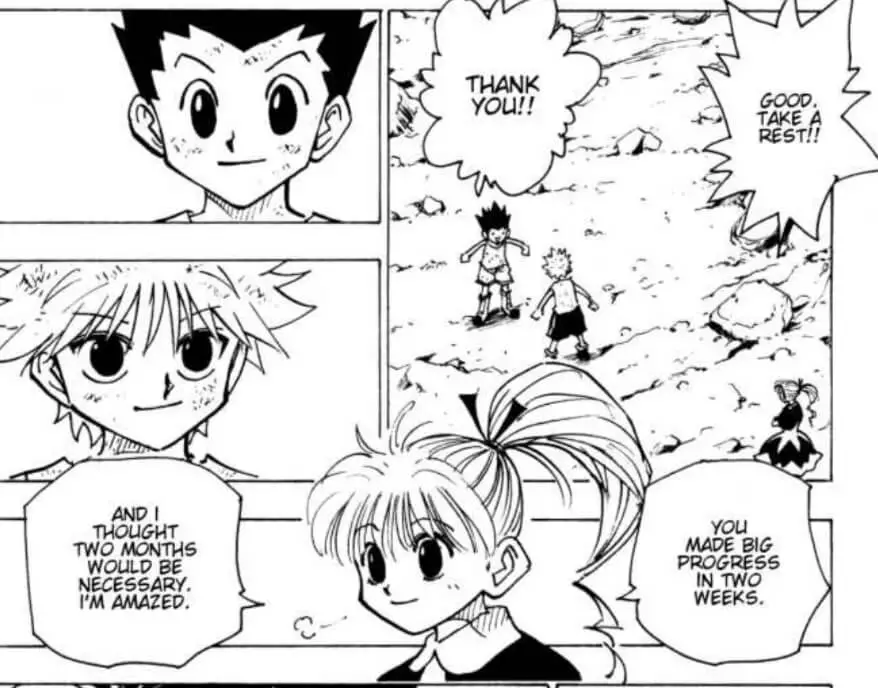 Greed Island arc tells the story of Gon and Killua entering a game called Greed Island. Greed Island was created by Ging Freecs along with 10 of his friends. Greed Island is a real-life island where the players get transported when starting the game. While playing the game, a bomber starts killing others for their cards. Gon, Killua and Biscuit defeat the bomber and Gon meets Kite.
This arc lacks the Hunter X Hunter feel to it. Physically going to a game world is a concept that is difficult to engage with. But I think Greed Island happening on a real island is great and also the game elements aren't emphasized too much which was good.
Genthru was a really underwhelming villain for a series that has some of the best antagonists in manga ever. Compared to Hisoka, Chrollo, Mereum, etc Genthru just isn't interesting in any way.
The only interesting new characters are Biscuit and Razor to an extent and most of the other side characters are unforgettable that I didn't even remember anyone's name.
Notable Moments:
Gon Vs Genthru.
Biscuit 's Introduction.
Dodge Ball Game.
6. Zoldyck Family Arc
Episodes: 22 to 26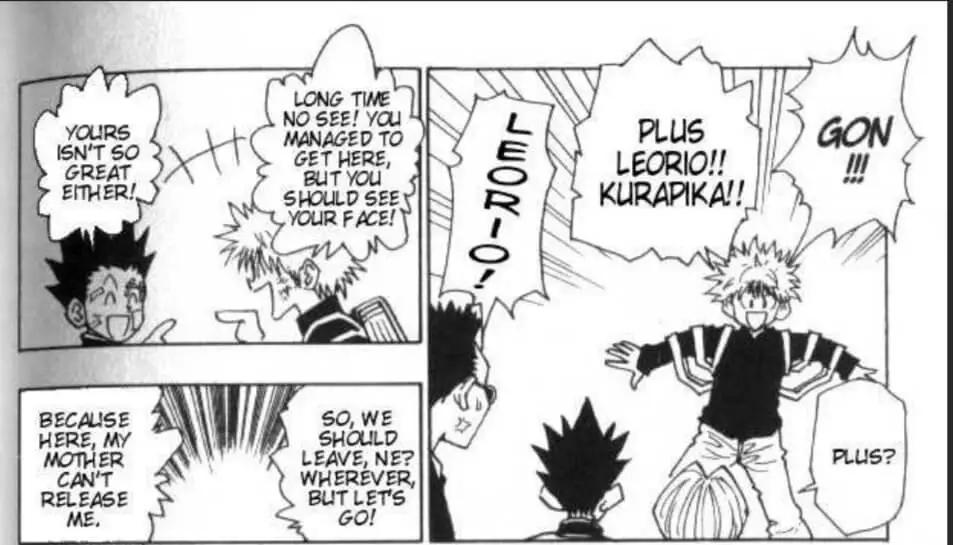 Zoldyck Family arc tells the story of Gon, Kurapika, and Leorio going to Zoldyck mansion to retrieve Killua. On their mission to go inside the mansion, they face few problems like opening the door, Canary, Butlers, etc but eventually Silva Zokdyck allows Killua to leave. Zoldyck family members are introduced in this arc and all of them are interesting and unique including the butlers.
It is a very short arc and lasts just five episodes. It seemed like there will be serious fights to retrieve Killua, but the arc subverted the expectations. I think that is a great decision to not stretch this arc more than that. For its length, it is great but obviously will be ranked lower than other arcs due to lack of content. Despite the short screen time, the members of the Zoldyck family were captivating.
Notable Moments:
Gotoh's Coin trick against Gon.
Meeting Of Silva and Killua.
5. Heaven's Arena Arc
Episodes: 27 to 36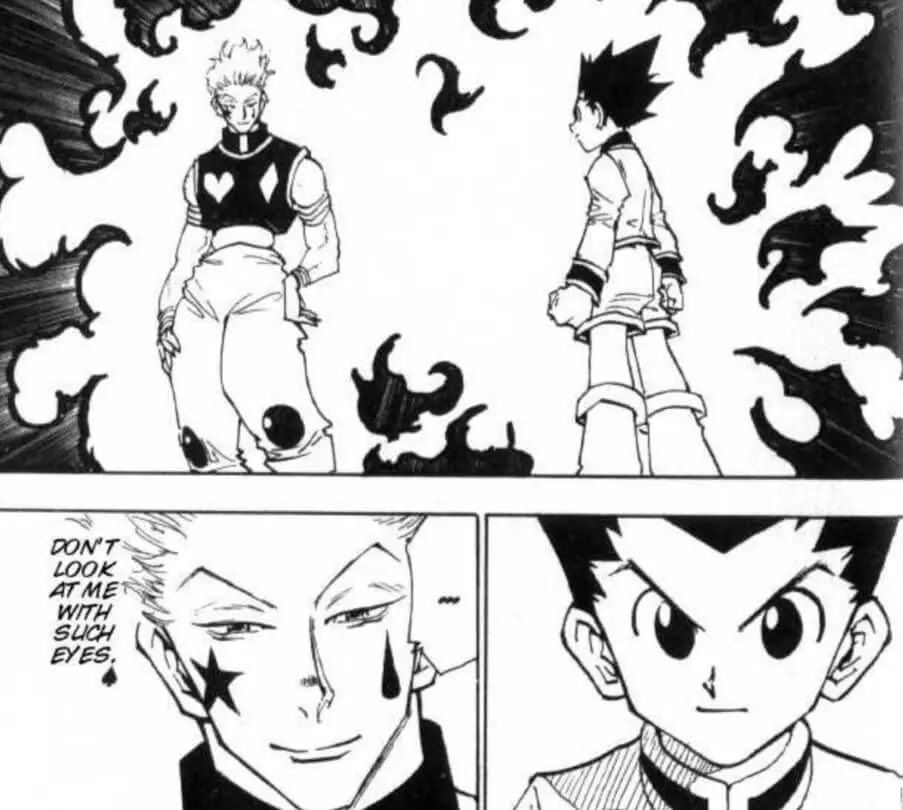 Heaven Arena arc tells the story of Gon and Killua entering the competition in Heaven's arena. They find about Nen and learn it under Wing. Gon and Killua are shown to be prodigies as they learn Nen at an alarming rate. Gon meets Hisoka and fights him in the arena but loses the fight. Hisoka also fights against Kastro and it is revealed that he is also part of the phantom troupe. We also see Kurapika trying to get a job and learning Nen.
This arc doesn't drive the story forward but rather acts as a visual spectacle. Nen is introduced and it is one of the best power systems in anime. Gon's fight with Hisoka is really good. Hisoka shines throughout this arc and shows why he is one of the most iconic characters in anime ever. Barring Hisoka, other fighters in the arena aren't memorable.
This arc lacks any stakes or emotional storytelling that is in other arcs due to which I cannot put it any higher.
Notable Moments:
Gon's fight with Hisoka.
Hisoka's fight with Kastro.
Episodes: 1 to 21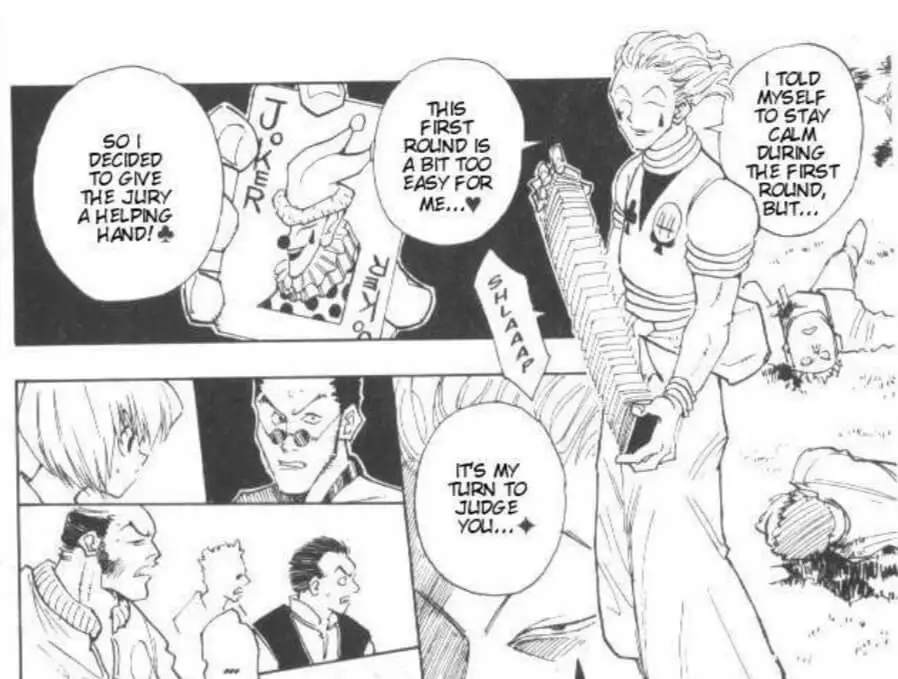 This is the first story arc of the series which tells the story of how Gon enters the license exam and meets Killua, Kurapika, Leorio. They compete in the five-phase exam in which Gon, Kurapika, Leorio passes but Killua fails. Also, Hisoka and Illumi are introduced. The first phase is a very long Marathon, the second one is a cooking phase, the third one is the Trick tower, the fourth round is a manhunt in Zevil Island and the last phase is a fighting tournament.
Tournament arcs aren't my favorite things in anime since they end up underwhelming storywise usually but Hunter examination delivers by not having certain cliches. The arc doesn't focus too much on the power level and the fights, which really helped the narrative. Also, the dark aspects of this arc and the presence of chaotic characters like Hisoka and Illumi make this an amazing arc. The questionable morality of the main characters and the ruthless Hunter X Hunter world in this arc makes this a great arc.
Notable Moments:
Gon gets the batch from Hisoka.
Killua takes heart from Johness.
Gon's stubbornness against Hanzo.
3. 13th Hunter Chairman Election Arc
Episodes: 137 to 148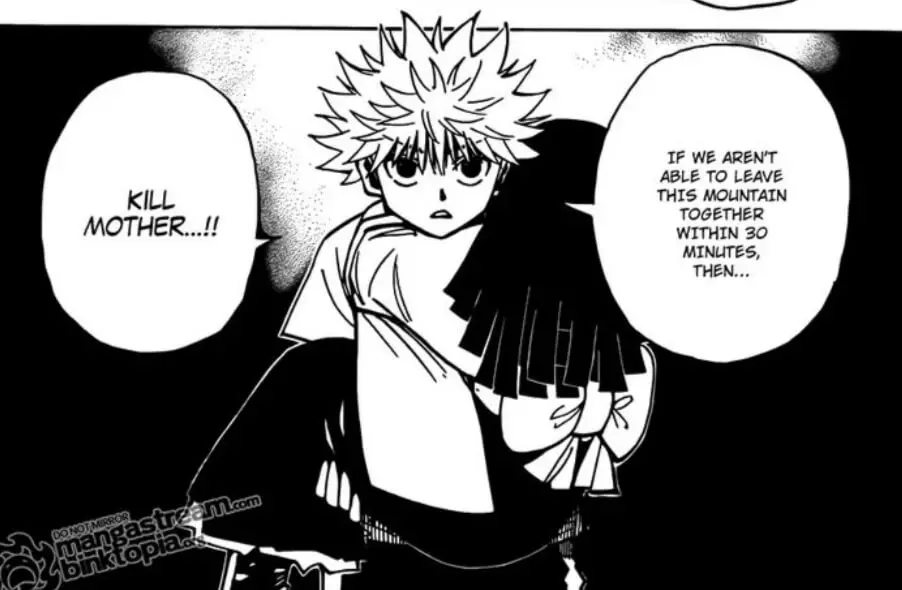 Election Arc tells the story of the chairman's election to decide the next chairman as Netero died fighting Mereum. Zodiacs are introduced which includes Ging and Pariston Hill. Parallelly, Gon is fighting for his life due to the power he gained by his resolve in fighting Neferpitou. Killua tries to get Alluka to save Gon. We get introduced to Alluka/Nanika and her powers. Also, Gon finally meets Ging and Ging drops the existence of the Dark Continent.
This arc is one of the most underrated arcs in the series often gets overshadowed by the Yorknew City arc and the Chimera Ant arc. On its own, it is really enthralling with two separate stories intertwined.
Pariston Hill is another character that is amazing just being in few scenes. The battle of wits between him and Ging were fun to watch. Also, we get to see Killua's more emotional side, and his role as a friend and as a brother was great to watch. The introduction of the Dark Continent was an amazing development.
Notable Moments:
Ging meets Gon
Killua accepts Nanika.
Gotoh's fight with Hisoka.
Dark continent Name drop.
2. Yorknew City Arc
Episodes: 37 to 58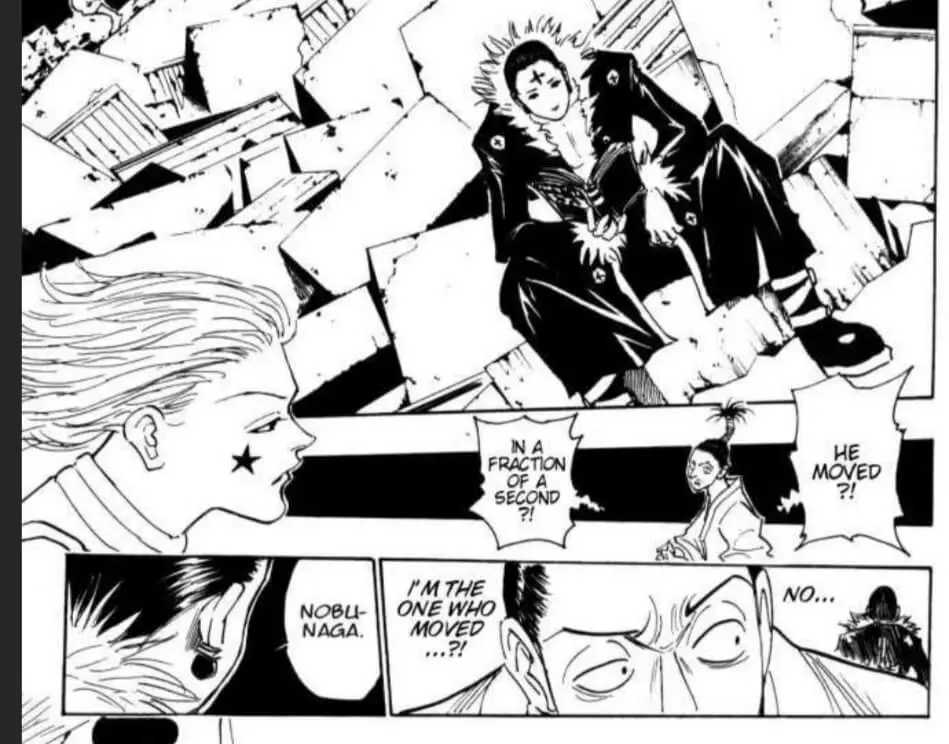 This arc takes place in Yorknew where Gon, Killua, Leorio, and Kurapika agreed to meet. Kurapika joins the Nostrade family of bodyguards while Gon, Killua, and Leorio meet together. Phantom Troupe is introduced and they steal everything in the auction house. Shadow beasts try to stop them but get defeated. But Kurapika captures Uvogin and then later fights him leading to Uvogin's death.
Phantom Troupe hunts Kurpaika without knowing his identity. Gon and Killua are captured by Troupe while Chrollo is captured by Kurapika. Later it becomes a cat and mouse with each side wanting to outsmart the others. In the end, Kurapika sets a Nen chain on Chrollo and Pakunoda. But Pakunoda breaks it thus gets killed but reveals the identity of Kurapika to others. Hisoka acts as a wildcard in this arc helping Kurapika.
Yorknew City Arc is perfect and doesn't have any issues. The arc is really fast-paced with great storytelling. The plot is extremely non-linear and unpredictable and the usage of Nen as a power system was just a treat to watch here. Phantom Troupes are extremely interesting with each character having their own personality. The dynamic between the Phantom Troupes is just amazing considering none of them have an in-depth origin story.

Uvogin's fight against Shadow Beasts is amazing. The fight between Kurapika and Uvogin showed why Nen's power system is one of the best ever.
Notable Moments:
Uvogin's fight with Shadow Beasts.
Chrollo Lucifer's Symphony.
Uvogin's fight with Kurapika.
Chrollo Kidnapped by Kurapika.
Pakunoda's death.
1. Chimera Ant Arc
Episodes: 76 to 136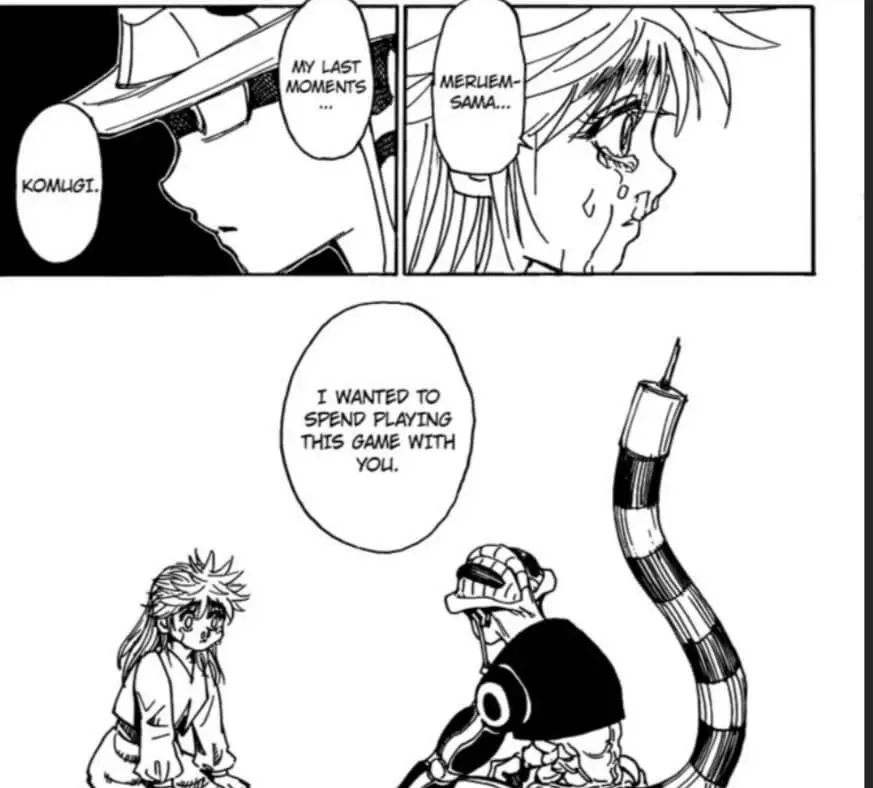 Chimera Ants arc tells the story of the growth of the Chimera Ants and their subsequent quest to power in this human world. Queen Ant gives birth to several Chimera ants who then bring humans as food.
Queen later gives birth to three Royal Guards and then, at last, the Ant King Mereum.
Kite is killed but Gon not knowing Kite is killed is having an empty hope that Kite will be saved. While Netero, Morel, Knov, Knuckle, and Shoot also join the quest to save humanity from the ants. Meanwhile, Komugi starts playing Gungi with Mereum in which Mereum can never defeat her and their relation starts developing.
The fight between the hunters and the ants ensue with Netero fighting Mereum, Gon fighting Neferpitou, etc. In the end, Mereum dies near Komugi after being poisoned by Poor Man's Rose. While Gon kills Neferpitou after gaining enormous power through his resolve. All the other royal guards are also poisoned and are dead.
One can argue that Yorknew City Arc is a more perfect arc overall. Yorknew Arc didn't have one bad thing about it. Chimera Ant arc had so many pacing issues in the first half and few unnecessary plotlines lines like Phantom Troupe, Palm's date, etc. But the payoffs in the arc are among the greatest in the anime genre itself. The stakes were incredibly high throughout the arc. Mereum's journey from an emotionless killer to someone who can actually show love for Komugi, and Gon's journey from a happy-go-lucky kid to a monster that can kill someone without remorse is one of the best parallels between antagonist and the protagonist in the anime.
All the characters are well written in this arc. Even the minor ants have their own unique personality. Netero's fight with Mereum is one of the best fights of all time. Mereum gets defeated by a bomb that can be built cheaply and it shows even the strongest individual in the world is no match for the human's evil creations thus raising the question of who is the real monster.

Notable Moments:
Kite's Death.
Zeno's Dragon Dive.
Mereum vs Netero.
Mereum playing Gungi with Komugi.
Gon turning into an adult human.
Mereum dies along with Komugi.
Do you agree or have your own rankings. Feel free to comment below.