One Piece: Reasons Why Onigashima Raid Will End In Failure (1025+)

Note: Written With events up to chapter 1025
At this point of Act 3 of the Wano arc with over 50 chapters in the raid, it seems laughable to even think that the Raid will fail. This theory at this moment seems to be past its course. Morj, an One Piece YouTuber has done some great videos on this and I encourage you to check them if you haven't yet and the full credits go to him for this theory. I will explain my reasoning here as to why this raid will end in failure based on current events.
The primary reason why the current raid seems like the final battle is that too many chapters have been spent in Act 3 and it seems unlikely that the alliance will lose. Also, all Strawhats had their 1 on 1 fights and also seemingly won it. Zoro and Sanji are also fighting King and Queen. Now Luffy, Momo, and Yamato are facing Kaido and it seems like this is the final battle. I agree those are really convincing points but I will give counterpoints that make me think that the Raid might still fail.
1. Act 3 hasn't ended
Wano's story structure is based on Kabuki plays and there are five acts in a Kabuki play. Act 3 of the Kabuki play contains tragedy or a great dramatic moment. So far the Act 3 hasn't ended and the alliance as a whole doesn't have a big down point yet. There are few blips here and there but overall the alliance is consistently winning and leading the war.
Also, the wordplay for chapter 1031 means "Heavenly Disaster" and chapter 1032 marks the 75th chapter of Wano Act 3. Act 1 was 15, Act 2 was 30 and this will be a nice pattern to end the Act. Act 3 not ending yet is the most important thing for the Raid fail theory.
2. Hawkins' Prediction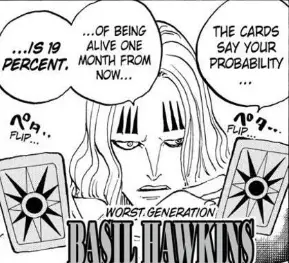 Hawkin predicted that Luffy(or maybe Zoro) has only 19% of being alive after one month. Raid started two weeks after that and hence the time Luffy will be near death will be two weeks from the current time. It makes great sense to me that there is still a great amount of story left in Wano after the Raid for Luffy to be like that two weeks down the line.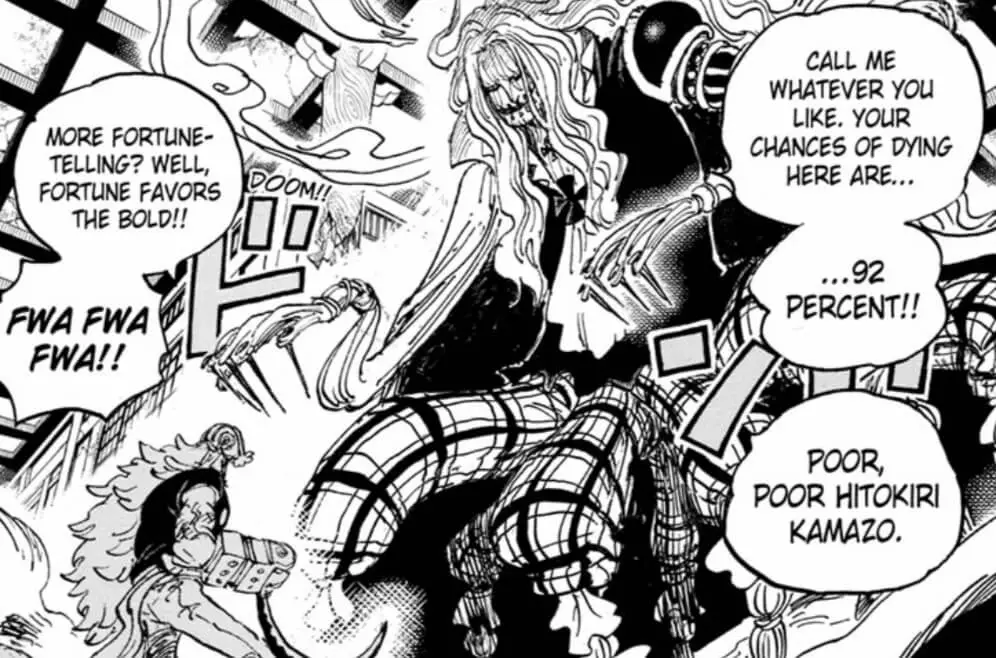 Sometimes it is easy to take forget Hawkins' predictions but they usually come true. Also, during the current raid, Hawkins still believes that the alliance will fail and hasn't jumped the ship yet. He predicted the possibility of Killer dying being 92%. So, knowing Hawkins, the moment he knows that Kaido is likely to be defeated he will switch sides.
3. No Impending Disaster For Wano People Yet:

The arcs in One Piece usually end after having a great impending threat like the time bomb in Alabasta, Birdcage in Dressrosa, Buster Call on Enies Lobby, etc.
Onigashima Island landing on Flower capital can be considered as a great disaster but it hasn't been portrayed as a disaster at all. Just think about how the Buster call or birdcage was treated during their respective arcs. I believe there will be a disaster that threatens the actual people of Wano.
4. The People Of Wano Need To See Kaido's Defeat
This is the continuation of the above point. The people of Wano so far don't seem to care about the downfall of Kaido or Orochi as they seem to have accepted their fate and aren't prepared to fight for their freedom. There is no way Kaido is defeated without the knowledge or the involvement of the people.
Considering the importance of Wano in the world and the Void century, it is important for Luffy to get everyone's support by the end of the arc. The best scenario for that is to make Kaido getting defeated by Luffy in front of all the people's view.
5. Wano Arc Need A Low Point
The way Act 3 was structured was different than the usual way a final part of an arc is structured in One Piece. At the start of the arc, we got Denjiro as an ally. Then Jimbei joined the group and then even Marco joined the group and then Yamato even before the alliance faced any real problems. Later we get Drake and Otama joining the alliance. The allies one expect to come during the critical times were gathered even before facing Kaido. At the same time, Big Mom pirates are conveniently cut off from the action reducing the threat level of the villain group.
This arc structure is so unlike One Piece. It seems Oda deliberately doesn't seem to expand the low points. The best example is the way Luffy's defeat of Kaido was handled. Luffy got defeated by Kaido in Chapter 1013 and just in 1015, the second chapter after that, Luffy's safety is ensured and the alliance morale had zero impact by his defeat. This is a big red herring, Oda could have just played up this defeat a bit more if it was the last defeat. Also, the way he again entered the Rooftop in chapter 1025 riding with Momo isn't portrayed as the final end game entrance Oda usually gives Luffy.
So, even if you feel that Raid won't fail, I am 100% sure that Luffy will get defeated once again and it will be seen by all the Strawhats and the alliance. There is a reason why the Strawhats are gathering on the live performance floor. I will be really surprised if he won the battle now. Another defeat of Luffy to Kaido makes sense narratively.
6. Red Herring Panels
Very early on the raid, Hyogoro mentioned he can't imagine losing. The chapter was literally titled "I can't imagine losing". This isn't how usually a One Piece arc goes. Luffy being overconfident is expected but the side characters unusually being high in confidence is a big red herring.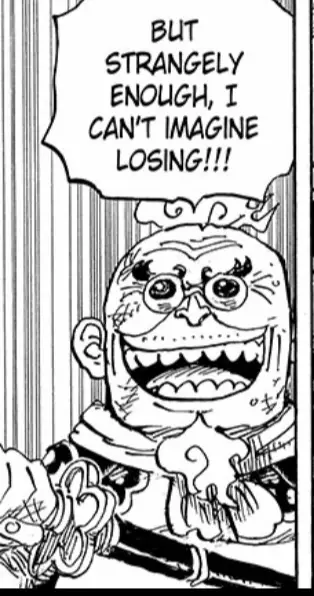 In chapter 1023, Carrot outright says that this raid would have ended in failure had it not for Pedro's death. Does anyone else find this statement strange?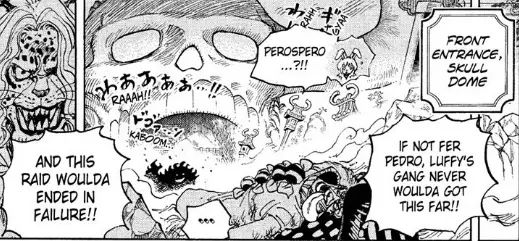 Kaido remarked that Luffy's defeat needs to be seen by the alliance for them to lose their will. So, Luffy will be defeated once more for everyone to be seen.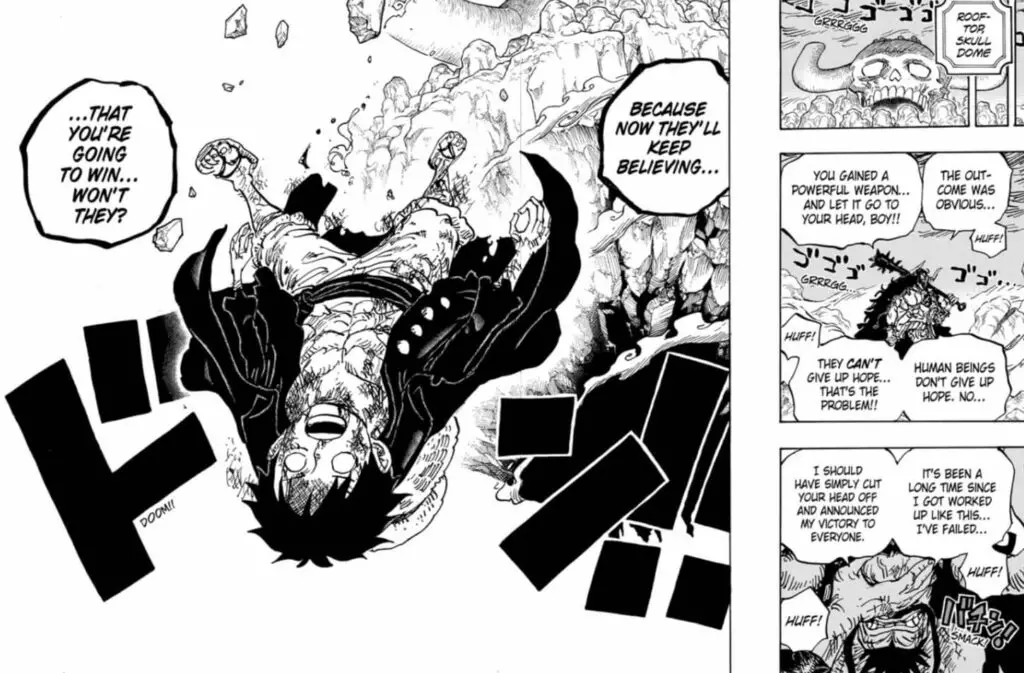 7. Conquerors Haki Bloom On Despair
Haki in general blooms when you are pushed and Conquerors Haki even more so since it cannot be trained. Let us look at the growth of Conquerors Haki in Luffy. He tamed the bull initially through Conquerors Haki and then it improved when the wolves attacked Bon Clay and then the Haki was even higher when Ace was about to be executed. Even Ace, Doflamingo, etc emitted Conquerors Haki when they were pushed to the limit.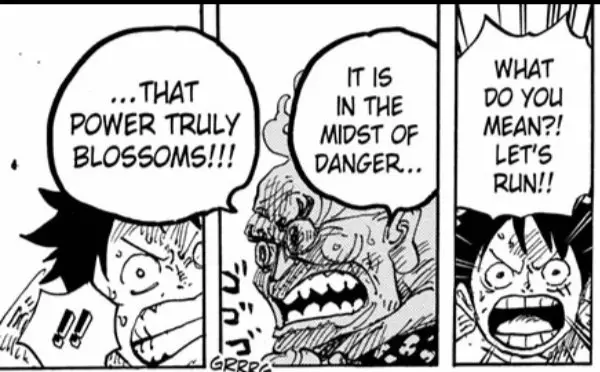 Hyogoro said the above for Ryo, a Haki which can be trained. If trainable Haki needs adversity to truly blossom Conquerors Haki needs greater adversity. Luffy has to have some really threatening situation to blossom his Conquerors Haki to defeat Kaido and the events so far aren't that.

9. Many Pending Plotlines
There are several loose threads that have to be tackled before the arc ends. They may not be a direct foreshadowing for the raid fail theory but still, it is interesting that so many plot points and mysteries are yet to be tackled in Wano.

Who was the man Tenguyama Hitetsu was waiting for? It was never stated as who he was waiting for.
Sandai Kitetsu was introduced and Zoro was interested in it but that plot never advanced.
Big Mom pirates are still in Wano and their plot needs to be concluded.
Where is the Fourth Poneglyph?
Why is Wano important?
How will Wano borders will be opened?
Kaido's flashback.
Zoro/Ushimaru plotline.
Final Thoughts
I genuinely think the raid fail will be great for the Wano arc. Wano arc has been brilliant so far and Act 3 has been one of the most fun in reading One Piece weekly. But Wano has been lacking in two aspects which will be tackled by the raid failure. The first one is that as great Act 3 has been, it lacks a dreadful situation for the protagonist side and the second one is that the only Strawhat that has a character progression in this arc is Luffy. Others have good individual moments but don't have a story around them. With so much emphasis put on Momo, Yamato, and Scabbards in this act, I expect an Act dedicated fully to Strawhats.
I know this is not a fan favorite theory at the moment. So, it will be interesting to know your thoughts in the comment section.
RECOMMENDED POST:
One Piece: Top 20 Strongest Characters In The Series