One Piece Chapter 1028 Analysis and Review

One Piece 1026 is out unofficially, so there will be spoilers ahead.
I will be adding chapter images on Sunday!
Importance of Dragon Devil Fruit
The first part of the chapter starts with Lucci talking with the unnamed CP0 person in Wano. Again, the importance of Dragon devil fruit is brought up by him.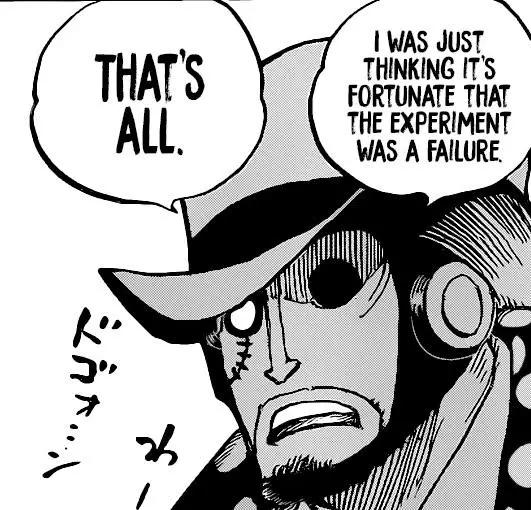 I have a strong belief that Dragon devil fruit has an even bigger importance than just being an overpowered devil fruit. In Punk Hazard, Dragons were created artificially and even celestial dragons were interested in it. Momonosuke is touted to be an important character for the Dawn of the world and him being a Dragon doesn't seem like a coincidence. Also, this is the only devil fruit that has moved an island. So, It will be interesting to see how Momonosuke's role progresses after Wano.
Navy Involvement In Wano
Later Lucci informs that Navy is on their way to Wano to annex it. It is implied that they will only act if Kaido is defeated. It seems the Navy is already at Wano's borders and I wonder if an admiral is in it. Big Mom pirates should have climbed the waterfall by now but knowing them, they would probably still be at the border waiting for Perespero or something. Maybe Big Mom pirates will be handling the Navy for now.

The invasion by the Navy to Wano isn't that surprising considering that this was actually teased in chapters 907 and 957. Kizaru was willing to go to Wano but Akainu stopped him. In chapter 957, Sengoku warned Akainu about the importance of Wano. Also, it reminds me of the quote by Whitebeard in chapter 965 that Wano being a closed nation is a sign of freedom.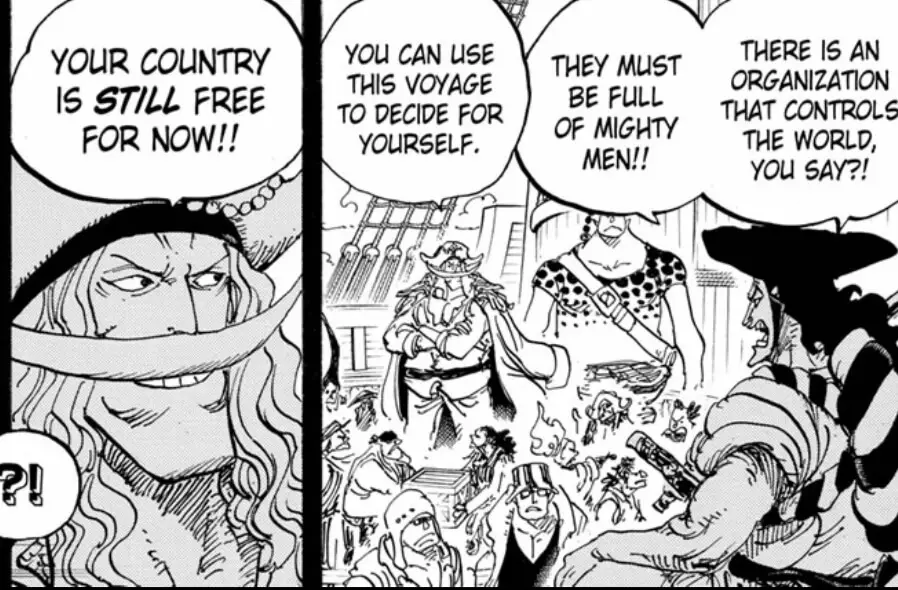 I personally believe that the Wano arc will be a massive success for the Strawhats alliance like Alabasta, Skypiea, etc and by the end, Wano will be under the Strawhats flag. And hence I don't think that the Navy will actually be successful in obtaining Wano. But the current situation doesn't seem to favor the alliance.
Capture Of Nico Robin
This is the highlight of the chapter for me that the World Government finally wants to capture Robin. It is interesting that the World Government wants to capture Nico Robin and not kill her.
Also, Why did the Navy wait so long to actively act on capturing Nico Robin? Thriller Bark arc, Sabaody arc, Dressrosa arc, were perfect arcs to act on her specifically but she wasn't given any special importance there. Does this have anything to do with Imu's great cleansing? It is interesting that they aren't focused on Luffy given he was one of the people that Imu had on his hands.
Nico Robin capturing has been foreshadowed since Zou. Nekomomoshi warned about this and in chapter 999, Big Mom mentioned about wanting Nico Robin alive.

Also, in the Wano Arc, we have several foreshadowing of being kidnapped as seen in the below panels.

Brook is protecting Nico Robin. Note that Robin is the only Strawhat that was actually fully exhausted during her fight.
Onigashima's Fate
Momonosuke is trying to stop Onigashima on his own as Yamato has left him. But he is still struggling to create cloud flames and with just 5 minutes remaining it is a tall order for him. Also, Yamato is going to reduce the potential destruction from bombs.
I find it strange that Oda decided to introduce the explosive point last chapter and suddenly now Yamato leaves Momonosuke. If Momonosuke will fully save Onigashima, why is Oda emphasizing the importance of the disposal of explosives? Will it land on the Flower Capital eventually?
Sanji vs Queen
Queen's fight with Sanji is one of the funniest moments in the raid. Queen being pissed at Sanji for not using the Raid Suits against him, ejecting himself to strangle Sanji, and his own Brachio launcher blowing himself twice made me legitimately laugh out loud. This Queen form is a throwback to Kaku's Giraffe form in Enies Lobby.

Sanji managed to land a hit once but it isn't enough to hurt Queen. Queen's strangling of Sanji is similar to how Boa constrictors kill their prey before eating. Hence the attack name being "Brachio Hiss".
Sanji – Germa Dilemma
I was never a big fan of Sanji getting the Raid suit after the Whole Cake arc. My thought at that moment was since so much was emphasized about Sanji's humanity during WCI and it would be strange to have him use Raid suits. Then Sanji did use Raid suit and the WCI point seemed to be forgotten.
In this fight, I really love now that Oda is emphasizing again that dilemma and it will be interesting how Sanji tackles this.
Sanji has awakened the same power his brothers had and his exoskeleton has become so strong that Queen's Blade is broken hitting Sanji.
Japan culture and the series there tend to put so much emphasis on one's family and that makes me think that Sanji may accept his Vinsmoke's name by the progression of this battle. Also, If he hadn't awakened that power, Sanji would have been dead by now.
Predictions
Act 3 hasn't ended yet, Kaido's flashback is yet to be shown and Onighashima will drop in five minutes. I expect a low point for the alliance and it may coincide with Onigashima dropping. Will Luffy lose again?. Momo is expected to hold the island for the people to get away but Onighashima may actually drop on the capital. Strawhats excluding the monster trio are currently free and gathering on the live floor. I hope that something big is stored for them since their fights are actually short and slightly disappointing.
Also what happens to Tobi Roppo? Who will save them from the fire? There are currently on the upper floors and will be engulfed in fire. Maybe they will get up in the next few chapters.
Fire has started in every floor with everyon trying to get to the Live floor. But Tobi Roppos are defeated & are still on those floors. Obv, they aren't going to die. But it doesn't seem like anyone picking them up.
Maybe they will just get up and actually aren't yet defeated!🤔 pic.twitter.com/tsrGGA86q5

— leo (@harish_leo_) October 5, 2021
I will update the article with current chapter images on Sunday!