Top 25 Gintama Best Episodes.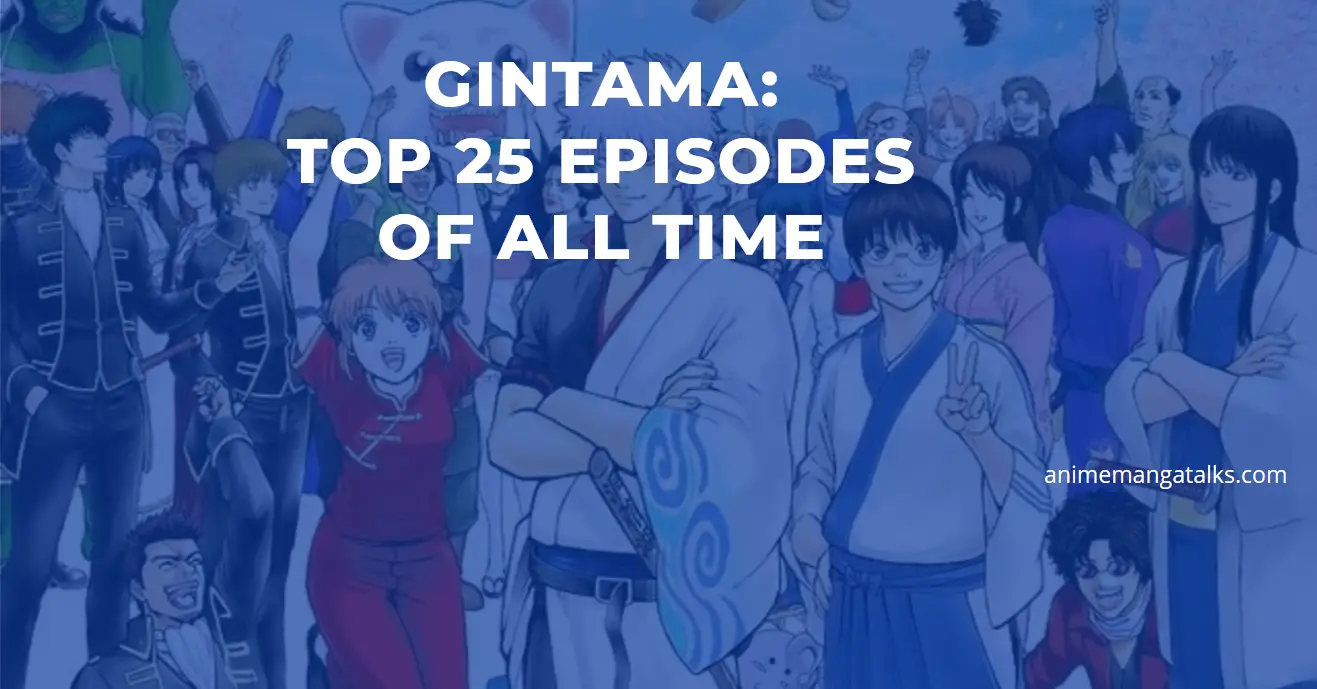 Gintama is one of the greatest and most unique anime of all time and personally my all time favorite. It is known for parodying other anime with self deprecating humour without being disrespectful. Though most people think of Gintama as a simple comedy, parody, troll etc I see Gintama as a "Celebration of anime" and a "Celebration of life" in general.

Only standalone episodes are considered for this list. Gintama has many short stories which go for just one episode or half an episode. I ranked the best 25 of those single-episode arcs. While the majority of the episodes are pure comedy there are many which are more emotional in nature too.

Here are the top 25 Standalone Episodes in the series:
25. Episode 106: Love Is Often Played Out In Sudden Death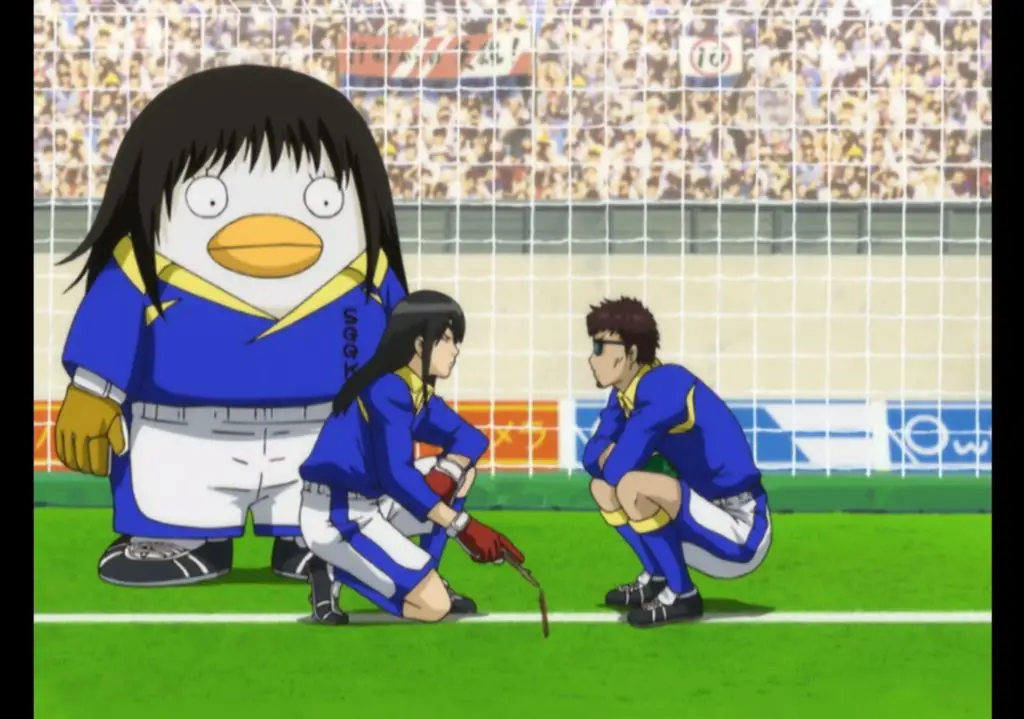 This episode tells the story of our gang playing football to help a professional player play his final match. This episode has a lot of references to Captain Tsubasa. Gintama doesn't have a lot of stories dealing with sports and it is fun to watch an episode fully based on a game.
24. Episode 5: Make Friends You Can Call By Their Nicknames, Even When You're An Old Fart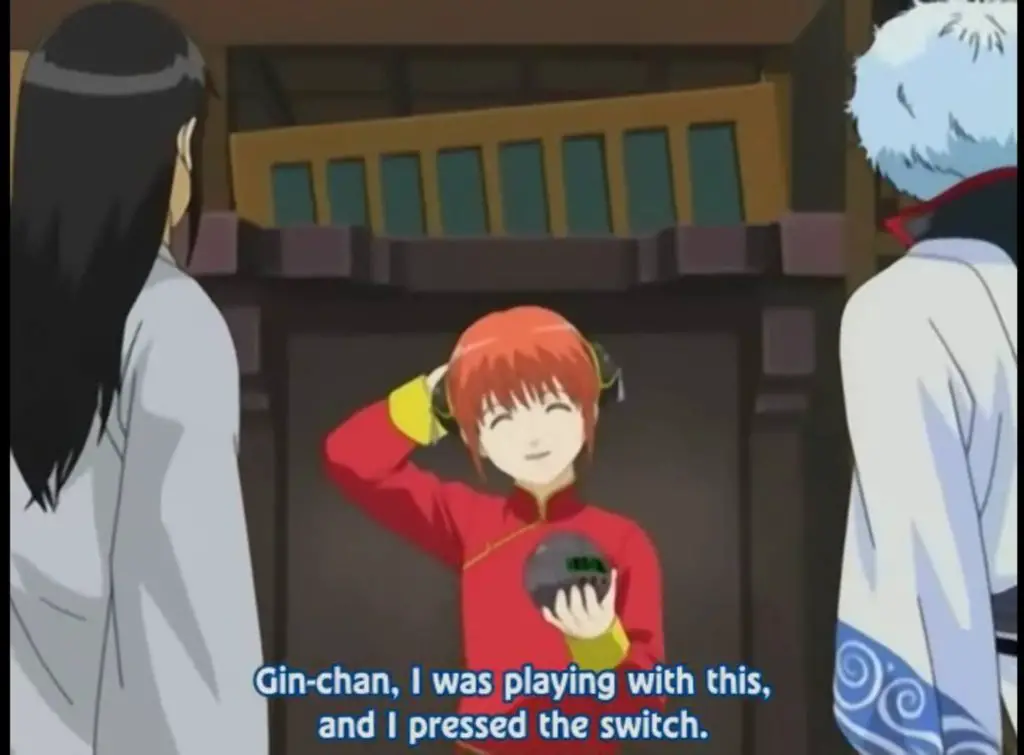 This episode is where we meet Katsura for the first time (The first two episodes don't count). We get to see the sneak peek into Gintoki's past and best of all we get introduced to our favorite clown Katsura.

Like a typical Gintama episode, it has a lot of funny scenes and also this is one of the better early episodes.
23. Episode 265: Dog Food Doesn't Have As Much Flavor As You'd Think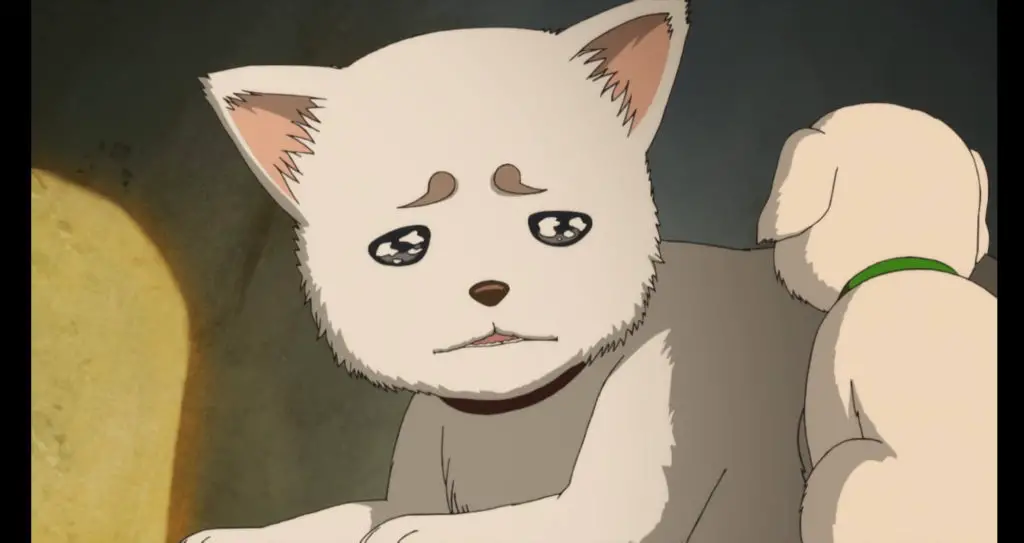 This episode tells the story when Sadhagaru leaves the house and meets an abandoned sick puppy. This episode has lots of sad as well as wholesome moments. It also foreshadows Sadhagaru's selflessness and the heroics which we get to see later on.
22. Episode 16: If You Stop and Think About It, Your Life's a Lot Longer as an Old Guy Than a Kid! Whoa, Scary!!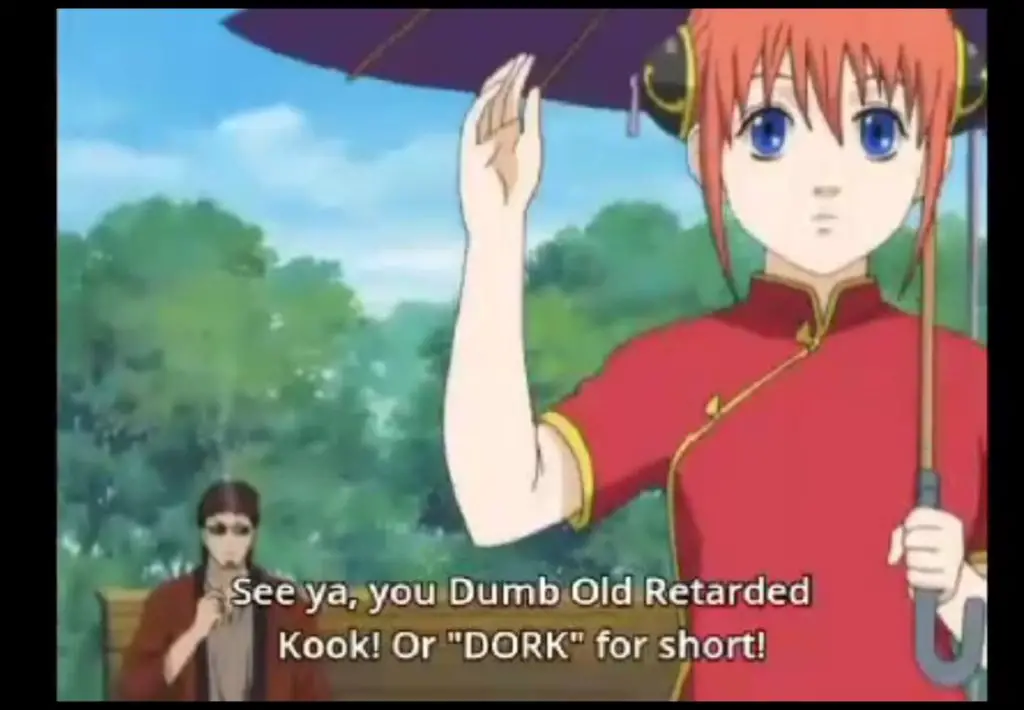 This episode is the birth of the term "MADAO" and it shows Hasegawa's struggle to get a steady life. Hasegawa is undoubtedly one of the best things in Gintama. Though his stories are filled with comedic moments, there is an underlying tragedy with his character.

In this episode, he successfully finds a job as a taxi driver after several tries. But he eventually loses it sticking to his principles and becomes a Madao again.
21. Episode 113: Cleaning The Toilet Cleanses The Soul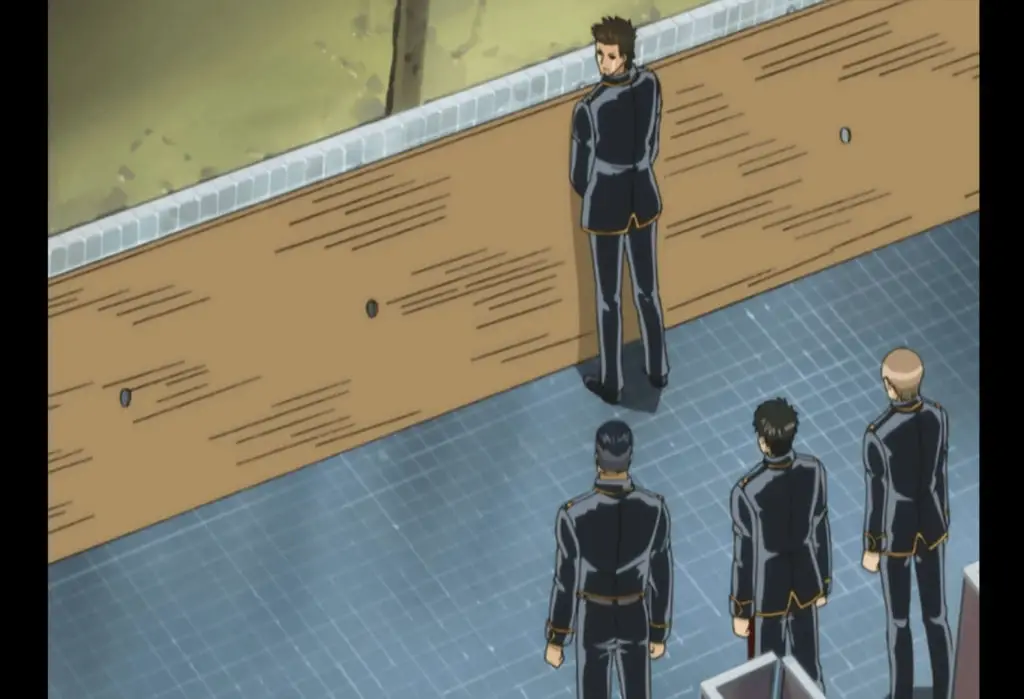 This episode tells the story when Hijikata, Sougo, and Seizo Kumanaku tries to make the toilet in Shinsengumi cleaner which ends up backfiring. This is a typical Gintama comedy episode where a small comedic plotline is expanded brilliantly to a laugh riot. Some of the images in this episode are gross but that is how Gintama is.
20. Episode 292: Style Goes Out of Fashion the Moment It's Put Into Words / There Are Two Types of People In This World: Those Who Yell Out Their Attack Names, and Those Who Don't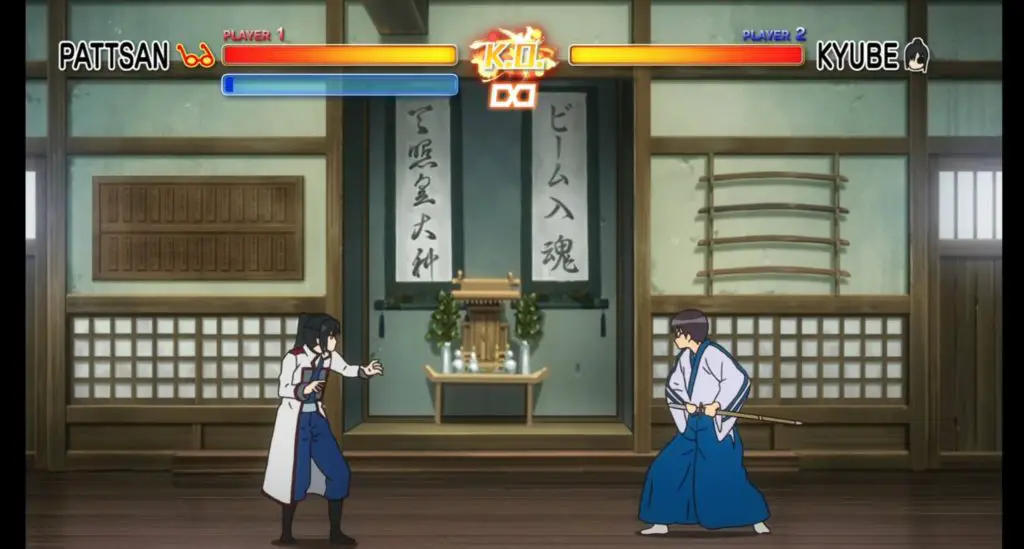 This episode covers two short stories. In the first part, each member of Yorozuya tries to get a new outfit.

The second part deals with how Shinpachi is trying to perfect his ultimate move left by his father. It has a lot of Dragon Ball and Naruto references. But the most unique thing in this is the parody of typical mortal combat video games and it is in this list just for it.
19. Episode 25: A Shared Soup Pot Is A Microcosm Of Life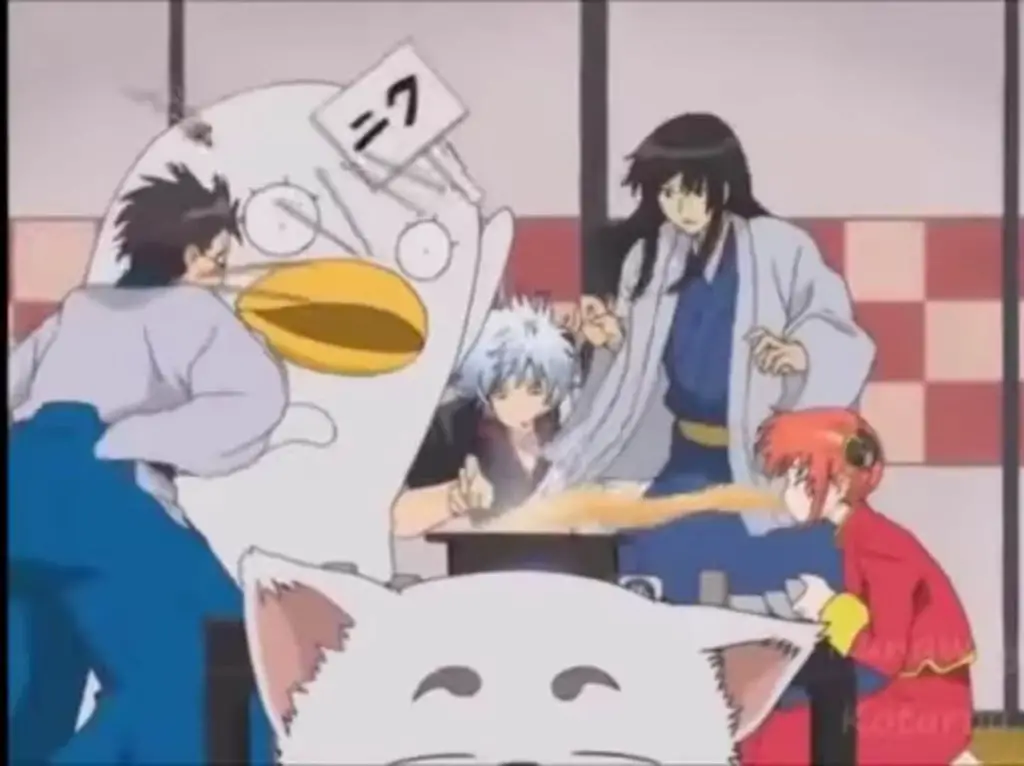 This is one of the earlier episodes and it exemplifies what Gintama is about. With a very simple plot of who gets to eat the meat first, it manages to turn into a really funny episode. As with most Gintama short stories, Gorilla Sensei manages to build upon a simple plotline to a great comical story.
18. Episode 156: It Takes A Bit Of Courage To Enter A Street Vendor's Stand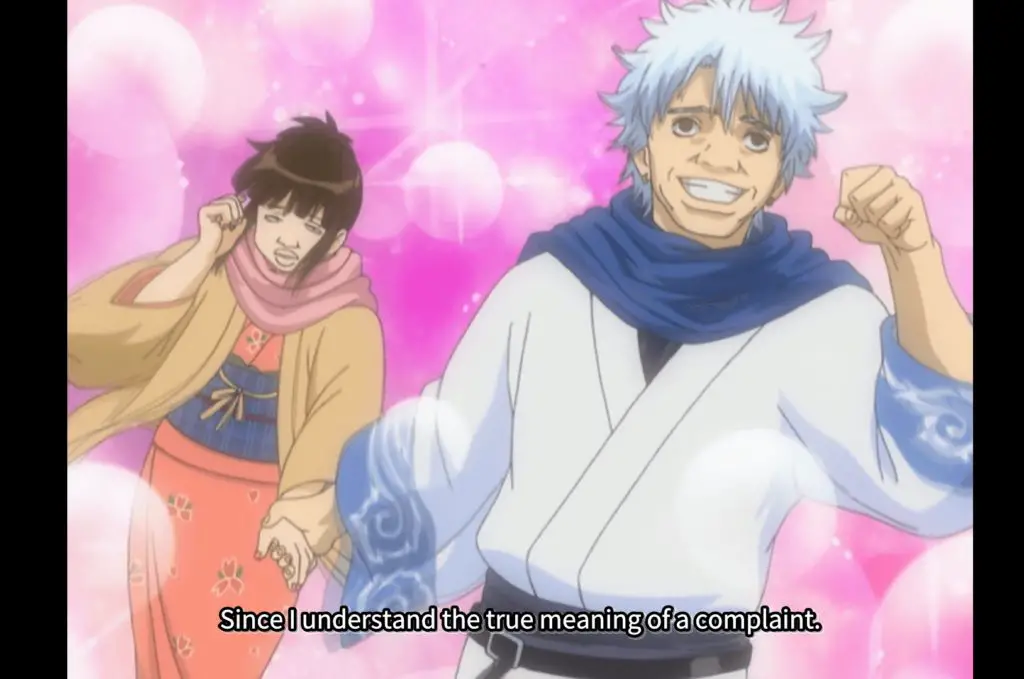 This episode is another one of Gintama's unique short stories which disregard the golden rule in storytelling "Show not tell". This episode takes place in a Vendor's stand where everyone complains about others. For nearly the whole episode we don't see any of the characters' faces but still manages to keep us excited with just dialogues and it ends with a comical twist.
17. Episode 147: All Adults Are Instructors For All Children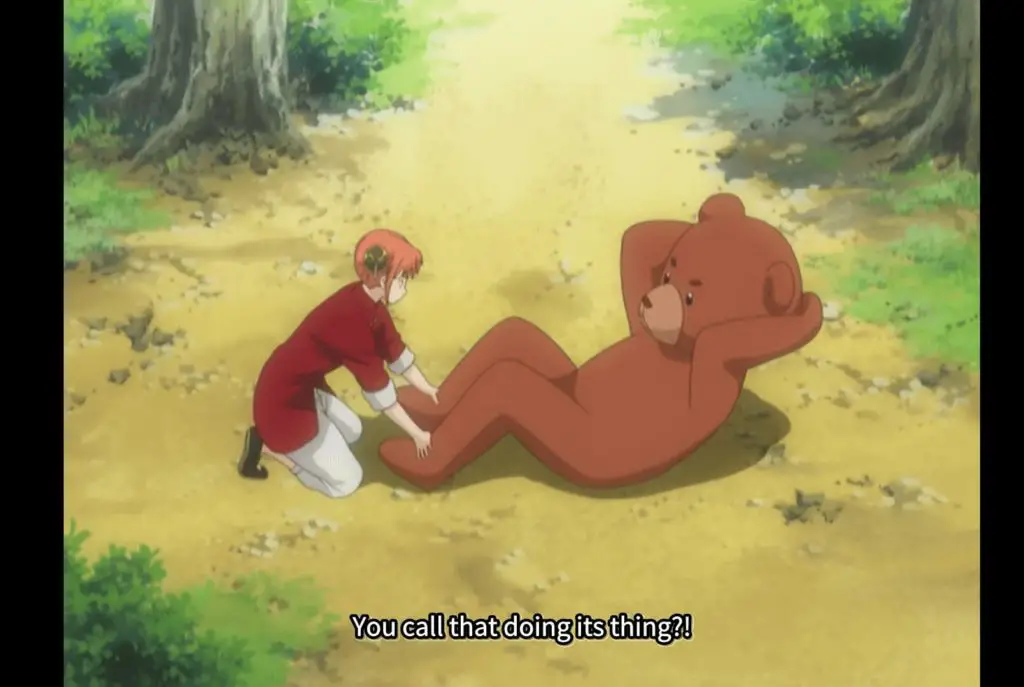 This episode is the long-awaited training arc that comes after the Yoshiwara in Fire arc. As a viewer, you will definitely get fooled by the start of this episode. It won't have been a bad thing if this was another typical training arc like most series. But the way the episode parodies how a training arc should be is the best thing to happen. It stays true to what Gintama stands for.
16. Episode 189: It's Better To Take Care Of This Year's Business Within The Year, But Once The Year Is About To End, You Figure That You Might As Well Put It Off Till Next Year For A Fresh Start. That's How The End Of The Year Goes / Radio Exercises Are Socials For Boys And Girls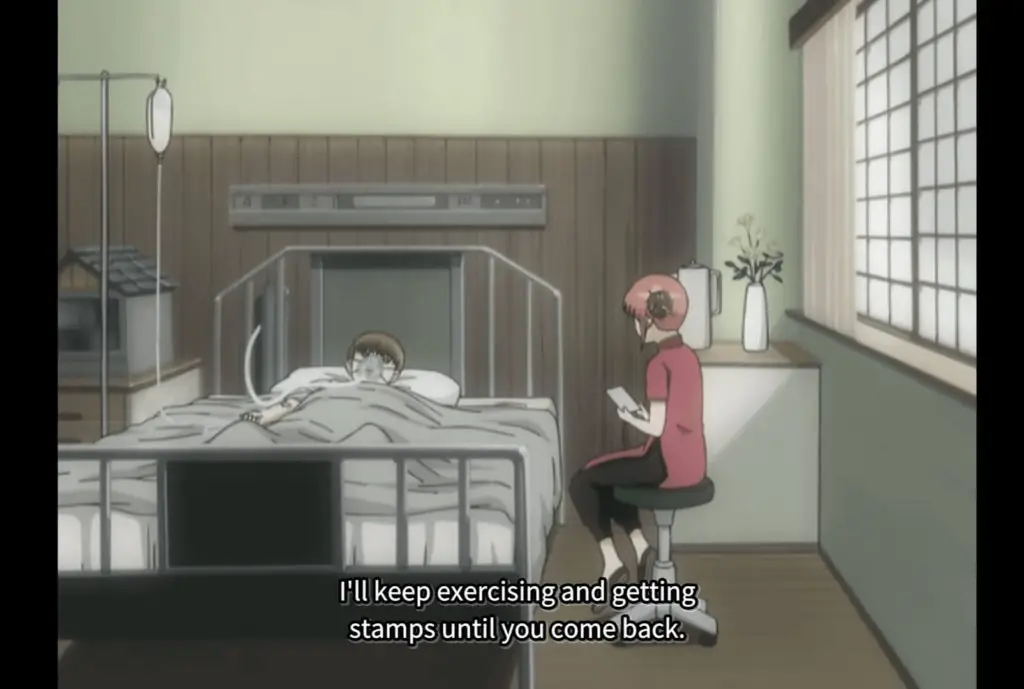 This episode has two short stories and both are great. In the first part, we get teased with the lore of Gintoki in the war only to get the story for Gundam tribute.

The second part deals with one of the most emotional short stories in the series. Kagura meets a kid named Hisashi who suffers from a dangerous disease in Kabuki-cho's fitness class. They continue exercising every day but Hisashi gets sick one day and gets hospitalized. But Kagura continues the exercise on his behalf. It is one of those episodes which is darker than usual.
15. Episode 248: Madaodog Madaonaire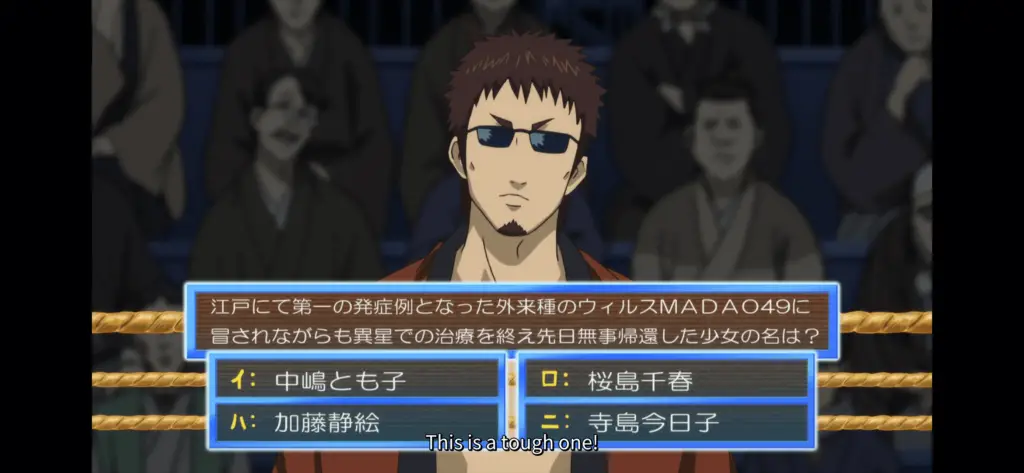 This episode parodies the movie The Slumdog Millionaire. It is another of Hasegawa-focused masterpiece of an episode that will definitely make you cry a bit.

Hasegawa participates in "Who wants to be a Madaoinare" and each question reminds him of a story from his sad past. Despite the harsh difficulties he faces in life, Hasegawa still acts selflessly for others and his decision to participate is also for the sake of someone else. It is both funny and sad at the same time.

14. Episode 204: Use a Calligraphy Pen for New Year's Cards / The Heart Comes before Chocolate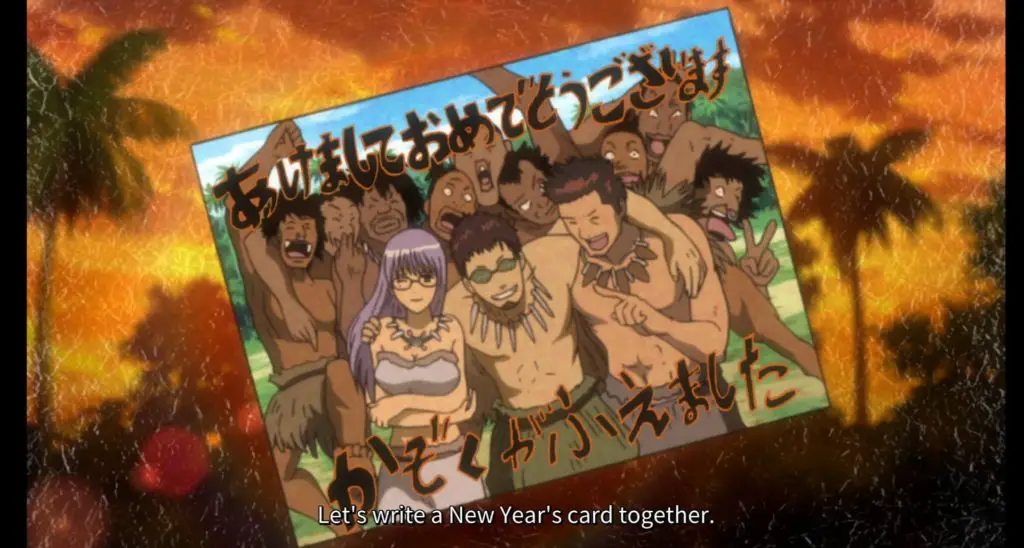 This episode has two short stories and both of them are funny. The first part deals with the story about writing New Year cards. It is one of the funniest short stories in the series.

While the second part is more wholesome and emotional but still funny. It deals with Kagura wanting to gift Gintoki and Shinpachi some chocolate for Valentine's day.
13. Episode 30: Even Teen Idols Act Like You Guys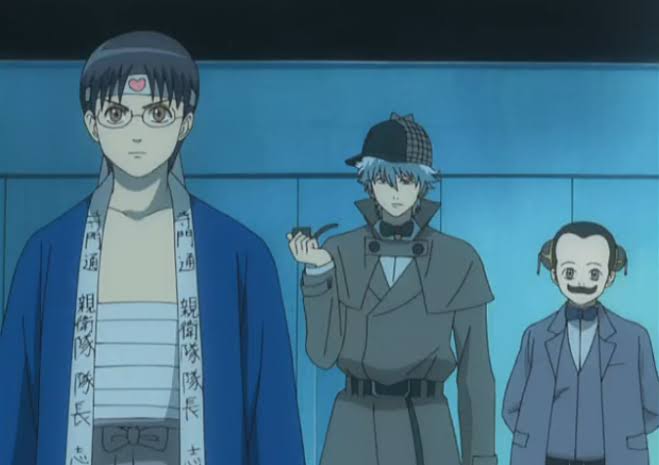 This episode is a funny take on traditional murder mystery troupes. While the primary story is like a chapter from Conan – Case closed, there are references to other famous series like Sherlock Holmes.


The group is trying to solve the murder threat to Otsu and tries to find the "mysterious shadow man". Gintoki and Kagura act as the detectives which leads to hilarious situations. The best thing in the episode is that the "mysterious shadow man" is literally a shadow being.
12. Episode 175: No Matter How Old You Get, You Still Hate The Dentist!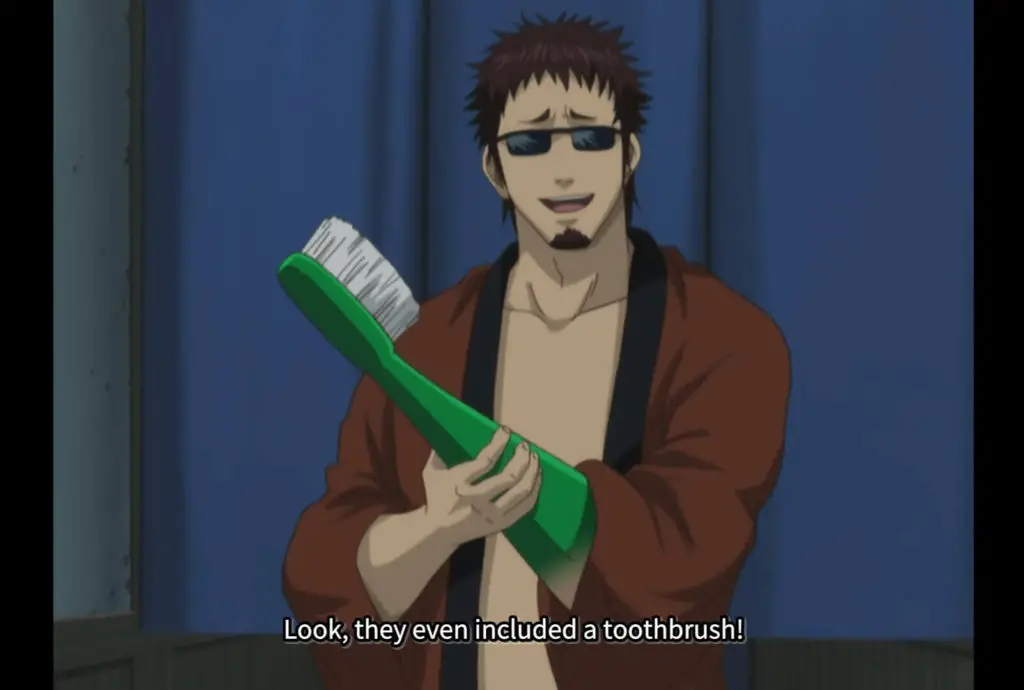 This episode takes place in a dental clinic to which Gintoki and Hijikata visit. The additional appearances of Hasegawa and Kondo make it a laugh riot. The idea of having a toothbrush as an arm is alone to have this episode here in this list.
11. Episode 165: If It Works Once, It'll Work Over And Over Again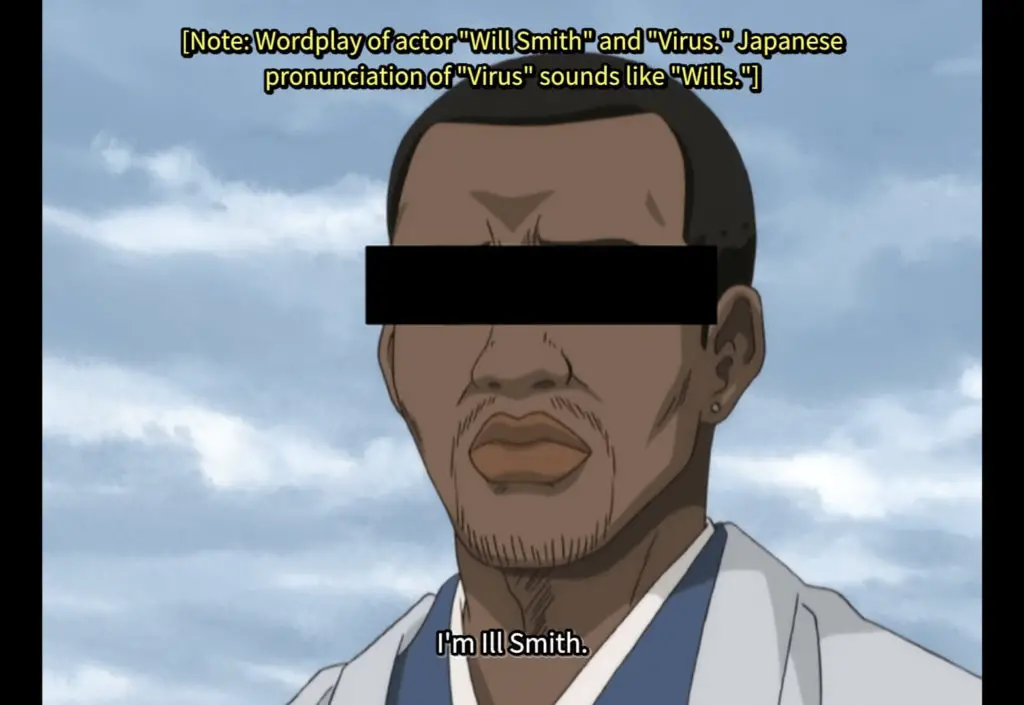 In this episode, the group falls sick and assembles in Shinpachi's home. With the addition of Saachan, Kondo, Hasegawa, and Katsura, it is bound to be a really funny episode. Also, we have the iconic appearance of "Ill Smith" in this episode and that alone makes it a deserved part of this list.
10. Episode 270: A Mirror Provides a Frozen Reflection of Both Your Beautiful and Ugly Sides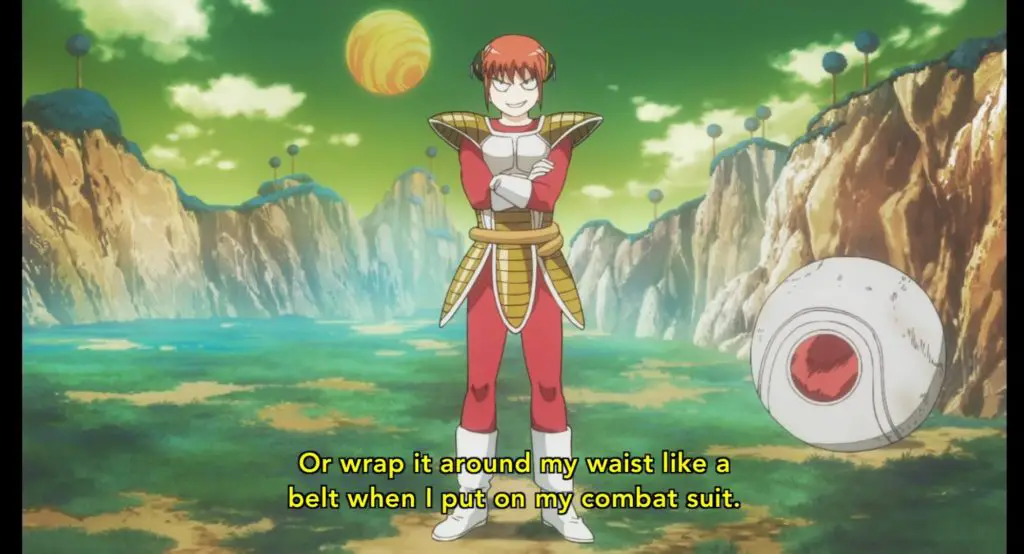 In this episode, we have Saachan hide inside the bathroom mirror in Gintoki's house. The comedy is top-notch in this episode with references to Dragon Ball and Tom Cruise. The comedy is just added upon one another leading to one of the funniest episodes in the whole series.
9. Episode 89: What Happens Twice, Happens Thrice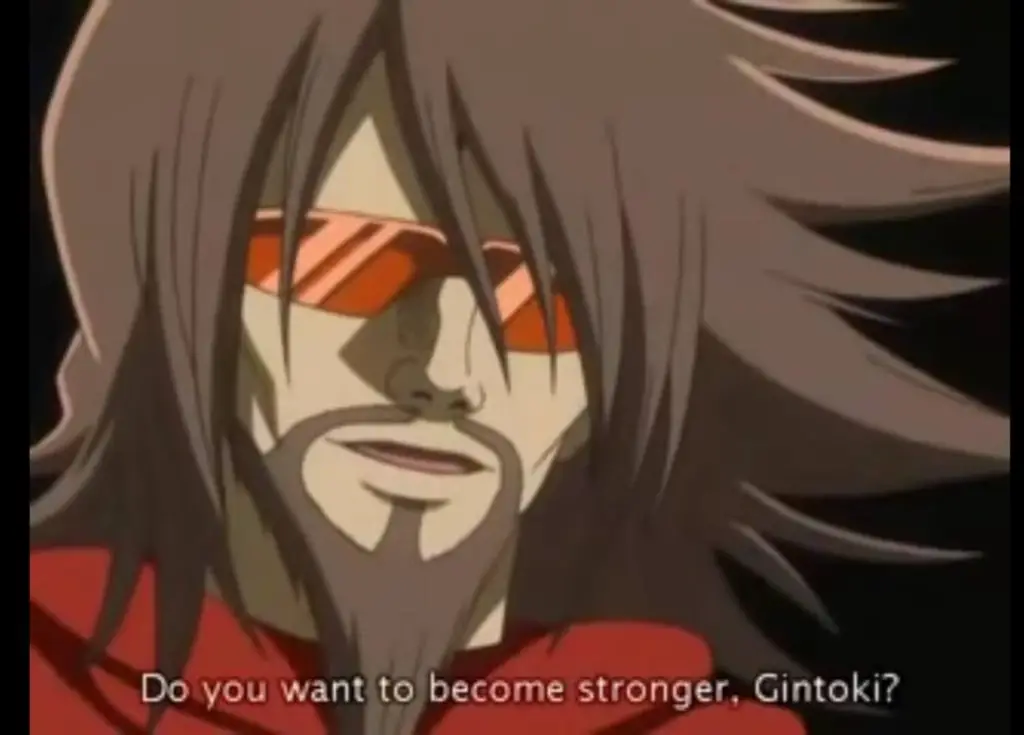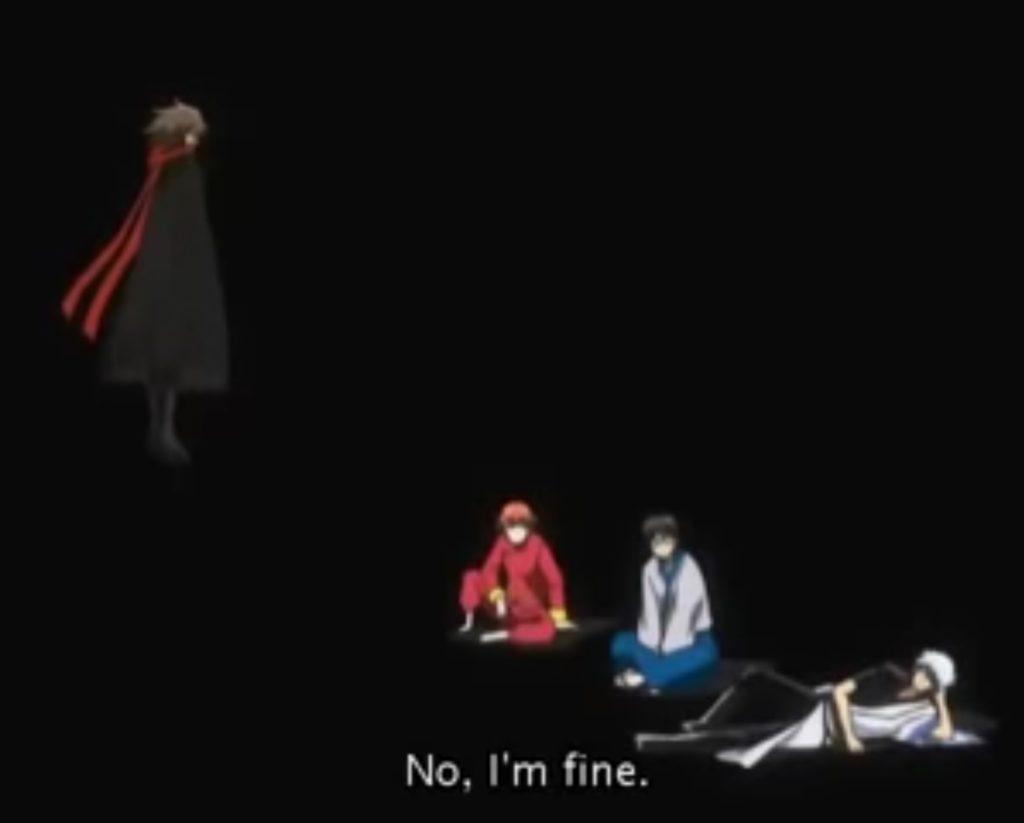 This episode subverts the typical power up the characters attains in a shonen anime series in a funny way. It directly parodies Bleach but not in a distasteful way. The audacity of Gintoki to reject a plea to become stronger from his sword's soul still remains one of the funniest things in the whole show.
8. Episode 153: Sleep Helps A Child Grow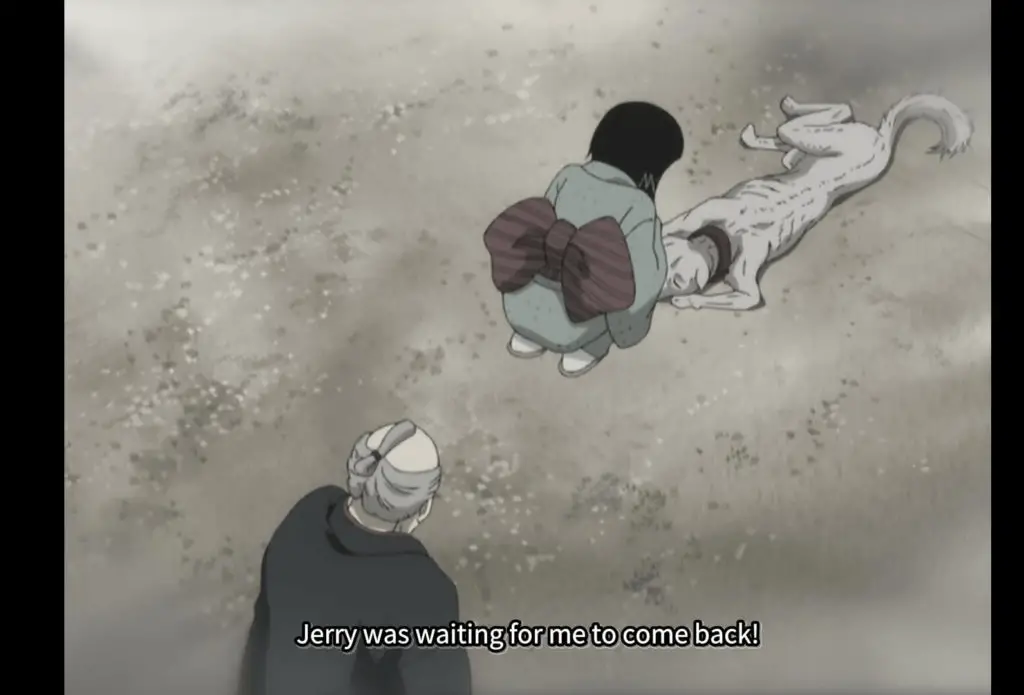 In this episode, Kagura is unable to sleep and annoys Gintoki to help her fall asleep. The episode is very funny as Kagura tries to get sleep by various methods. But the best thing that made this episode this high in this list is the horror story of Jerry. This scene still remains one of the scariest, saddest and funniest in the series.
7. Episode 282: A Phoenix Rises from the Ashes Over and Over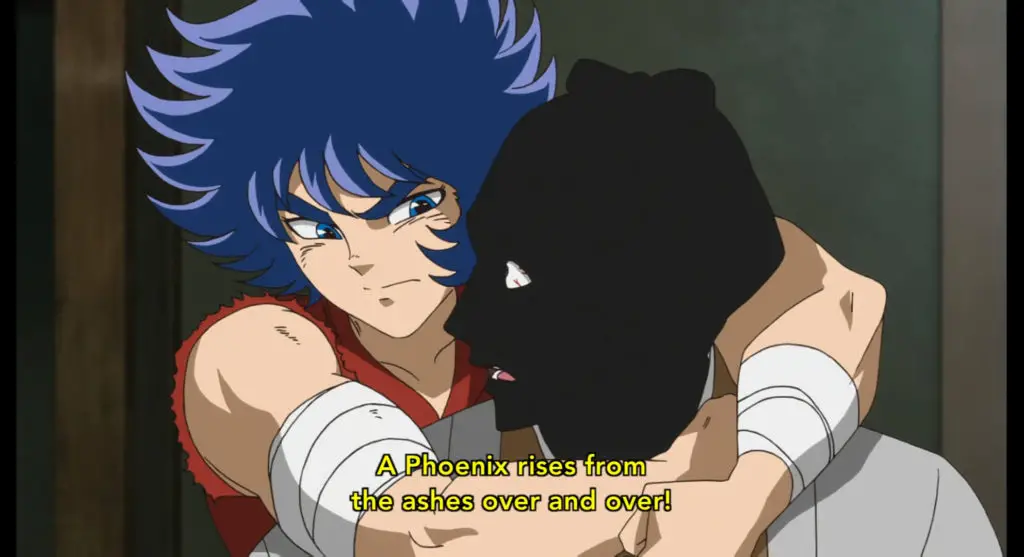 This episode tells the story of Hasegawa trying to find scary stories to tell the kids in the park. Like I said already Gintama finds a simple comical plotline and just adds upon it with subtle brilliant changes.

Here Kagura and Shinpachi tell scary stories but they are filled with Saint Seiya references. But Gintoki gets scared hearing the stories since these might get problems with copyright issues. It is such an amazing episode with some of the funniest scenes in the whole series.
6. Episode 100: The More Something Is Disliked, The More Lovely It Is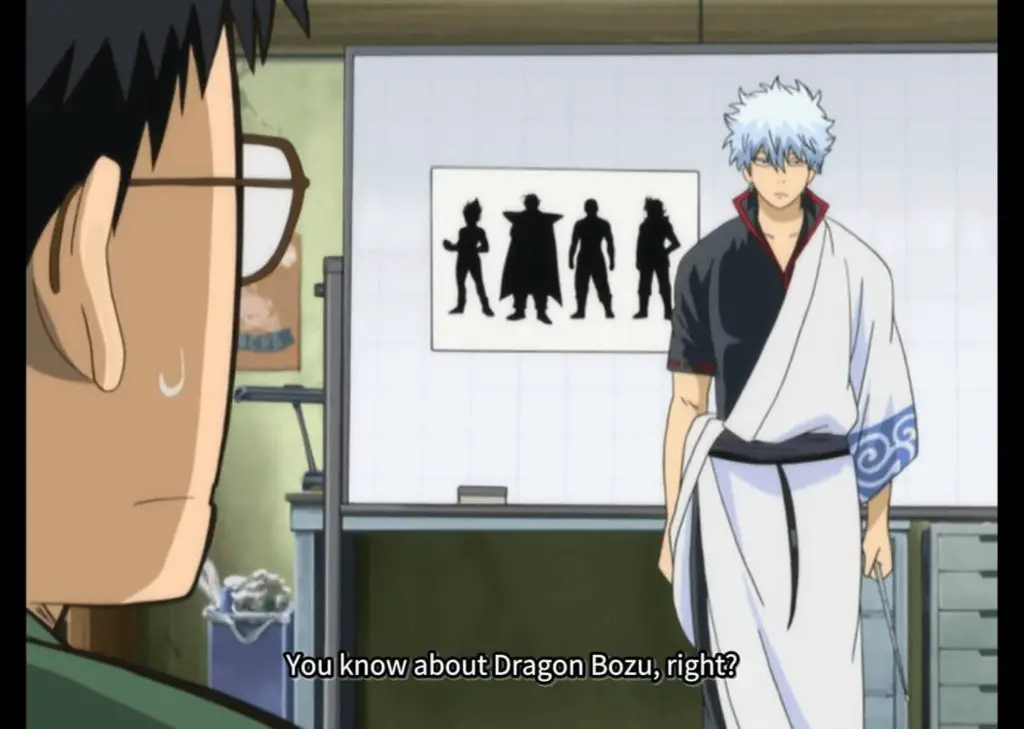 Here Gintama parodies Gintama itself. Gintoki meets the editor of "Gintaman" manga and offers his help to improve the series. The self-deprecating humor in this episode is at its best with Gintoki making fun of the character designs and how lame the story is. Even Gorilla Sensei makes a parody of himself as a gorilla mangaka of Gintaman.
5. Episode 83: Rank Has Nothing To Do With Luck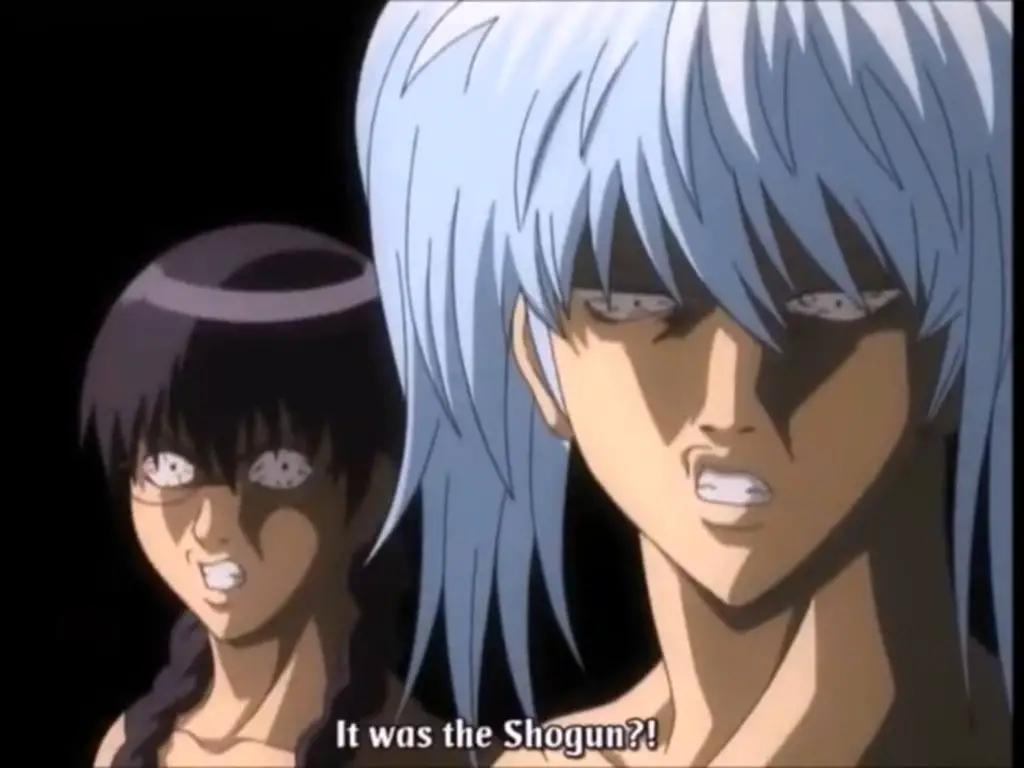 This is the introduction of Shogun and the start of the most iconic dialogue in the show "Shogun Kayooo". Shogun is one of the best characters in the series and any episode that has him is bound to be a roller coaster of a ride and this one isn't an exception.

The Shogun goes to the cabaret where Gintoki and the gang are there as hostess and plays the game of drawing sticks. This leads to hilarious consequences at Shogun's expense.
4. Episode 50: Pending Means Pending, It's Not Final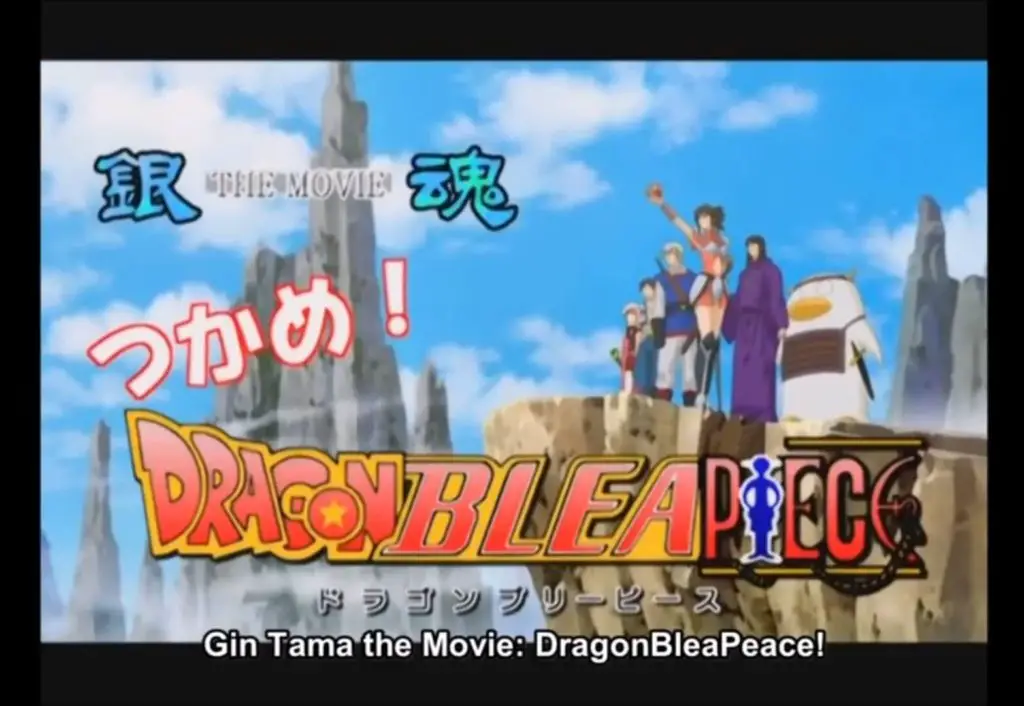 This episode is self-deprecating humour at its finest. With season 1 at its end and a possibility of the show getting canceled, all the cast argues new ideas to change Gintama based on their liking.

Kagura, Otose, Katsura, Saccchan, Otae, Hasegawa, Hijikata, Kondo, Sougo, and even Prince Hata all have their own vision of the series. The iconic DragonBleaPiece appears on this episode.
3. Episode 231: When You Go to a Funeral for the First Time, You're Surprised by How Happy the People Are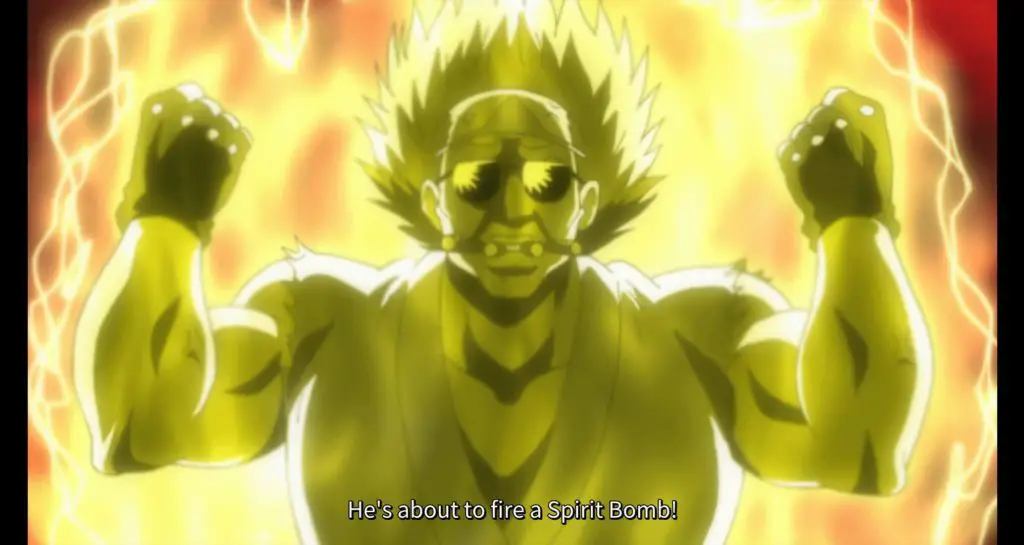 This episode is hands down the funniest episode in Gintama. It made me laugh the most out of all the episodes. Both Yorozuya and Shinsengumi Three visits the funeral of the restaurant owner. The owner oversees the funeral and steals the soul of Kagura, Shinpachi, Kondo, and Sougo while Gin and Hijikata try to solve the situation. Each and every scene in this episode is a hilarious one and thus it is ranked this high.
2. Episode 119: Within Each Box Of Cigarettes, Are One Or Two Cigarettes That Smell Like Horse Dung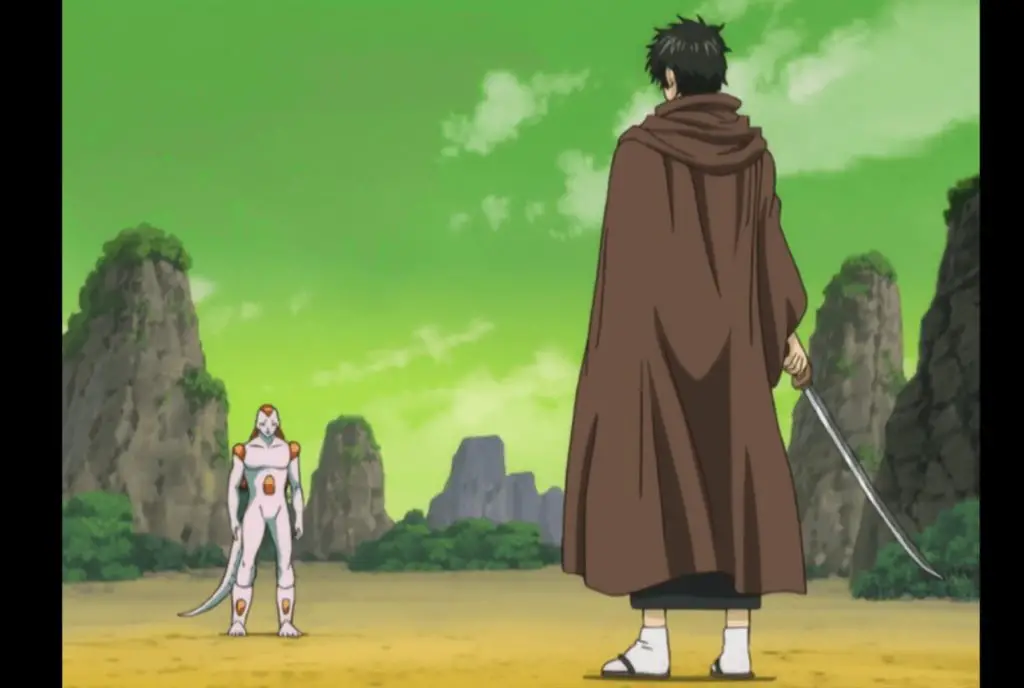 Gintama is known for its parody and the best episode to showcase it is this one. Gintama parodies are mostly a tribute to the original show rather than make fun at the original's expense.

Hijikita makes a trip across the galaxy to find a cigarette after smoking is banned in Edo. He meets a parodied version of Namek people, Frieza, Cell, and even a fused version of Yamcha and Goku, and Krillin.

He even collects Dragon Balls to call Shenron. Even with so many references, it never comes across as disrespect to Original Dragon Ball but still turns out to be one of the funniest episodes in the whole series.
1. Episode 188 : An Observation Journal Should Be Seen Through To The Very End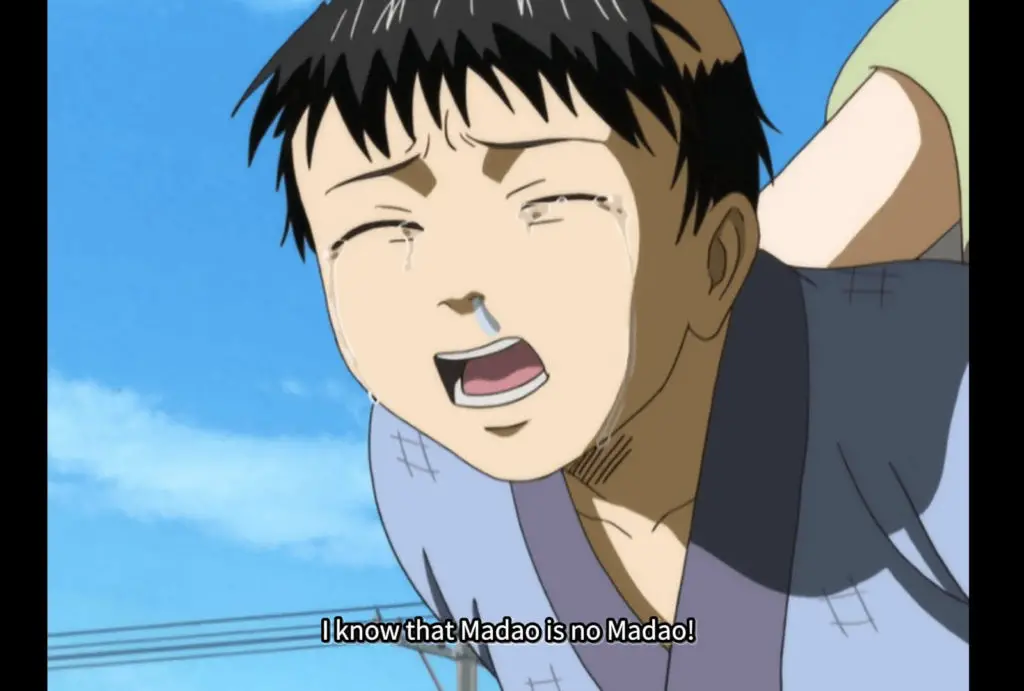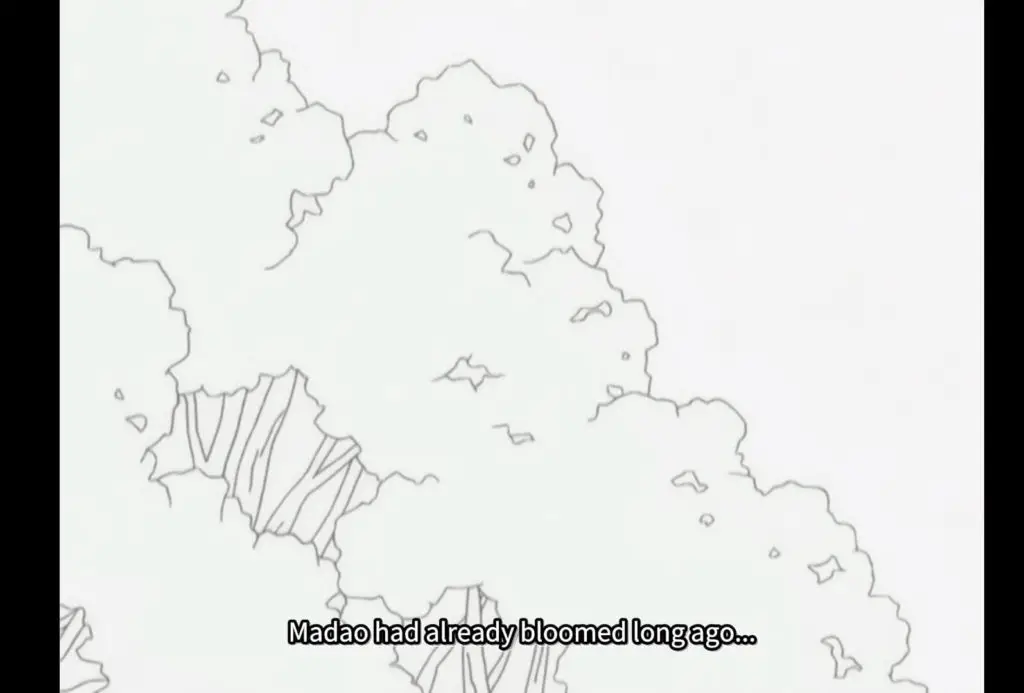 Choosing positions 25 to 2 was difficult but selecting the No.1 was really easy and straightforward. Hasegawa is one of the most selfless characters in the series and this episode perfectly captures sums up Hasegawa as a character.

The episode is in the form of an observation diary from a student named Daigoro, who meets Hasegawa some time ago. Hasegawa ends up in Daigoro's house and eventually forms a bond with his family.

In a job interview, Hasegawa meets Daigoro's father who now wants to return with his family and is also applying for the same job. Hasegawa deliberately causes trouble in helping the father get a job and becomes homeless again.

This episode is sure to make the viewer shed a tear and one of the most emotional episodes in the whole series. At least the mom and Daigoro realize Hasegawa's sacrifices.
Final Thoughts
It isn't easy to choose this list as there are several epic standalone episodes in the series. I shortlisted around 80 episodes initially and narrowed it down to 25. If you think any other episodes should have made the list comment below. Let me know your opinions