One Piece: Onigashima's Real Name and Continent Puller – A Theory

One of the well-known mysteries in Wano is the real name of Onigashima. I have analyzed the connections between the creation of Wano, Onigashima, Continent Puller, Kaido, and Dragons to find the real name of Onigashima.
---
Creation of Wano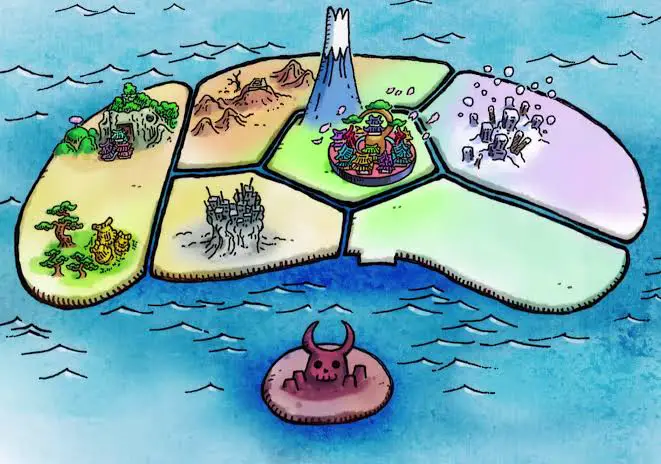 It is heavily believed that Wano isn't formed naturally but artificially. The structure of Wano looks like several individual islands made up as one. It has been stated that the island is closed to the outside world after the Void Century.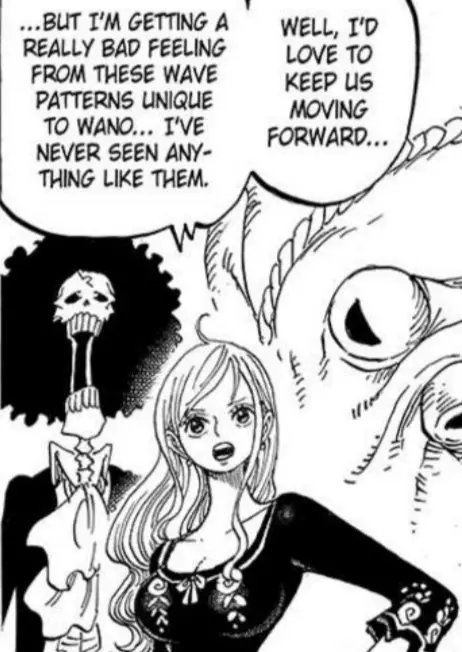 Wano country has geographical and climatic barriers which are strange even for a New World Island. It seems only possible if they are formed artificially.
Toki's Search Of Wano
Toki's parents were from Wano and she was from 800 years ago coinciding with Void Century. But even after jumping several times into the future, she still couldn't find Wano. If Wano was at the same place, she should have found it. We can assume that since Wano has been relocated she has been searching for it.
Wano's Connection With Jaya
There is another potential theory of Jaya's missing left eye being the Wano or at the very least there is a very big connection between Jaya and Wano as several pieces of evidence point to that. Do check out the theory here on Twitter below.
One Piece Theory:
Wano and Shandora. The Twin Dragons of Jaya:#ONEPIECE #Theory pic.twitter.com/3nFr4IuMHt

— (Joe) Three Skull Theories (@TypicalJAnt) September 26, 2021
There are many connections between Jaya and Wano. Both are called Country Of Gold. Kozuki clan are the recorders of history and the Poneglyphs in Jaya talk about the recorders of the history. There are several other clues but the general takeaway for this post is that Wano is an artificially created island.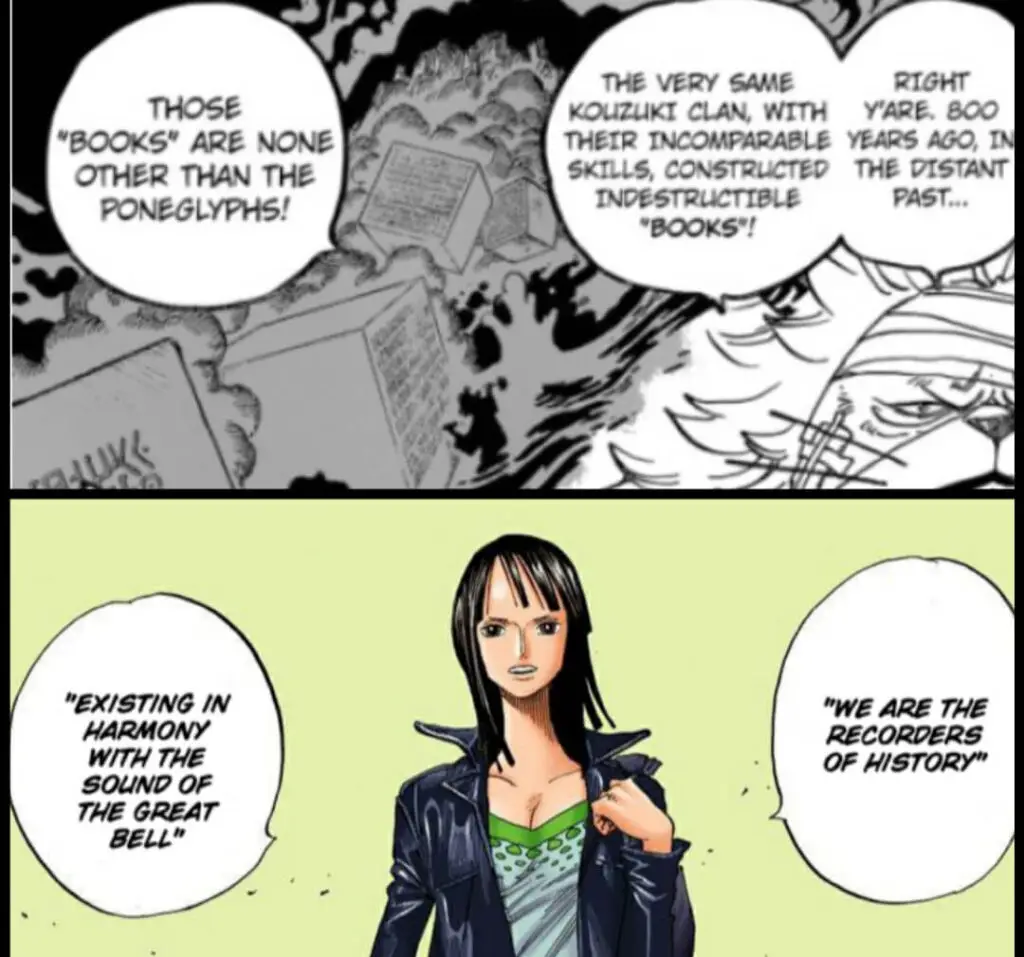 ---
How Wano Is Created?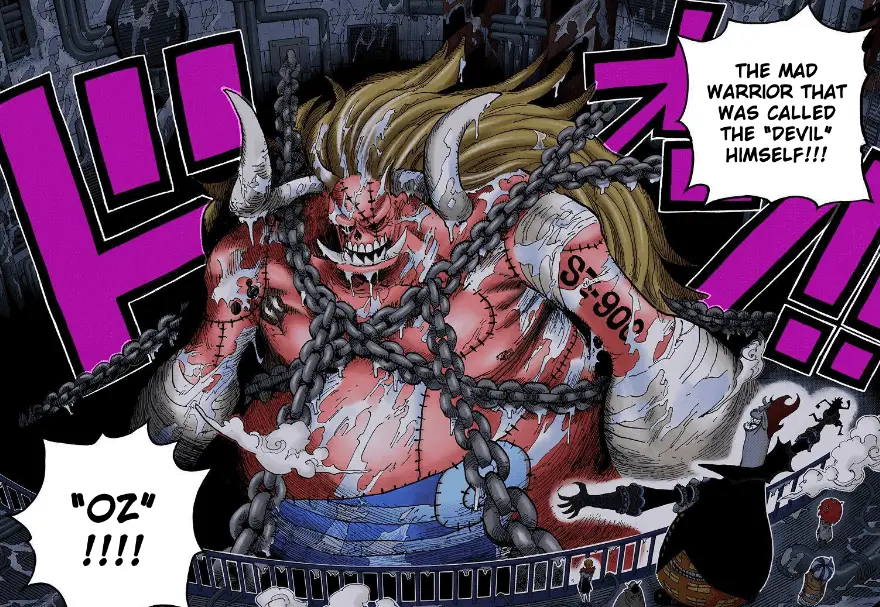 Now that we established that Wano isn't natural, let us look at how it was formed. The famous idea for the origin of Wano is that it is formed by the legendary Continent Puller, Oars. We already have a giant skull that resembles Oars in Onigashima. Let us see how both of them connect in the series.
---
Oars – Legend Of Continent Puller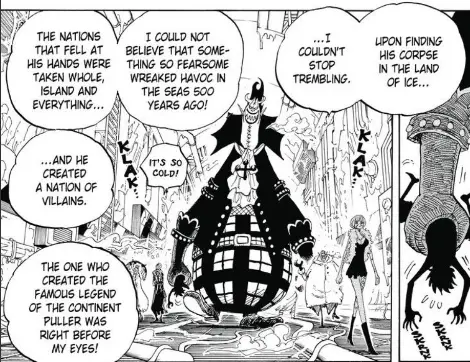 The idea of Continent Puller was introduced in Thriller Bark. The legend of Continent Puller is that he took whole Islands and created an island of villains. Moria's words sounded like the islands are taken literally. Oars from the Thriller Bark is said to be this Continent Puller.
Oars – Weak to Be Continent Puller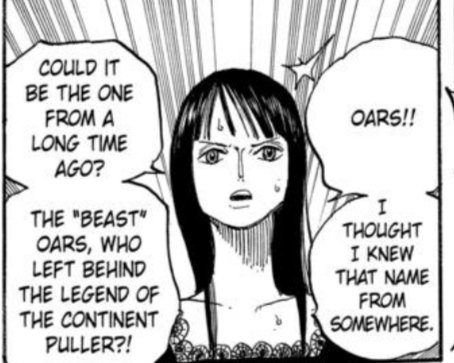 Both Moria and Robin at different instances talk about Oars in Thriller Bark being the Continent Puller. But Oars we saw in Thriller Bark doesn't seem to have that kind of power.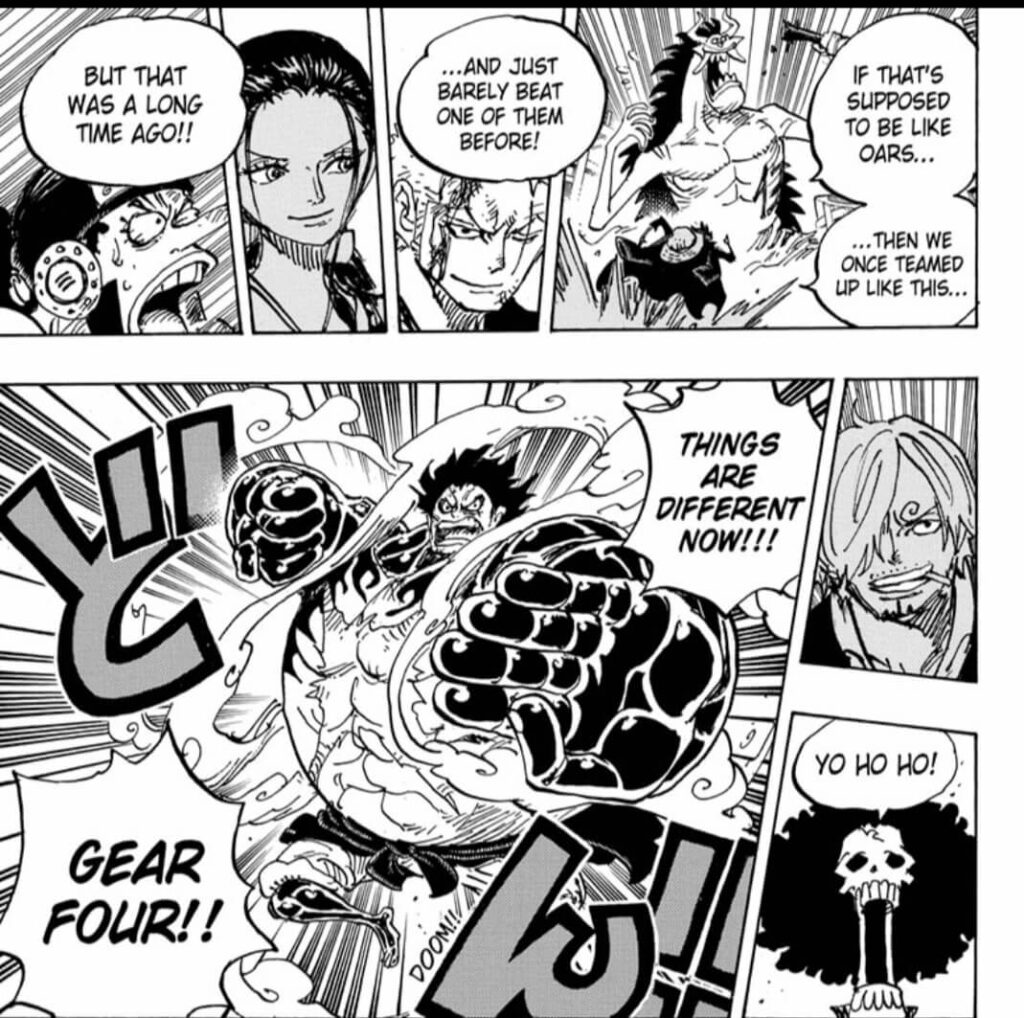 Even Strawhats remark that the Artificial Giants in Onigashima are like Oars and they have no trouble in defeating the Ancient Giants. There was also Little Oars Jr. in Marineford, who from what we see has no way of literally moving islands.
---
Real Continent Puller – Onigashima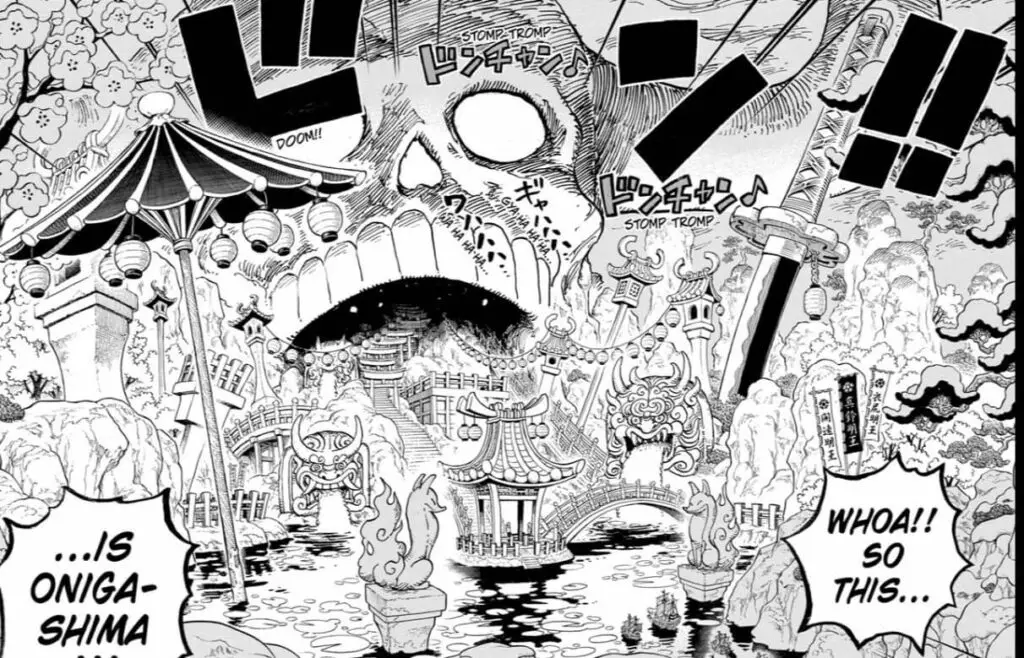 I believe both Robin and Moria mistook Oars as the Continent Puller. Oars was the first Ancient Giant they saw and they mistook him as the character from the legend of Continent Puller. The actual Continent Puller is the owner of the skull of "Onigashima" and the Island of villains is actually Wano.
It makes much more sense for Onigashima person to the Continent Puller. The person would be a few hundred meters tall and him moving an island seems much more realistic than it being Oars.
Now we have established that Onigashima is the Continent puller and we can analyze how that idea gives us the real name of Onigashima.
---
Importance of Kaido's Devil Fruit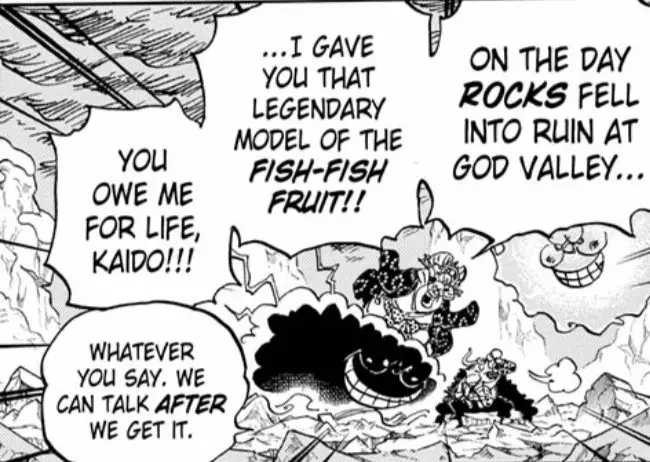 Big Mom referred to the Fish fruit as legendary when she talked about it to Kaido. Out of all the mythical fruits mentioned in the series, only Kaido's fruit is termed "legendary" implying that there is some sort of legend behind it.
I said that Onigashima person being a few hundred meters tall will make it much more likely for him to move an island. But it still seems unbelievable for a single living person to move an island. There will be several obstacles when moving an island like Redline, Calm Belt, another island in its way, etc. This is assuming that a person can pull an island in the first place.
Previous Owner Of Kaido's Dragon Devil Fruit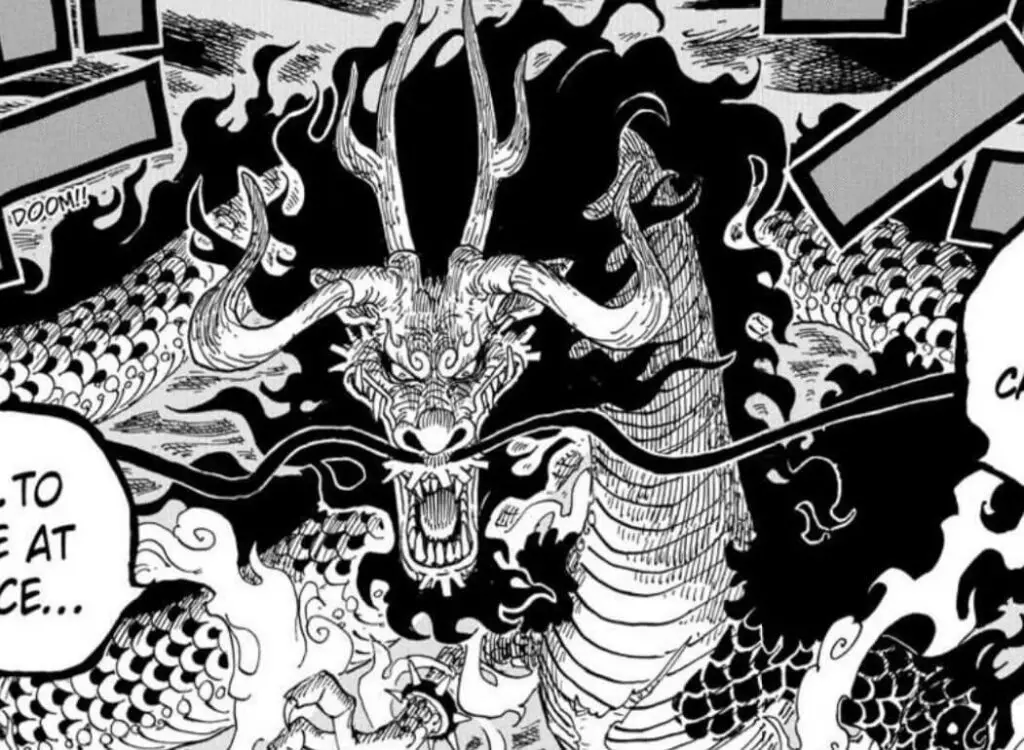 Moving an island physically is unrealistic even for the exaggerated One Piece world. When we assume that the person might possess a Devil Fruit, it becomes more logical. There is only one character that has been shown to have the power to move an island, Kaido, the "Strongest Creature" an Oni.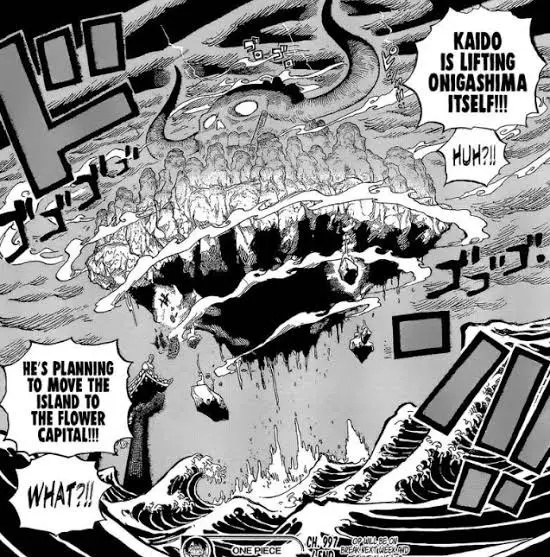 Onigashima person is actually the previous owner of the Dragon devil fruit and he lifted the islands and relocated Wano to its current place. And it earned him the name Continent Puller. This will make sense as to how he could pull islands. This will also justify the importance of Dragon Devil Fruit and why it was legendary.
---
Onighashima's Real Name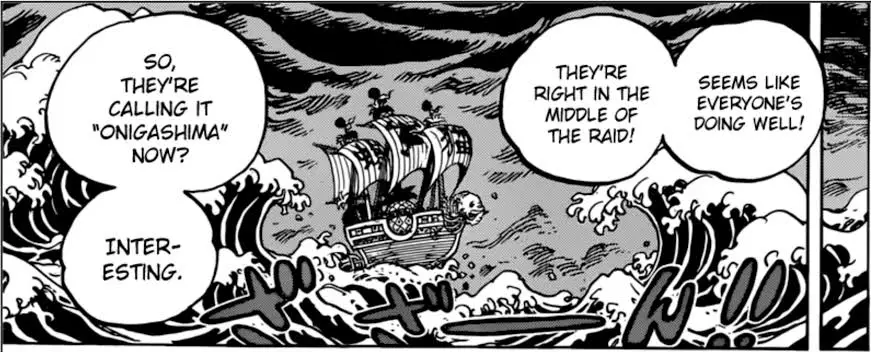 Izo said that Onigashima's name is changed. Kaido changed the name to Onigashima as he is an Oni. Onigashima's old name is "Ryugashima".

In early concept sketches of Franky's "Franosuke" appearance, Onigashima was referred to as "Ryugashima", which translates to "dragon island" instead of "oni island". This also explains why Dragons are celebrated as Deity.
Kaido As A Deity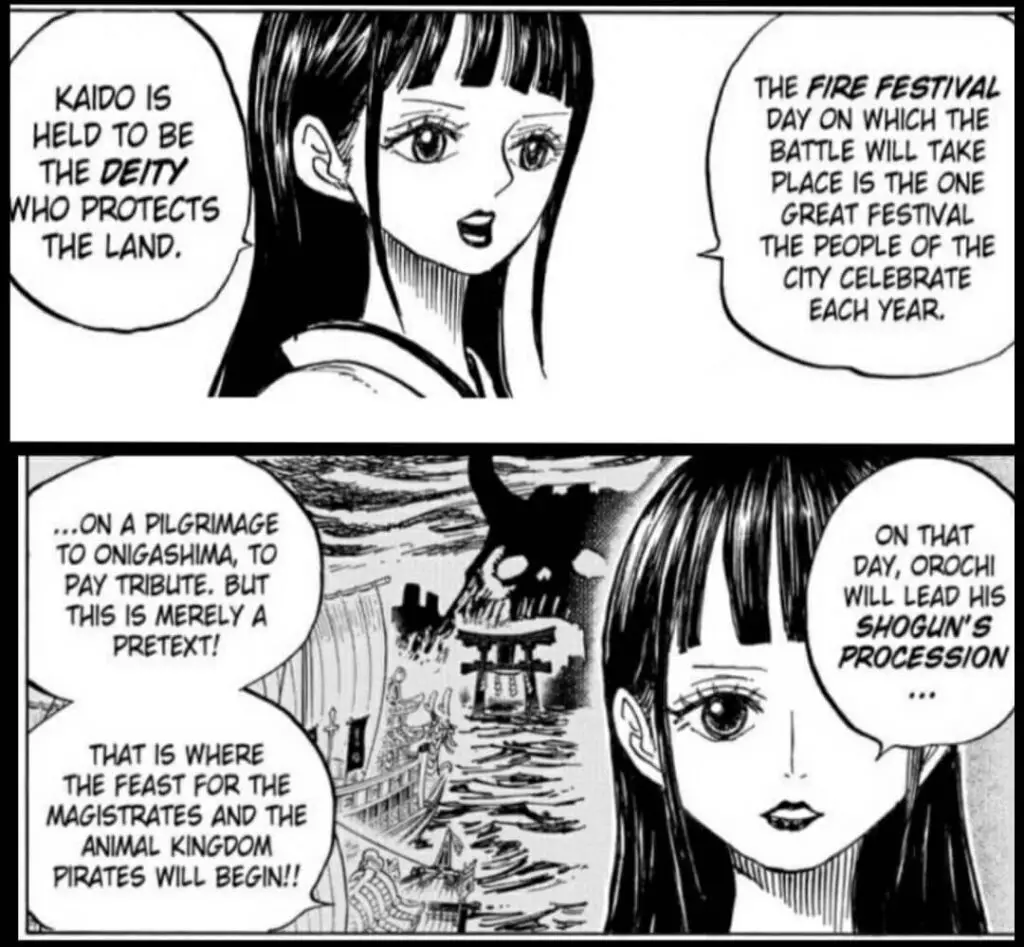 Kaido is held as a deity who protects the land. During the Fire Festival, Orochi leads his Shogun's procession on a pilgrimage to Onigashima. Kaido's dragon form is that of an Azure Eastern Dragon.
"Mythically In Japan, the Azure Dragon is one of the four guardian spirits of cities and is believed to protect the city of Kyoto on the east." It makes sense that the previous user of Azure Dragon Devil fruit is held as a deity since he is the creator of Wano and a castle made from his skull is named "Ryugashima" and seen as a temple.
Momo's Future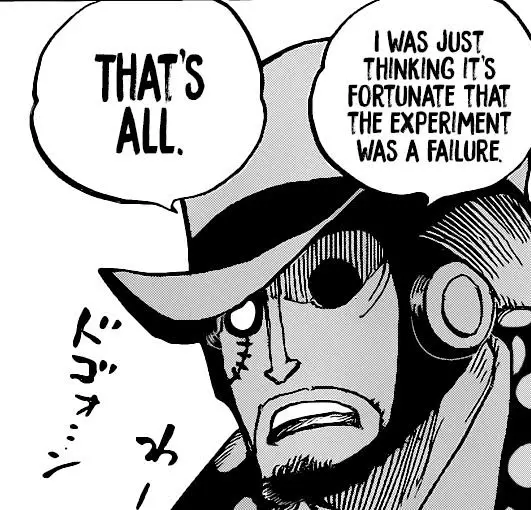 This will possibly add more to Momo's role in the future and give even more significance to him having the Dragon fruit. His fruit might be necessary to reshape Wano itself. This will also explain why Kaido's Devil Fruit is experimented on by Vegapunk.
---
TL:DR
Wano is created artificially.
Wano was made by connecting several islands by Continent Puller.
Onigashima is the real Continent Puller not Oars.
Onigashima person is the previous user of Dragon Devil Fruit.
Onigashima real name is "Ryugashima" to memorate the creator of Wano.
---
RECOMMENDED POST:
One Piece: What is One Piece and Why is it Sake Cups? A Theory
---