Naruto X One Piece – Oda and Kishimoto's tributes to eachother.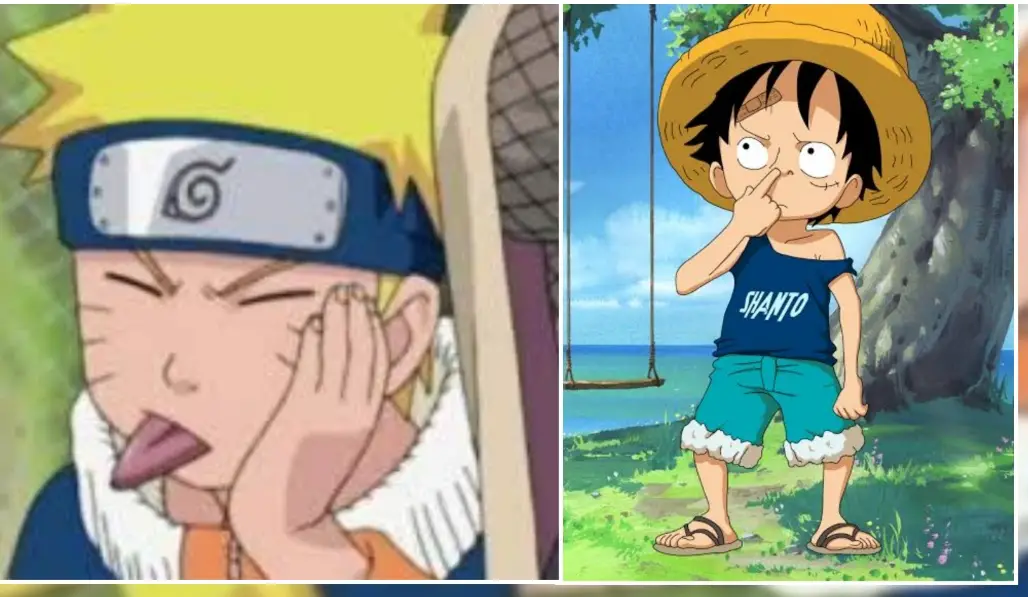 Naruto and One Piece are two of the biggest manga of all time, both of them are part of the "Big 3". Irrespective of the rivalry between the two series, the authors have showed immense respect for each other. As a evidence of that they both have drawn several references to each other works in their respective mangas.

Here are the instances when they made tributes to each other series in their manga.


1. Naruto and Luffy eating Ramen – Oda drew for A Jump Special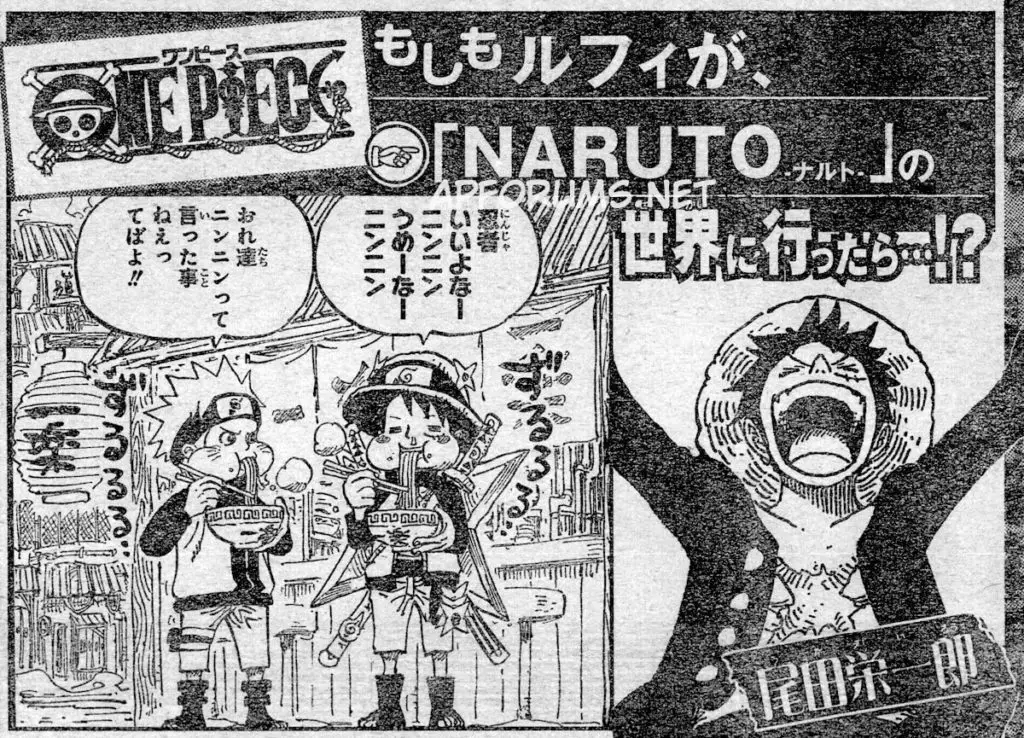 Rough Translation:
"If Luffy went to the world of Naruto…?!"
Luffy : "Being a ninja is great, nin nin. This is delicious, nin nin"
Naruto : "None of us have ever said 'nin nin' before!!"

Luffy has a Hidden Leaf village head band above his Straw Hat and his costume resembles an average Shinobi in Leaf Village. He even has two swords at his back and has a nice conversation with Naruto.
---
2. Luffy eating with Naruto along with Nami and Chopper – Oda on Naruto's successful end of 700 Chapters.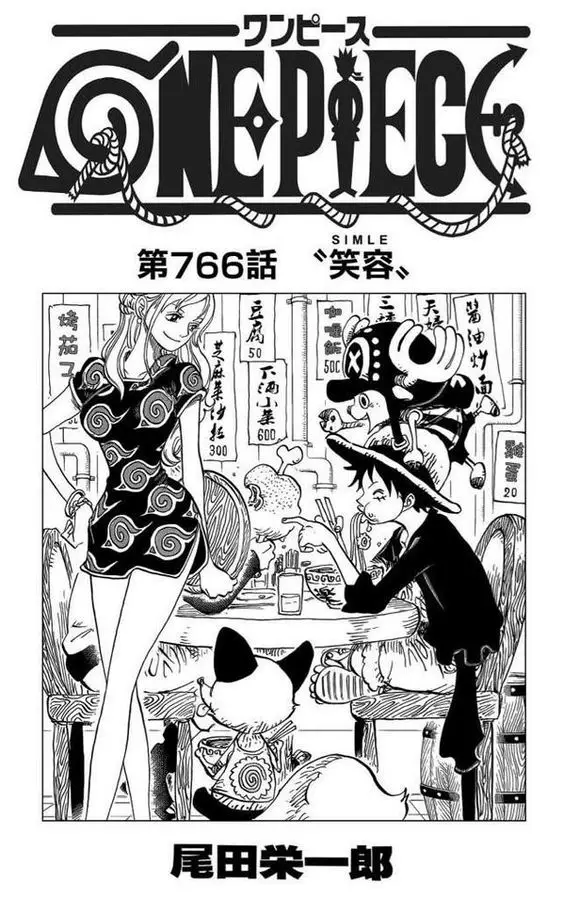 As a tribute to pay homage for Naruto's successful 700 chapters run, Oda dedicated the cover page of chapter 766 of One Piece to Naruto.

One Piece has a Hidden Leaf logo for the letter "B", a shuriken image on letter "E" and Naruto himself standing at the place "I". Pretty Cool, Right?
Nami wears a dress with Konoha symbol and there is a small fox wearing a shirt having a symbol of fish cake (In Japanese called as Naruto). Luffy eats Ramen with someone sitting opposite to him in a jump suit very similar to a yellow haired ninja we all know. Naruto eats meat which is the most favorite of Luffy.

The first characters in the menus in the background sums up to the phrase "Naruto otsukaresan deshita." which roughly means to "Naruto, good job after working so long".
---
3. Strawhats Jolly Roger on Naruto's stone face – Kishimoto draws on final chapter of Naruto.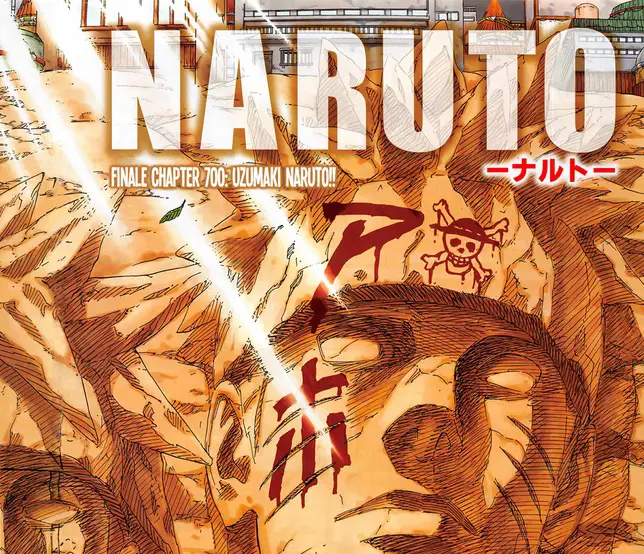 In final chapter of the Naruto, Boruto draws on the stone face of Naruto. In the drawing Kishimoto paid a tribute for Oda and One Piece by drawing StrawHats Jolly Roger on Naruto's face.
---
4. Picture of Rock Lee – Oda drew for the official "Naruto Exhibition" book.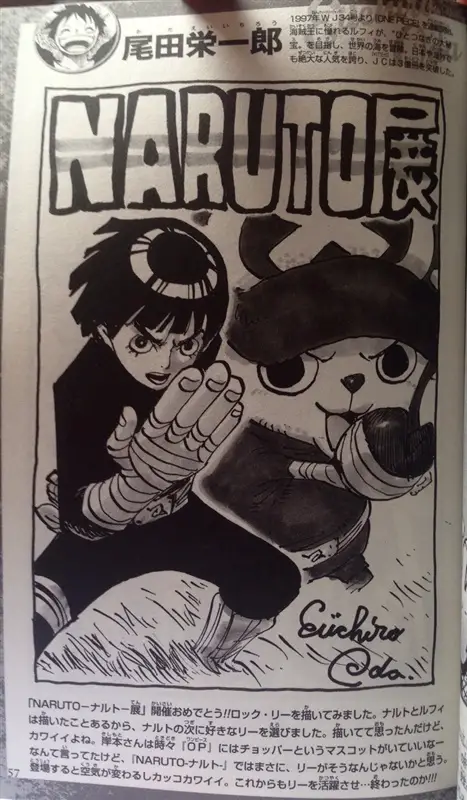 Oda drew a picture of Rock Lee for celebrating the opening of "Naruto Exhibition" book.
Translation:
Congratulations on the opening of the "Naruto Exhibit"!! I decided to draw Rock Lee. Since I've already drawn Naruto and Luffy before, I chose my next favourite, Rock Lee. Drawing Rock Lee made me think, he's actually pretty cute, isn't he? Kishimoto used to sometimes say that it's nice that One Piece has Chopper as a mascot, but I think that in the case of Naruto, Rock Lee's pretty much that.
Whenever he appears the atmosphere changes, and he's cool yet cute. Please continue to have Rock Lee do-… Wait, it's over!!!
---
5. Kishimoto draws Luffy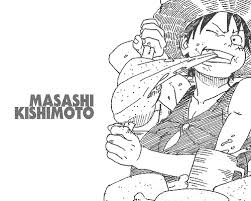 10 Famous mangakas drew the picture of Luffy in their art styles. Above is the Kishimoto's version.
---
5. Oda references Ninja techniques from Naruto in Zou Arc

After meeting a ninja Raizo, Luffy and others asks him to do several ninja techniques. The techniques seems to be few references to Naruto. Luffy, Usopp and Chopper ask him to perform Earth release, Fire release and Water release. Law asks him to perform Shadow clones of himself. In anime only, Usopp asks him to summon a toad.
---
6. Oda's tribute for Naruto 10 year anniversary.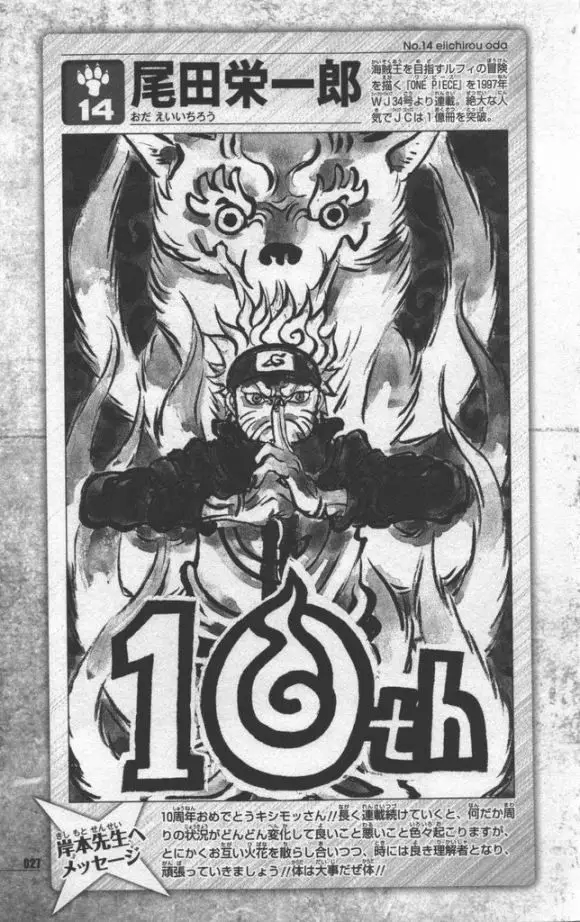 Oda drew Naruto and Kurama as a tribute for Naruto successful 10th year anniversary. Both Naruto and Kurama are in a typical Oda style, with both of them looks more goofy and comical than usual.
---
7. Oda and Kishimoto Interview

In 2015, the "Book of Lightning" included an interview of both Oda and Kishimoto togethor.

They were really candid about each other. Full translation can be found here at onepiecepodcast.com. I have just quoted a few interesting excerpts from there.
Question:Mr. Kishimoto, could you tell us which One Piece character or story you like?
Kishimoto:Okay, I'm not saying this because Oda's here in front of me, but I like all of it! (laughs) But I am very interested in the Spring-Spring Fruit abilities Bellamy has and his personality is very interesting as well. Although, I would have to say Chopper's backstory! Things like his first time meeting with Hiruluk, or the cherry blossom snow falling as he leaves the island, that really gets to you!
Oda:I'm happy to hear you say that.
Kishimoto:Although, I like him, but he's also scary! I mean, in many ways doesn't he hold more "power" than Luffy? That's why I think Chopper might be the "real boss." (laughs)
Question:A theory about Chopper being the real boss? (laughs) What would make you think that?
Kishimoto:Mmm, not sure. Luffy's the main character and more beloved than anyone else, but that's all through Chopper's existence! I mean, I really think that he created a kind of synergistic effect. He has this "presence" and gives off this "mood" and he actually holds a key role among the crew. Like, Chopper's cute, but he's actually a monster.
Oda:Chopper secretly thinks of evil deeds, wait, stop lying! (laughs) As a bit of an inside story, Chopper was a character born out of desperation. Originally I had him mapped out as a tall, lanky bipedal reindeer but Luffy, Zoro, Sanji [Nami and Usopp] were too popular and I couldn't find a place for Chopper. I thought that if I'd gone with that design, he'd have been upstaged by the other characters so I made him a bit shorter.

Kishimoto:And that's how that character was created. But seriously, I'm really jealous of Chopper!
Oda:You've always been saying that. (laughs)
Kishimoto:Actually, I was always thinking of going for a mascot character so I created a pink tadpole character once. I even casually drew that character all over manga volumes and Jump cover pages … but it just didn't grab people.
Oda:(laughs) But a lot of things happen that you don't account for during your serialization, right? For me, Chopper is an example of that.


Have I missed some other instances here? Feel free to comment it