The Way Of Jashin Religion explained – Naruto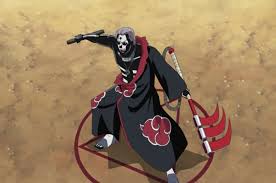 Jashinism is the religion followed by Hidan and the primary deity is "Jashin". Literal meaning of it is "Evil god". Not a whole lot of information is available about them told in the canon story. But there is few info from other sources such as Databook and Boruto Anime which gives us more insights about the religion.
---
Symbol

The symbol of the Jashinism is a circle with an upside down triangle inside it. In real life, it may be a reference to the symbol used by cults to open the door for demons to real world. Also it may be a reference to the alchemy and its symbol of natural elements. Hidan carries a amulet which has this symbol and he uses it to perform the rituals.
---
Teachings

Only follower of the religion we see in the story of Naruto manga is just Hidan and nothing is known about other followers though we have seen few others in Boruto Anime. According to Hidan, Jashin demands utter destruction and death and the meaning of the religion is "Killing" to generate as many sacrifices as possible. Also he is quite hostile towards the non believers and atheists and condemns them. Based on his conversation with Kakuzu, Jashin religion promotes conversion (Naruto chapter 314) and Hidan is really patient in explaining the beliefs to those who shows interest in Jashinism.

Also "Pagan" religion is present in Naruto world since it is mentioned Hidan likes to fight them. Though he hesitated to fight Chiriku who was a monk, considering he will go to hell killing a monk.

---
Powers obtained due to the way of Jashin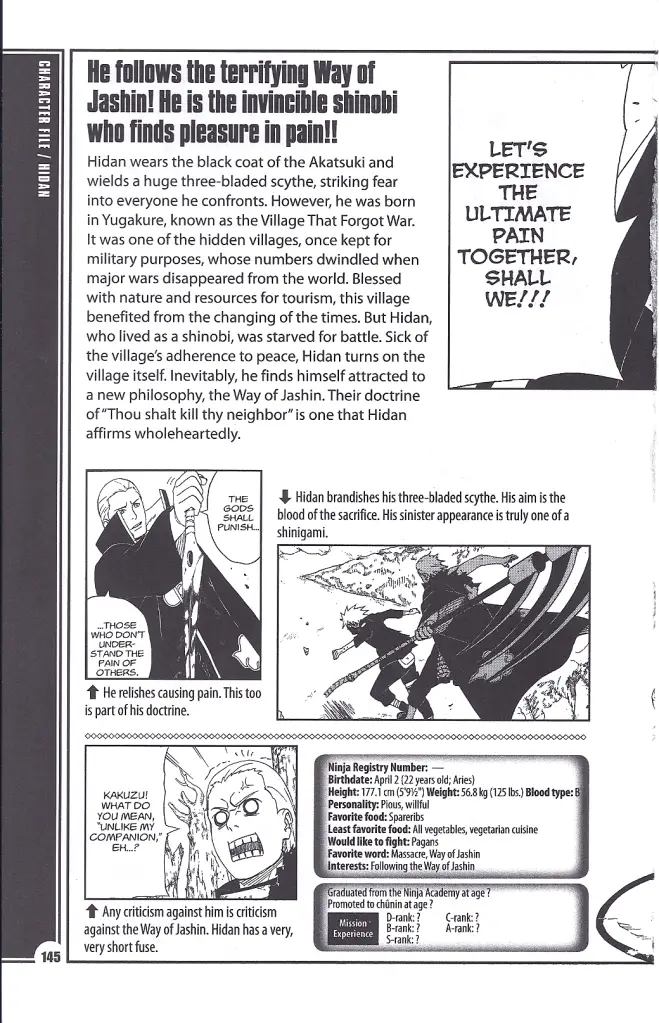 Though Hidan specifies his immortality and other rituals as powera due to his way of Jashin, they are actually just forbidden jutsus attained through some dangerous methods. So far we have seen three jutsus that is attained after following the Way of Jashin.
Known Jutsu in Jashinism
1. Immortality Jutsu
2. Curse Art: Body Controlling Manipulated Blood
3. Curse Art: Blood Rite Death
1. Immortality Jutsu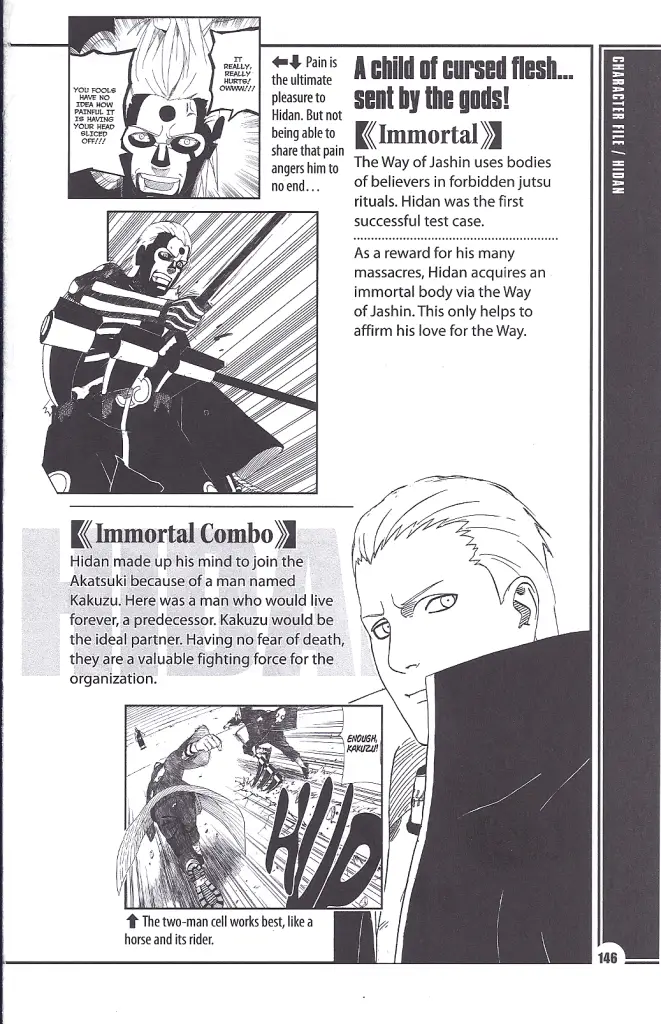 The way of Jashin uses bodies of believers in a forbidden jutsu ritual. As a reward for many of his massacres, Hidan acquired an immortal body. He is said to be the first successful case to acquire it so we can assume that nobody else has attained immortality. Though it is mentioned as some sort of magic power from a deity, it is actually just one of Forbidden Jutsu requiring several sacrifices.

In a way it is similar to Summoning: Impure World Reincarnation technique that summons dead people back to the real world by using a living body.

In Boruto – Next Generations, Kakashi, Guy and Mira (daughter of Asuma) goes to the Land of Hot water for a mission. Ryuki, a member of Land of Hot Water and also a follower of Jashin and Hidan, tries to attain immortality by sacrificing several young girls at once. From this it is pretty clear that several living people have to be sacrificed for attaining immortality.
Weakness: Only way to kill Hidan is to malnutrition him. He stayed alive even when his head was decapacited by Asuma.
---
2. Cursed Art: Blood Rite Death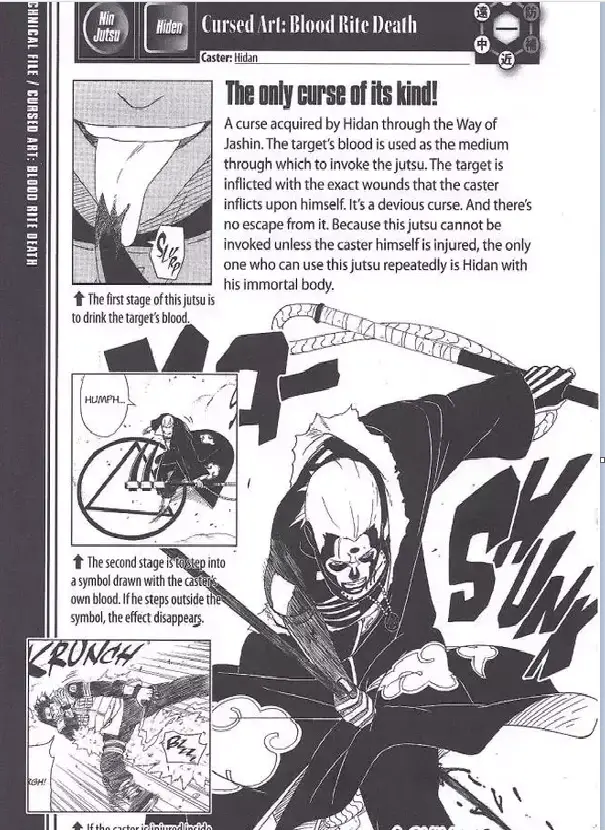 Hidan acquired this curse technique through his Way of Jashin. After ingesting blood of the target, target is inflicted with same wounds as the caster inflicts upon himself. Thus Hidan alone can use this technique since it involves the caster to injure himself and only Hidan with his immortal body can perform it. The caster will have Grim Reaper like patterns all over his body.
Steps to perform Curse Art ritual:
Caster has to drink target's blood.
The caster must enter into a symbol drawn by caster's own blood.
The injury suffered by caster will be equally suffered by the target.
Weakness: Hidan will also feel the pain when he is inflicting injuries to himself. He has to stand in the symbol to perform this technique and it takes time to start the ritual.
Relation between his Immortality and Cursed Art Technique

His immortality technique and his cursed blood rite death are independent of each other. But the immortality allows Hidan to use the Cursed Art technique since only he can remain alive using it. Others can use Cursed Art technique but will end up killing oneself.
---
3. Curse Technique: Body Controlling Manipulated Blood

In Boruto Anime, Ryuki uses a slight variation of this, Curse Technique: Body Controlling Manipulated Blood. By using this he controls another person via a puppet by injecting their blood initially. Whatever happens to the puppet will happen to the controlled person. The controlled person has the same Grim Reaper like pattern on their body as Hidan has when he performs his Curse technique. This can be a confirmation that both Immortality and Cursed Art technique are independent of each other.