15 My Hero Academia Best Moments in Anime (Boco No Hero Academia)


My Hero Academia is one of the most popular modern anime series. The story takes place in a world where people have special powers called Quirks and thus leading to a world of Super heroes and Super villains.

The series has great animation, amazing fighting scenes and really great characterization. With 88 episodes and so many great fights and many emotional moments, it is difficult to breakdown the My Hero Academia Best moments to just 15.

Definition of term "Best" is highly subjective. But I followed a simple rule that the said moment should have had the highest emotional impact for me personally. It could be happiness, sadness, comedy or any emotion but should have had an memorable impact.

Unsurprisingly you may end up disagreeing with most of my options in the rankings of My Hero Academia's Best Moments.
Feel free to comment the moment which you felt should have made it to the list.


Here are the top 15 My Hero Academia Best Moments from ranked from good to best.
---
15. All Might's fight with Nomu
Episode – Season 1 Episode 12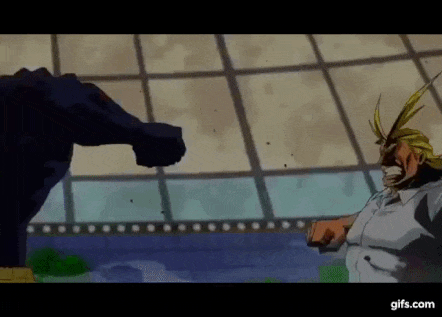 Premise – Shigaraki and his group of villains crashes a field exercise of Class 1-A to lure All Might. When All Might appears, Shigaraki unleashes his secret weapon, the Multi-Quirk monster called "Nomu" against All Might. With assistance from other students, All Might defeats the creature protecting all the students just in time before his power limit.
---
14. Bakugo vs Uraraka
Episode – Season 2 Episode 9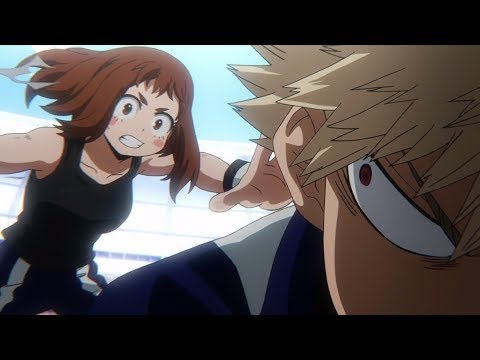 Premise – Uraraka fights Bakugo in the Sports Festival. She uses many different strategies using her wits and skill to defeat Bakugo. However, despite her plans, Bakugo wins after Ochako falls unconscious.
---
13. Deku's fight with Bakugo
Episode – Season 3 Episode 23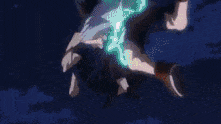 Premise – Frustrated with Midoriya's progress, Bakugo challenges him to a fight. Bakugo fights close and fast to give Midoriya less time to strategize, but Midoriya manages to keep up by increasing One For All to eight percent. While the match is close, Bakugo ends up winning after pinning Midoriya to the ground.
---
12. Deku's fight against Muscular.
Episode – Season 3 Episode 4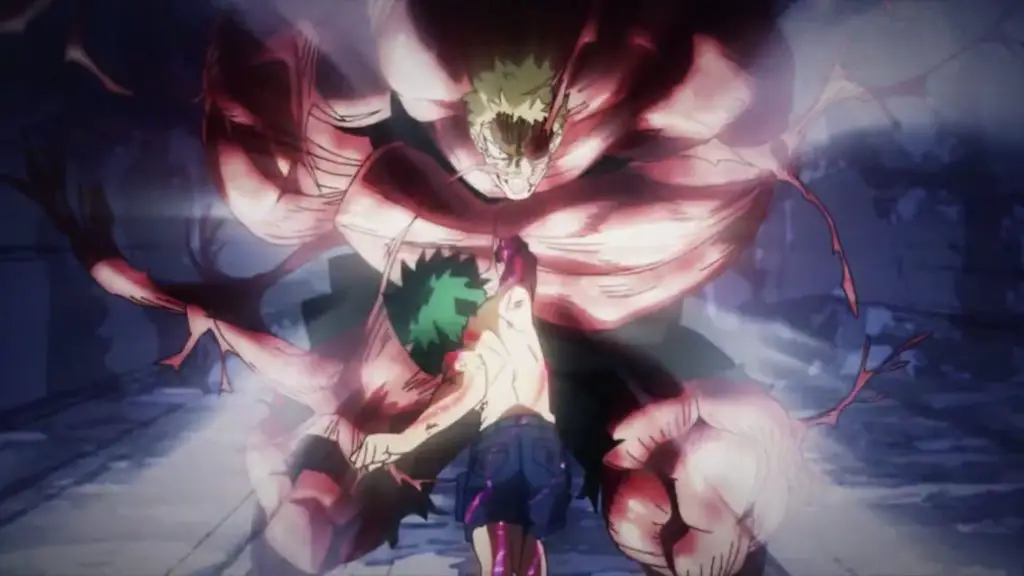 Premise – Muscular, one of the villains who infiltrated the training camp in the forest chances upon Kota at his secret hideout and tries to kill him, but is stopped by Midoriya. Midoriya though pushed to his limit, manages to defeat Muscular with a 1,000,000% Delaware Detroit Smash and saves Kota.
---
11. Deku comes first in Sports Festival first round.
Episode – Season 2 Episode 3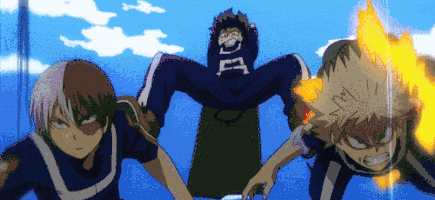 Premise – During the obstacle race in the first round of Sports Festival, Todoroki and Bakugo are at top of the race. Without using his quirks but only his wits, Izuku manages to come first beating both Todoroki and Bakugo.
---
10. Deku's first use of One for All to save Uraraka.
Episode – Season 1 Episode 4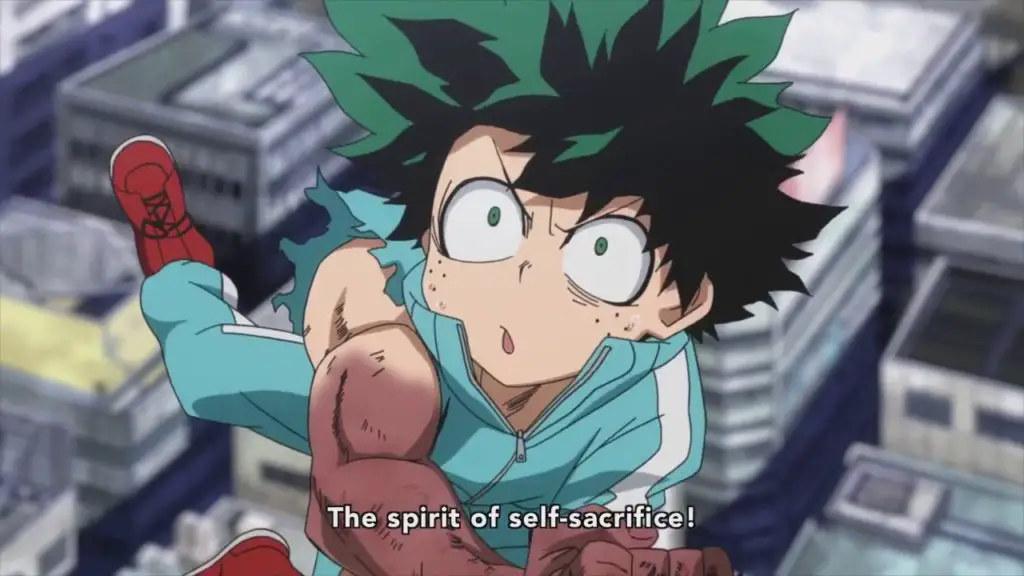 Premise – Izuku in his entrance exam gets himself in a pinch as he is unable to get even a single point. He finds Uraraka in serious danger and he runs to her rescue and uses the One for All for the first time thus injuring himself severely and also failing to get even a single point.
---
9. Mirio against Entire Class 1-A
Episode – Season 3 Episode 24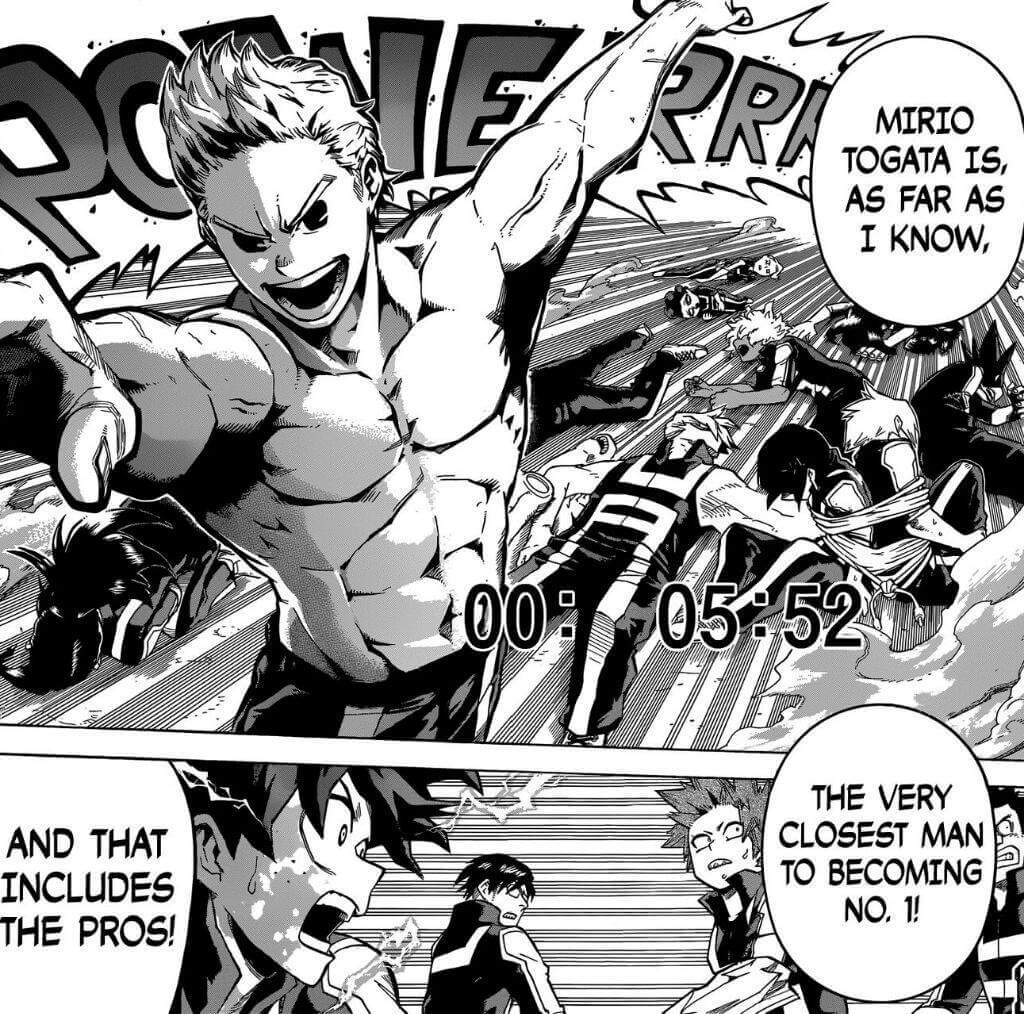 Premise – Mirio being part of Big 3 from 3rd year class in U.A High School introduces himself to Class 1-A. He challenges the whole Class 1-A to fight him and he single-handedly manages to hit everyone using his quirk Permeation.
---
8. All Might's fight with All For One.
Episode – Season 3 Episode 11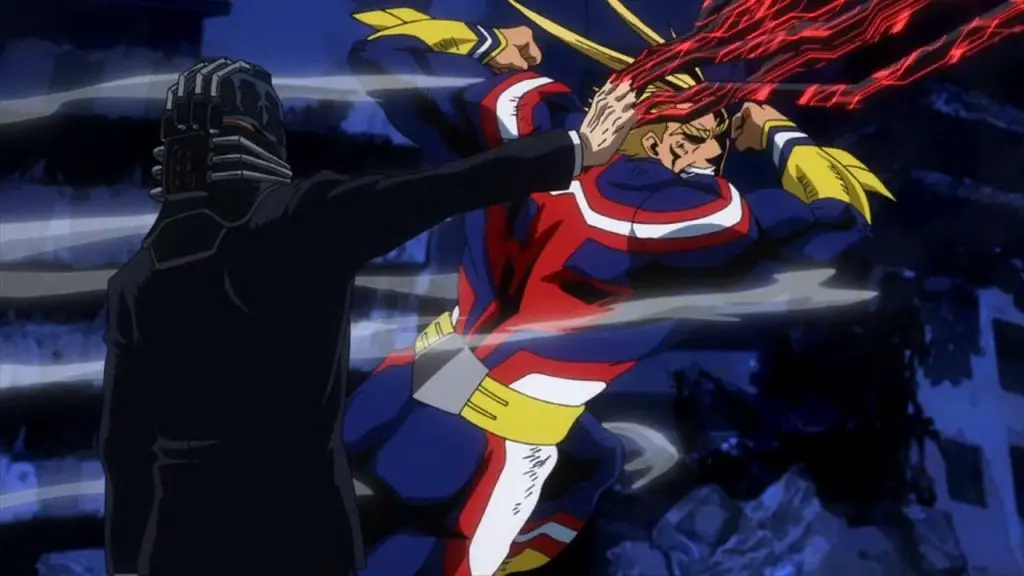 Premise – All Might and All For One clash furiously as the world watches. All For One reveals he brainwashed Tomura Shigaraki, grandson of Nana which strikes a pain into All Might's heart. Due to this, All Might delivers his strongest attack: the United States of Smash and defeats him, but reveals his true skinny self to the world.
---
7. Stain saves Midoriya
Episode – Season 2 Episode 17
Premise – After the fight with Stain, Izuku is captured by a flying Nomu. Stain who was captured with help of Izuku, escapes and saves Izuku, a hero from the Nomu much to the surprise to everyone. It shows that he rates Izuku as a true Hero like All Might.
---
6. Kirishima's Unbreakable Red Riot
Episode – Season 4 Episode 5
Premise – Eijiro Kirishima, Tamaki Amajiki and Fat Gum confront criminals using bullets that stop Quirks and also have Quirk-enhancement drugs. Eijiro goes beyond his limits to stop one of the remaining criminals with his Red Riot Unbreakable technique.
---
5. Deku's fight with Shoto Todoroki in Championship
Episode – Season 2 Episode 10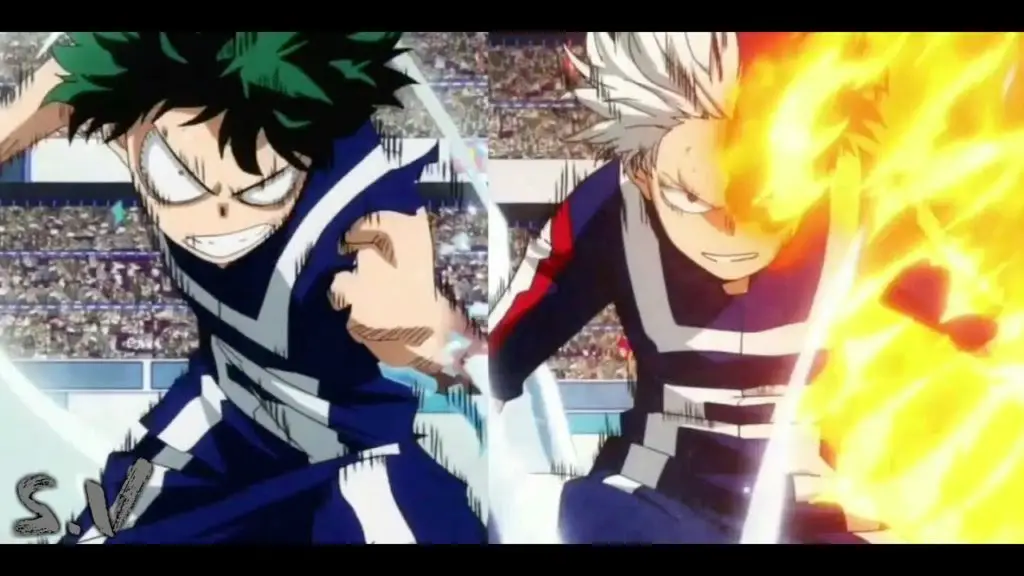 Premise – Izuku faces off against Todoroki in Sports festival. Izuku tries to get Todoroki use his left side to make him move on from his past. Finally Todoroki uses his left side remembering his past with his mother and Deku loses the match and also severely injuring himself.
---
4. Kirishima's fight with Rappa
Episode – Season 4 Episode 9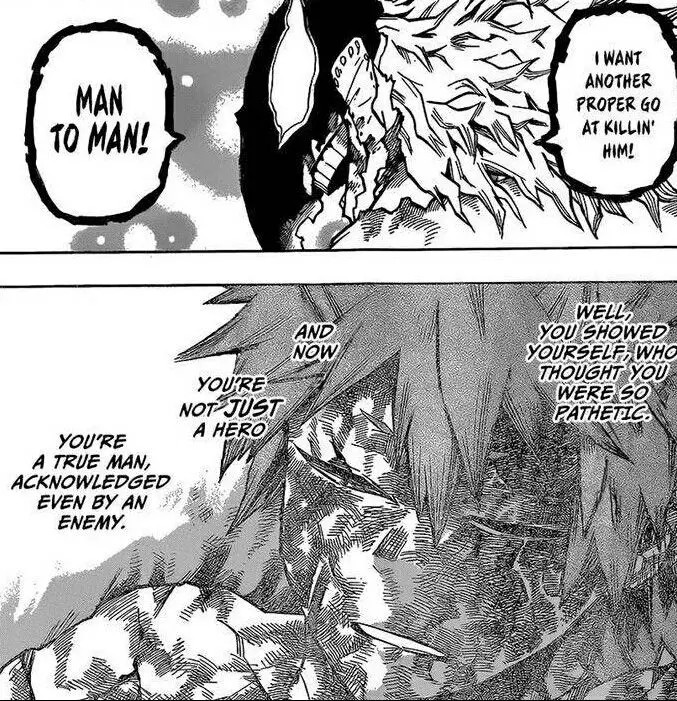 Premise – Kirishima and Fat Gum faces off against the psychotic fighter Kendo Rappa and the barrier-making Hekiji Tengai. Even after taking heavy damage, Kirishima spurs back into the fight and defeats Rappa and also gains the respect of Rappa .
---
3. Deku's fight with Overhaul
Episode – Season 4 Episode 13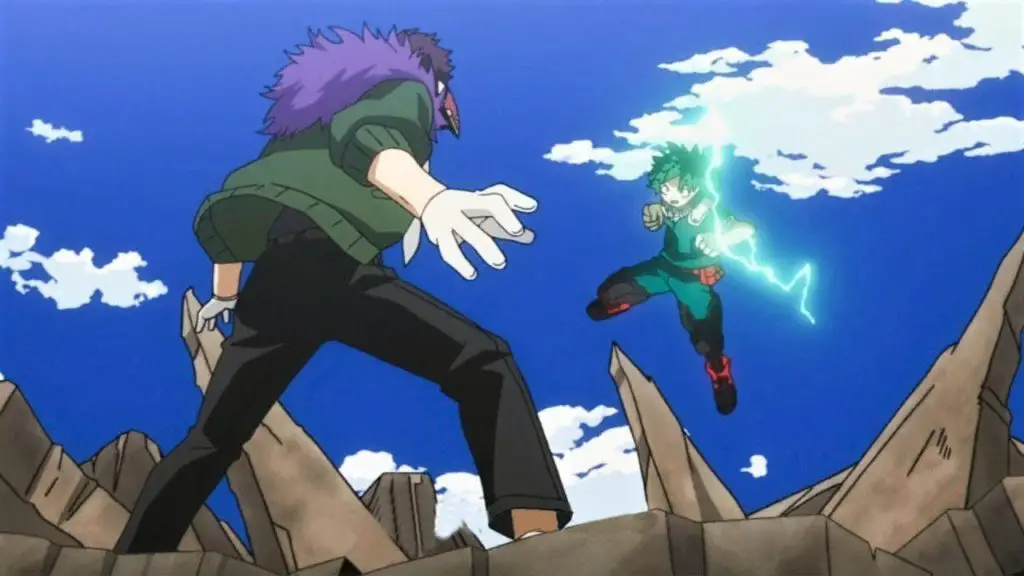 Premise – Deku fights a transformed Overhaul as Mirio lost his quirk. With Eri activating her quirk of rewind, Deku manages to use One For All Full Cowling at 100% to defeat Overhaul thus changing the foresight that Nighteye saw.
---
2. Endeavor's fight against High End Nomu
Episode – Season 4 Episode 25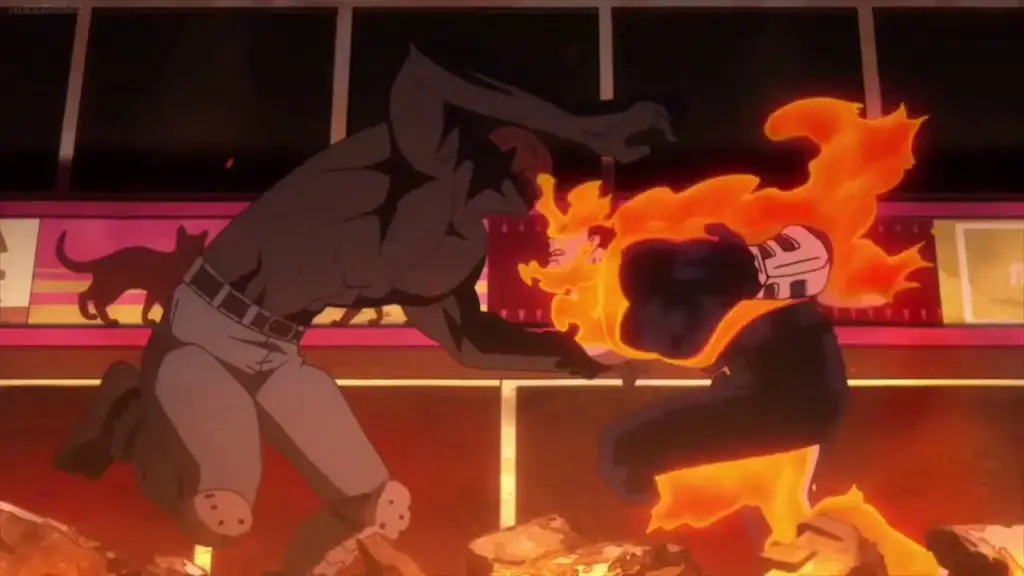 Premise – An intelligent High-End Nomu named Hood interrupts the talk between Endeavor and Hawks. Endeavor takes the initiative to fight the Nomu with Hawks involved in the rescue mission. Though the Nomu is stronger and faster than him, Endeavor pushes beyond his limit and destroys the Nomu. He survives and stands strong with his fist raised in the air just like All Might did.
---
1. Mirio's fight with Overhaul.
Episode – Season 4 Episode 11
Premise – On their mission to rescue Eri, Mirio catches up with Chisaki and his gang. He then single-handedly takes on Chisakai, Shin, Chronostasis, and Deidoro and even successfully retrieves Eri from them. But in order to save Eri from a bullet, he takes the bullet himself like a true hero and thus losing his quirk.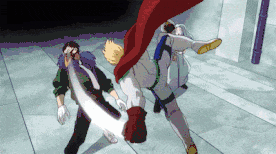 ---

Final thoughts
There are tons of other moments that may have made the list. But since there are only 15 places, only the above can make the list of top 15 My Hero Academia best moments.