My Hero Academia Gifts: Best Gift Ideas for Fans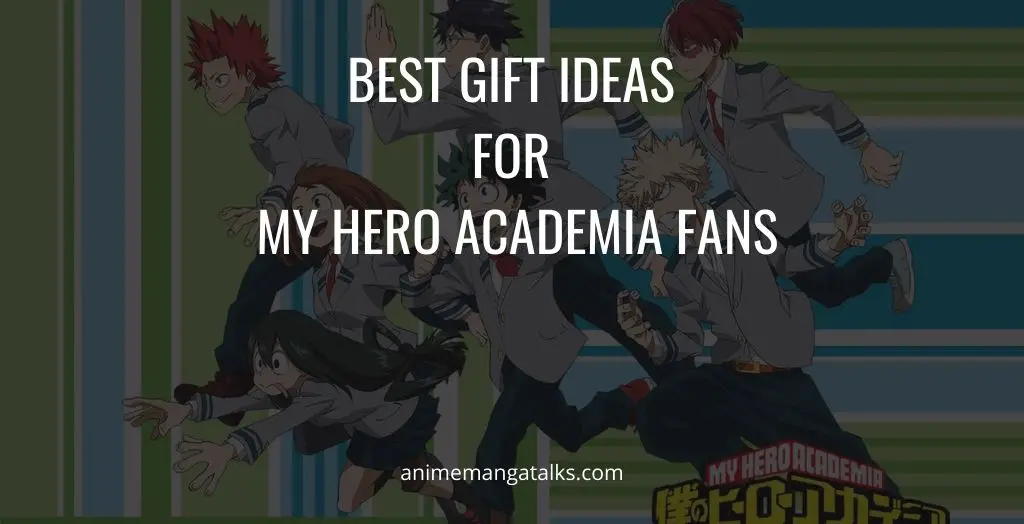 Looking for a cool gift to present to your beloved ones who are fans of MY HERO ACADEMIA? Look no further, because I have put together a list of the best gift ideas that one can give to a My Hero Academia fan.

I have made this list so that even those who have no idea about the series can choose the perfect gift. Even if you know about the series you can get a good idea for choosing the best gift which will save you valuable time.
---
1. Manga Volume Set

My #1 Best choice of gift to give a My Hero Academia fan is the paperback version of the Manga set. You may think that if they had already read/watched the show then it might be pointless to buy Manga. But it cannot be far from the truth since having Manga volumes in your bookshelf acts as a source of pride as a fan. And the gift gives a non-materialistic feel to it and comes off as sincere.
2. Action Figures

An action figure is a poseable character toy figurine based upon characters. They can be kept in the workplace or study place which can remind one of the people who gifted them. Try to find the receiver's favorite character if possible and choose the action figures based on it. There are general fan favorites who everyone loves in the show and a gift based on them will please anyone.

TODOROKI

Shoto Todoroki is a fan favorite due to his cool design with a great personality. He is a huge fan among girls too. Some of the best action figures of our best are below.
My Best Picks of Todoroki Action Figures from Amazon
DEKU

Everyone loves our main protagonist of the show. He consistently ranks up at the first or second position in popularity polls in both US and Japan. He is a safe option to buy since he is overall well liked by all.
My Best Picks of Deku Action Figures from Amazon
---
BAKUGO

Bakugo tops the last four popularity polls in Japan and last three popularity polls in USA. His eccentric personality may be annoying for some so keep that in mind before buying.
---
BEST GIRLS
Uraraka, Asui, Momo Yaoyoru and Mina Ashido are the best girls from the show and all of them are pretty likeable.
---
Other Fan Favorites:

Apart from the above characters, there are others that are also loved by the fans of the series. Make sure to check them out as it will show the effort you have put into choosing the perfect gift. Action figures of other characters like All Might, Mirio, Dabi, Kirishima, Shigaraki can also be a good choice.
---
3. Games

Games can be a great gifts for My Hero Academia fans who also falls in the category of being a gamer. There are several great games based on the series. I have listed the best ones that are available to help you choose the best gifts.
My Hero One's Justice
My Hero One's Justice is definitely the best game based on the series. There are two parts in this game series. Both of them are really good but I suggest to pick My Hero One's Justice 2. There are other games too but they aren't that good as this one.
---
4. Backpacks
Backpacks are a great choice for gifts since they provide both aesthetic beauty and a real practical use. Some people like backpacks with actual characters' faces while some people like to keep them simple with just symbols and icons referencing the series.
---
5. T Shirts

Gifting T Shirts is always a safe and solid idea to gift to a My Hero Academia fan. Just make sure you get the correct size of the receiver and try to find their favorite characters if possible. There are plenty of options to choose from.
6. Hoodies
Everyone loves hoodies and one of the main reason is because they're so ultra-cozy and comfortable. Having a soft hoodie completely engulf your upper body can instantly make you feel pampered and warm. Hoodies are a crowd favorite and there are very few people who don't love wearing hoodies. Luckily hoodies based on My Hero Academia theme are plenty and with different styles.

---
7. Monopoly Game

Monopoly is one of the best-selling board games of all time and it can be played with friends and family. Monopoly coupled with My Hero Academia is a juicy choice and will make an amazing gift.
---
8. My Hero Academia Themed Tea Cups

Tea Cups are pretty common gift idea all over the world. A cup of tea a day is official 'me time' and to gift someone a beautiful teacup, it is like giving a gentle reminder that they deserve some time out and will also remind them of the person who gifted it.
---
9. Night Lamp
Lamps are one of the best home decor gifts to give anyone. Functional, practical, and when chosen with care, they can enhance or alter the look of any room. Particularly night lamps are great since they fill the dark room with positivity and peace.
---
10. My Hero Academia themed Cell Phone Cases
Another great idea is a quality phone case with My Hero Academia theme. There are several choices to choose from and just need to find correct cases based on the mobile. I have provided link for quality Iphone cases above.
---
11. My Hero Academia themed Modular Wall Art
Few gifts are more memorable than fine art, and taking the time to choose artwork for your special someone or a valuable colleague is an excellent way to show how much someone means to you. There's no wrong way to give the gift of art, only amazing possibilities.
---
12. Blankets
What better way to make the living room more colorful and beautiful than to fill it with My Hero Academia themed designs.
---
13. Pillows and Bed sets
---