A Network Of Scam Anime Merch Websites – Spoofing, Plagiarism, Fake Reviews

I will explain how there is a deep web of merch websites that pretend to be official Anime stores, plagiarize content from the top-ranking blogs, and game Google Search to get at the top of search results. They use fake reviews in Trust pilots and fake sales numbers in their stores. I will explain how I accidentally stumbled upon this rabbit hole.
---
List Of Scam Sites
tokyo-revengers.store
fairytail.store
sk8-store.com
danganropa.store
hanakokun.store
oppai-store.com
black-clover.store
avatarthelastairbender-store.com
genshinimpact-store.com
onepiece-store.com
banana-fish.store
kakeguruimerchandise.com
chainsawman.store
rickyandmortyshop.com
lozblockshop.com
jjba.store
jujutsukaisenmerch.store
haikyuumerchandise.store
Go through the post to know how I found this.
---
1. Plagiarizm
How It Started: My Site Content Was Plagiarized
While I was researching how my site content was doing in google search, I noticed that the site chainsawman.store had the same content as mine in google search results as you can see in the pic below. Both of us had the same title and the same list, I published that article in November 2020 while they updated it in August 2021.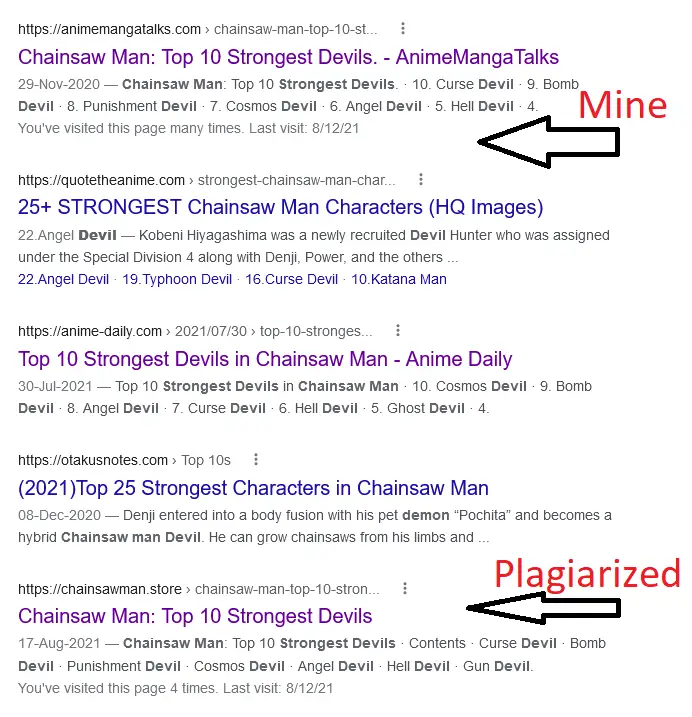 I decided to go inside their site and check if the content is also copied. This is where things got interesting. They copied my entire post and just replaced certain words with their synonyms. I have shared some snippets below comparing my post and theirs. I even commented on their site asking them to remove it, but expectedly they never published my comment. I even tried contacting them via their contact page but received no response.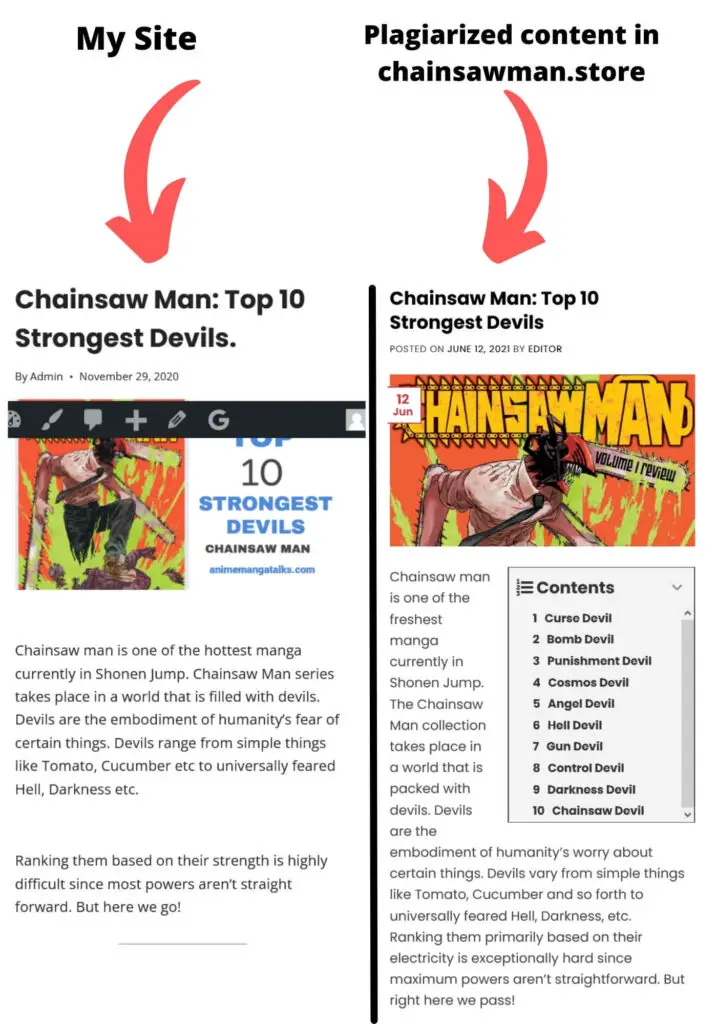 You can see that they have just repeated my lines with slightly different words. I don't want to link to their site but if you want to check, you can easily find them and cross-check this. My Post lInk: https://animemangatalks.com/chainsaw-man-top-10-strongest-devils/
---
All Of Their Posts Are Plagiarized From Other Sites
After confirming that my content has been plagiarized, I decided to check their other content. What I found was that they had plagiarized all of their content from leading sites like CBR, Screenrant, etc. The writers on these sites and myself for this site do a lot of research to get ranked in google. By copying the content and replacing the words with synonyms they even deceived Google algorithm and managed to gain authority in the eyes of google.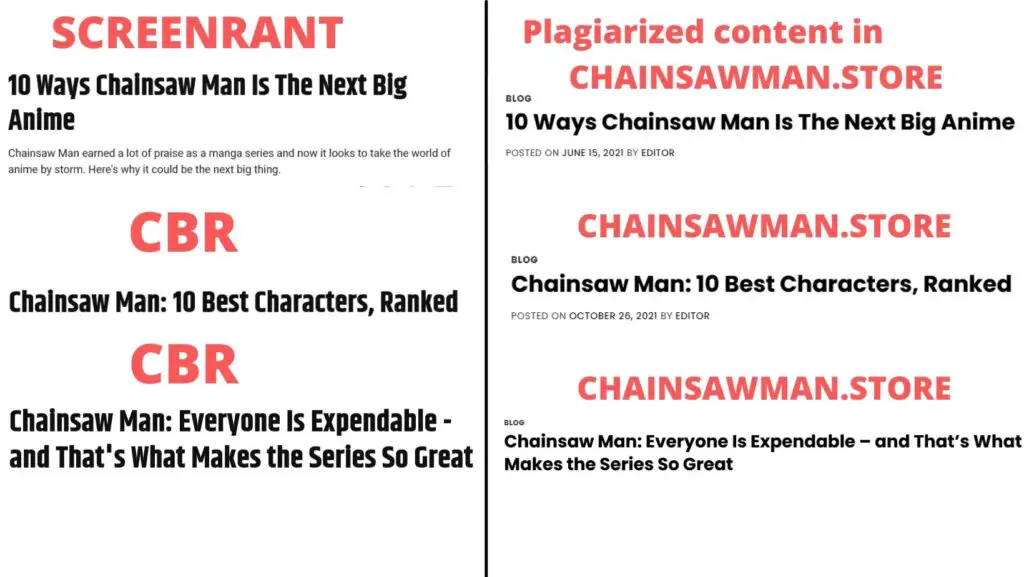 ---
2. Spoofing As Official
Now that I have proved that their blog content is plagiarized, let us take a look at their shop page. On entering the site, you will notice that they have "Official" in their description which is obviously false. Chainsawman doesn't have any official store yet.

---
Fake Sales Notification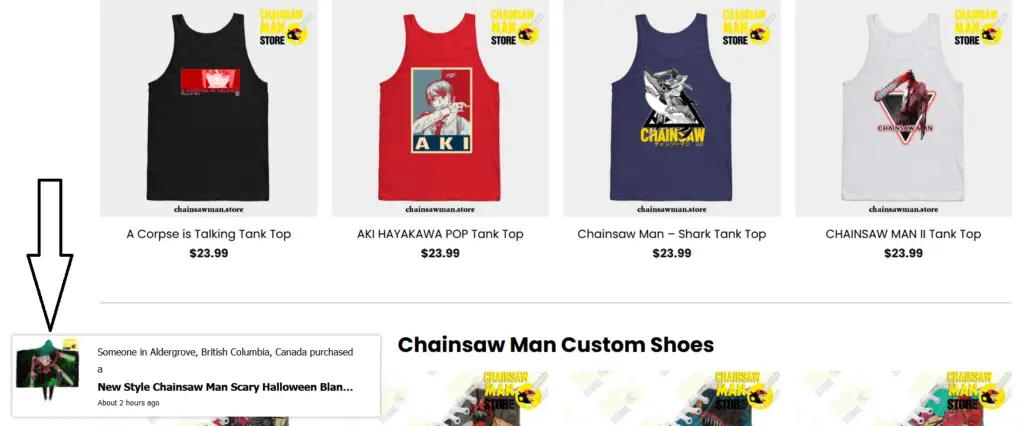 Once you spend a few seconds you will find that they give a notification that someone has purchased a product. These notifications are just built-in template text that is present in a theme. They periodically show those notification pop-ups to manipulate the customers into thinking that a lot of others are purchasing the item.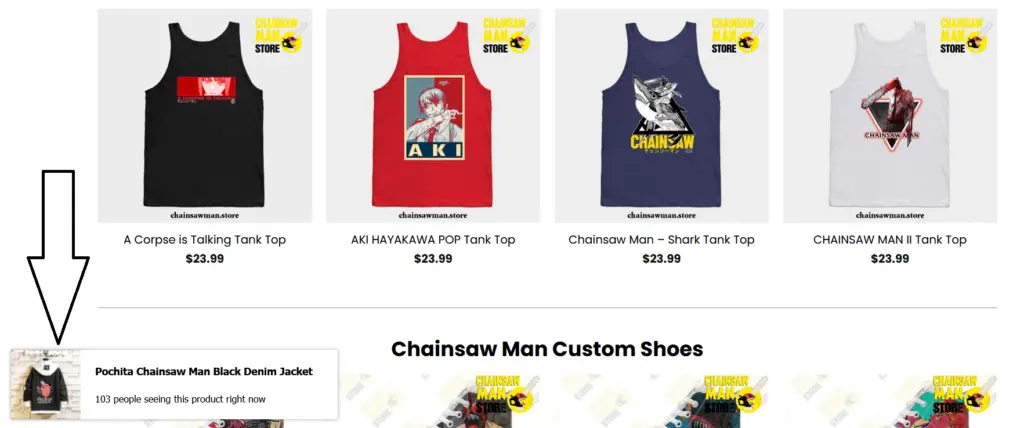 Another notification pop-up you will receive is that a lot of customers are currently viewing a product. It is also a fake one which they periodically show to give an impression that the site has a lot of traffic.
---
No Customer Reviews
For a site that supposedly has a lot of sales, there is literally no Customer Review found anywhere. Customer Reviews are the standard way of checking the authenticity and this site deliberately never publishes any review.
---
3. Manipulating Reviews In Trustpilot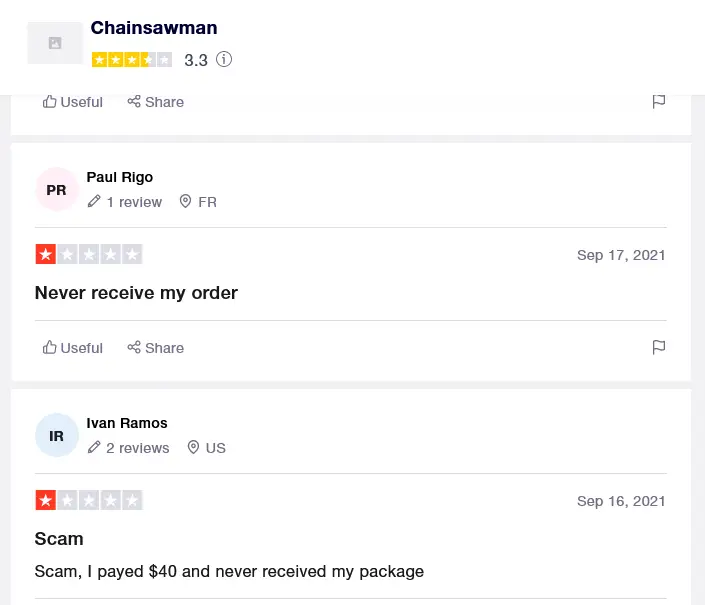 Then I tried to check the online business reviews on sites like Trustpilot where common people can review online stores. I found four reviews for the chainsawman.store out of which two are positives and two are negatives. Both of the bad reviewers say that they have never received the packages. I checked both of them, their reviews seem genuine.
Fake Positive Reviews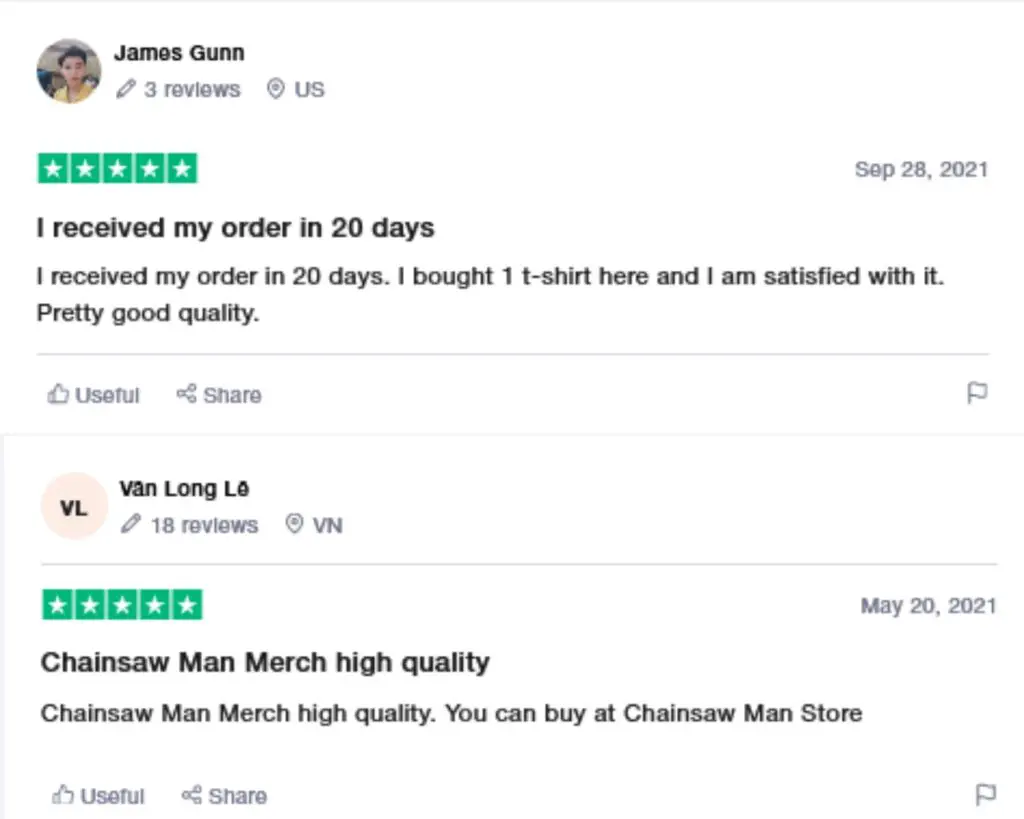 The positive reviews are the part where this scam takes a wild turn. Remember the two characters in the above picture that gave positive reviews.
James Gunn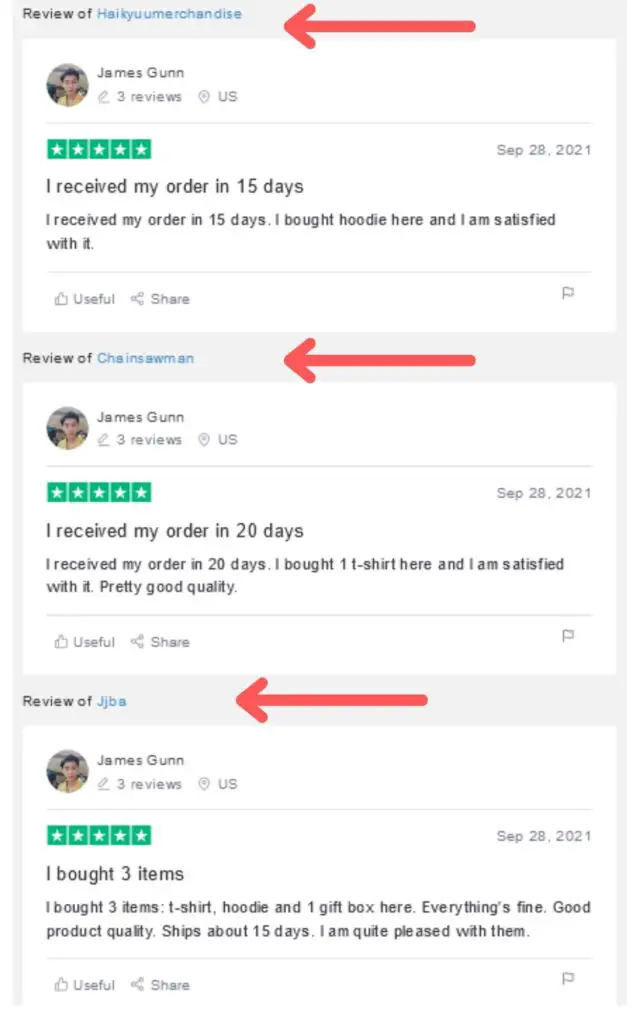 Once I opened his profile, I found that he has totally three reviews on this site. This is where I noticed that chainsawman.store isn't the only store they are scamming. Also, note that he has updated his location as someone from the USA.
James Gunn has given positive reviews for a Haikyuu store and a Jojo Bizarre Adventures store. All of his three reviews are very generic and are made just to improve the average rating which is tarnished by the actual people reviews. All three reviews by James Gunn were made on the same day as well.
Remember the store names, we will get back to it later. Now we take a look at his profile picture. It has a picture of some real person. I reverse searched the image and found that the person in the picture is a real person that came in news in Vietnam.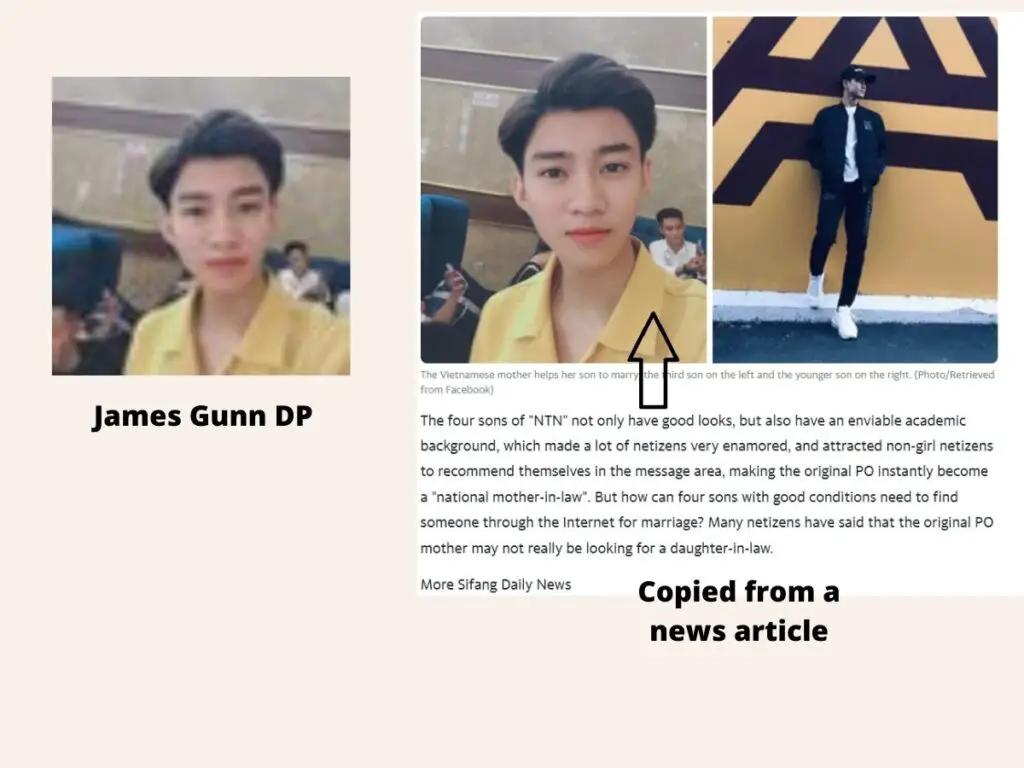 Vân Long Lê
Now we take a look at Vân Long Lê's reviews which are even more interesting. He has given a total of 18 reviews and all of which are stores of different anime franchises primarily.
Link for his reviews: https://www.trustpilot.com/users/606eca0f252e9400195c85b0
List of stores he has given reviews for:
tokyo-revengers.store
fairytail.store
sk8-store.com
danganropa.store
hanakokun.store
oppai-store.com
black-clover.store
avatarthelastairbender-store.com
genshinimpact-store.com
onepiece-store.com
banana-fish.store
kakeguruimerchandise.com
chainsawman.store
rickyandmortyshop.com
lozblockshop.com
jjba.store
jujutsukaisenmerch.store
haikyuumerchandise.store
Some snippets of his reviews are below.
I checked those sites and all of them follow the same pattern as Chainsawman.store. They do fake reviews, fake pop-ups, fake sales numbers, plagiarized content to fool google search. This seems like a huge network of guys doing it because it is insanely tough to manage so many stores by a single person. This looks like an elaborate scam.
---
4. Real Customer Reviews
Now we have to check what the actual customers think about these sites. So I decided to gather the reviews from the actual on the internet. I wanted to ensure that these sites are indeed scams. I will share every review I found on the internet below.
JJBA.STORE
Users in Trustpilots gave
Sylwia Gral wrote

★☆☆☆☆
Do not order!!!
Ordered in June, didn't get it by end of July contacted them. They said they didn't have the order on the system. I sent a screen shot of the email. They then emailed saying it wasn't thier website which it was and that is where I got the email from! Not seen the item or recieved a refund total scam.do. Description for this block. You can use this space for describing your block.
Quinn Williams wrote

★☆☆☆☆
DO NOT USE THIS 'BUISNESS' I order a…
DO NOT USE THIS 'BUISNESS' I order a medium sized order nearly a month ago and after that initial conformation I had no idea whether I was actually getting it or not I contacted them several times and I got no response. Currently in the refund process because I didn't get my order 0/10
Reddit User said this in comment:
xxbonbon1987xx · 7 mo. ago

Nope, ordered a scarf from them nearly 3 weeks ago and haven't gotten any updates on processing or shipping. They won't answer emails. it's a scam.
Rickyandmortyshop.com
Mackenzie Skoberg on Facebook wrote

THIS IS A SCAM!!! I ordered something paid $70 and they won't answer my emails or messages! DO NOT ORDER FROM THEM
HAIKYUUMERCHANDISE.STORE
To be fair I did see a review that wasn't on the negative side of things.
Chariyorki· 5 mo. ago
I bought knockoff Nendoroids from this store purposefully, knowinf they were fake because I was curious about the quality. It took about 3 months to ship (USA) but the packaging was nice and the quality wasn't the worst because they are quite cute. The customer service email linked to the website was pretty helpful not gonna lie, so I wouldn't say the site is a scam but it's certainly not authentic merch
---
TL; DR
There is a network of Anime merchandise site sthat pretend to be official stores.
They plagiarize the content of the leading sites that rank well and try to fool google search algorithm.
They use fake popups, fake sales numbers to manipulate the users
They fake online business reviews to seem like a legitimate business.
Most of the online reviews from real users are negative ones.
---
Do share this blog to spread awareness, as so many people are losing money over this.
I am still analyzing this, will update if I find something else.
---