Hard Anime Quiz – Guess the Anime from Japanese Name.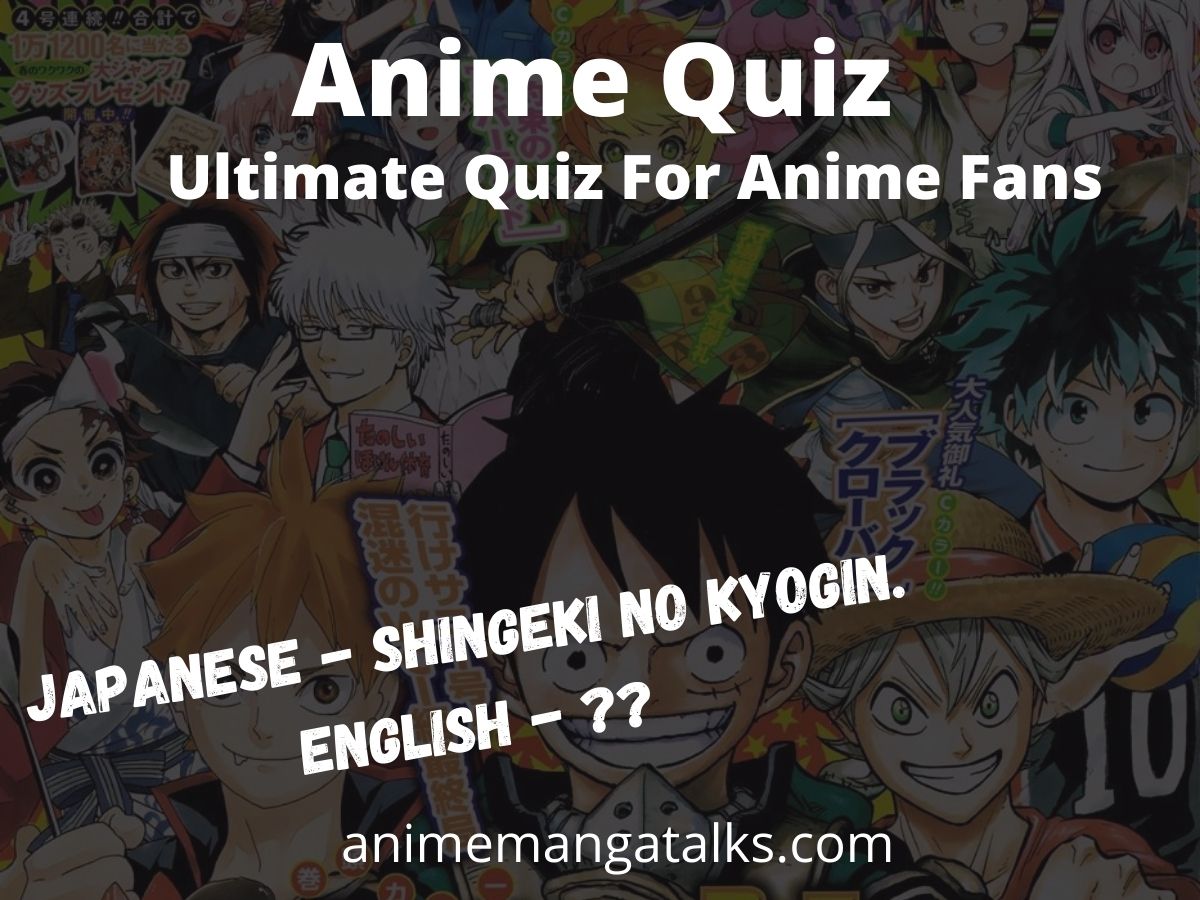 You probably have watched a lot of anime and learnt a few Japanese words. You might have even bragged about those few words to your friends. Let us put that knowledge to test in this quiz.

The rules of the quiz are pretty simple. The Japanese version of an anime will be given and you have to guess the correct English name of the series. Sometimes an anime will have different name in English and Japanese and I will be testing your knowledge in that.
Start Quiz
---
1. Guess the English name of the following Anime – "Shingeki No Kyojin".
---
2. Guess the English name of the following Anime – "Kimetsu No Yaiba"
---
3. Guess the English name of the following Anime – "Boku No Hero Academia"
---
4. Guess the English name of the following Anime – "JoJo no Kimyou na Bouken"
---
5. Guess the English name of the following Anime – "Kimi No Nawa"
---
6. Guess the English name of the following Anime – "Yakusoku No Neverland"
---
Moving on to the harder ones. 7. Guess the English name of the following Anime – "Shokugeki no Souma"
---
8. Guess the English name of the following Anime – "Koe no Katachi"
---
9. Guess the English name of the following Anime – "Shigatsu wa Kimi no Uso"
---
10. Guess the English name of the following Anime – "Mirai Nikki"
---
11. Guess the English name of the following Anime – "Kanojo, Okarishimasu"
---
12. Guess the English name of the following Anime – "Nanatsu no Taizai"
---
13. Guess the English name of the following Anime – "3-gatsu no Lion"
---
14. Guess the English name of the following Anime – "Hotaru no Haka"
---
15. Guess the English name of the following Anime – "Hataraku Maou-sama!""
---
16. Guess the English name of the following Anime – "Sen to Chihiro no Kamikakushi"
---
17. Guess the English name of the following Anime – "Ansatsu Kyoushitsu"
---
18. Guess the English name of the following Anime – "Kiseijuu: Sei no Kakuritsu"
---
19. Guess the English name of the following Anime – "Hagane no Renkinjutsushi"
---
20. Guess the English name of the following Anime – "Boku dake ga Inai Machi"
---