Ultimate Haikyuu Quiz For True fans #1


Haikyuu is one of the best sports anime of all time and has set the benchmark very high for any future sports series. The beauty of Haikyuu lies in its brilliant and realistic depiction of Volleyball, staying true to its genre. With amazing characters and with no unnecessary side plots, Haikyuu is a must watch masterpiece for any anime fan.

Most questions in this quiz are fairly easy for a fan who watched Haikyuu but few of them are really tricky and more like puzzles. Try to get as many as possible and you will be graded based on the scores.
This quiz will have questions only upto Anime story Season 4 Part 1. So no Manga Spoilers

Start Quiz
---
1. Who is the character in this picture?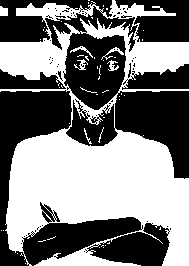 2. How many Ace serves does Yamaguchi get against Aoba Joshai in the second set in Spring Prelims?
---
3. What position does Ushijima plays?
---
4. Pick the odd one out.
All are Middle blockers except Daichi
---
5. Who scored the most points in Shiratorizawa vs Karasuno match?
---
6. Who did Ukai say was the "MVP" of Karasuno vs Shiratorizawa match?
---
7. Who gets substituted for Daichi when he gets injured in the match against Wakutani Minami High?
---
8. What position did Coach Keishin Ukai play in his school days?
---
9. Who is not part of the top Three Aces in High School Level?
---
10. What is the first team Karasuno beat in the Interhigh Tournament?
---
11. Who is the only one who wears different jersey than his teammates in a volleyball game?
---
12. How many sets were played between Karasuno vs Shiratorizawa?
---
13. Solve the anagram. "POSIPOET"
Clue: A Volleyball related term
Answer:  OPPOSITE
---
14. Fill the missing person in the following list. Kōshi Sugawara, Asahi Azumane, __________, Ryūnosuke Tanaka, Chikara Ennoshita
Clue: Keep the order in mind
Order of their jersey numbers.
---
15. Which team did Aoba Joshai beat in Semi finals of InterHigh Tournaments? (Tournament in first season))
---