How realistic is Volleyball in Haikyuu?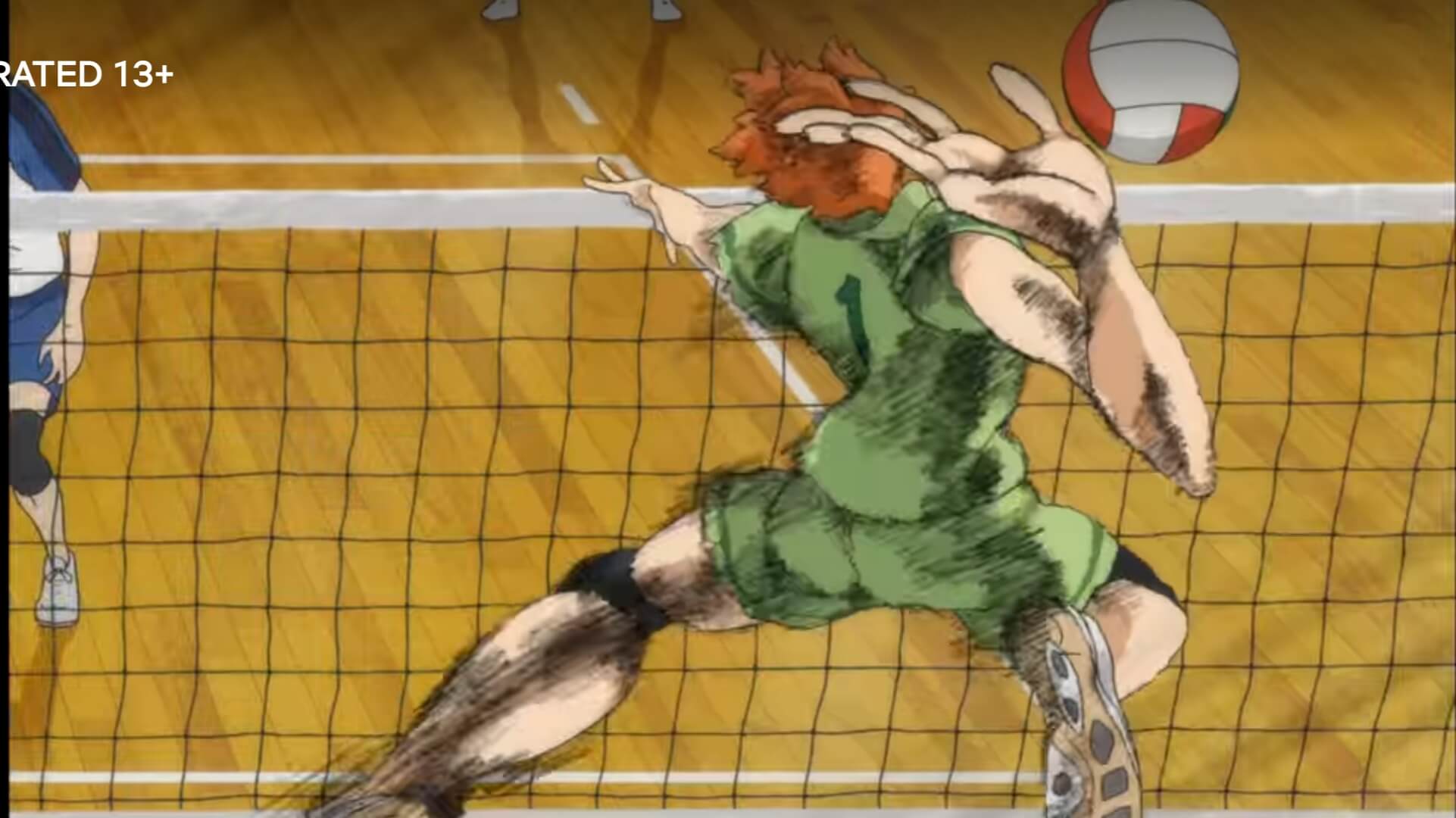 Haikyuu is one of the best sports anime/manga of all time. It has set the benchmark very high for any future sports series. The beauty of Haikyuu lies in its brilliant depiction of Volleyball, staying true to its genre. It has no unnecessary side plots and even the emotional parts of the story are handled with volleyball aspect. But for an average user who isn't familiar with the game will have one question.
How Realistic is volleyball in Haikyuu?

Haikyuu for the most part is right on target and captures the reality of the sport perfectly. There are few things where Furudate takes artistic liberty and exaggerates a bit. And there are few things that are outright wrong. I will explain the things that are right and also the things that are wrong.
---
1. "Opposite" Position by Ushijima

With Ushijima being a top 3 Ace in the High School circuit and a National Under-19 team member, Furudate had a tricky task to make his character convincing to justify the build-up.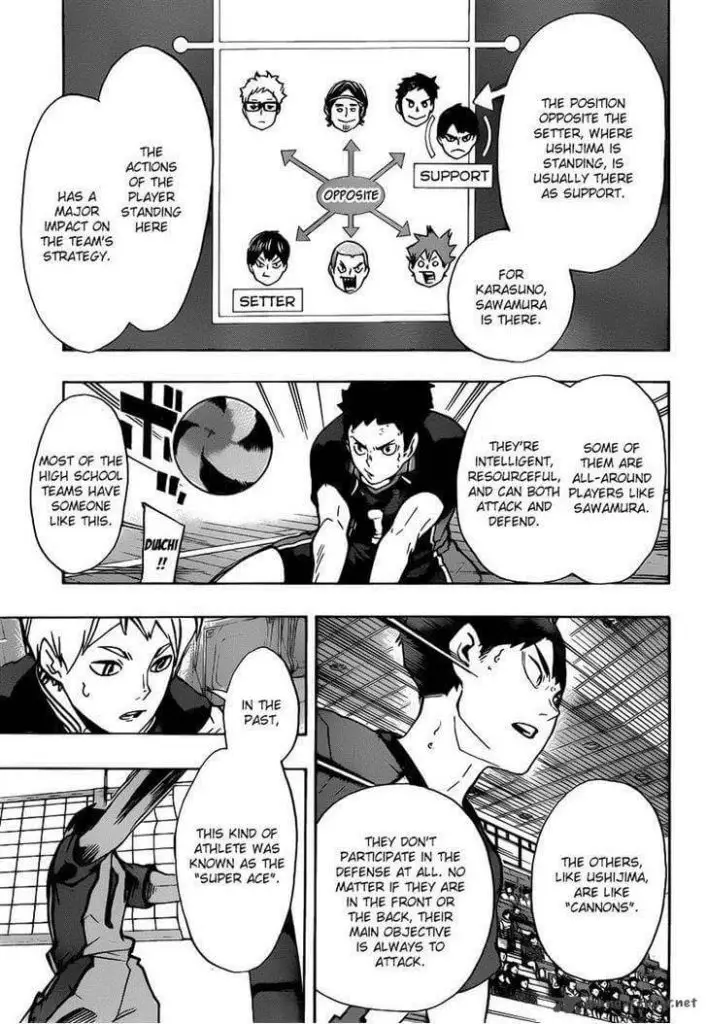 His masterstroke of having Ushijima in "Opposite" role is by itself half succeeds in matching that hype. The role of an Opposite is highly different from a normal Allrounder role (The role Daichi plays) played in the same position.
Opposite have to attack in all Six positions in their rotations which means they have to be jumping from behind the Attack line for 3 Rotations. The role requires immense jump power, great mid-air ability, and most importantly spike power. You don't usually see an Opposite role in High school matches and that itself showcases the enormous difference between Ushijima and the rest of the players in the Prefecture.
---
2. Ushijima's High percentage of Spikes:

Ushijima receives an abnormal number of passes like he is the only spiker available in Shiratorizawa. Ushijima being their Ace certainly plays a part in it but you have to realize that other teams aces like Bokuto, Iwaizumi, Asahi, etc don't receive that many tosses as Ushijima.

There is another simple reason for it. An Opposite has the responsibility of attacking from all six positions and hence when there is a misplaced receive the setter usually tosses them to the Opposite. The toss to an Opposite needn't be perfect and allows a higher margin of error for the setter since an Opposite is expected to be very good in midair.
---
3. Difficulty in face Left-Handed player (South Paw)
In every level of Volleyball from the Junior school level to the International level, left-handed spikers are very difficult to face as an opponent. There are three reasons for it.
As a blocker, both your timing of the jump and the actual position from where you jump for a left-handed spike needs huge mental adjustment.
And the spin of the spike from a Southpaw will be different from normal spikes.
The biggest problem above all is you cannot practice for a left-handed spike since most probably there won't be any left-handed spiker for you to practice with. Hence being a left-hander by itself gives an advantage.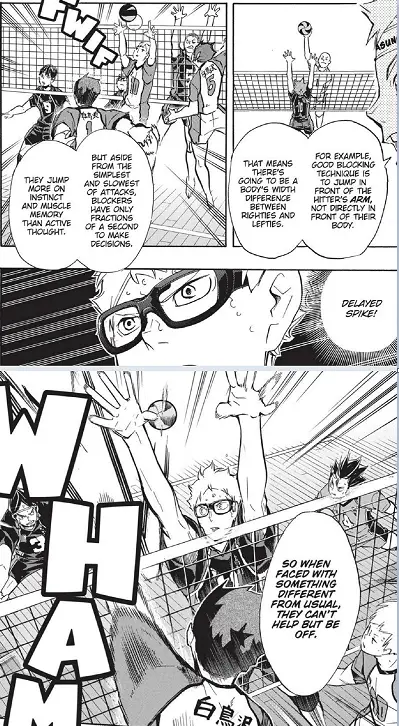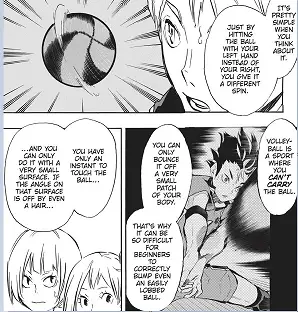 ---
4. Jump Serve frequency and error rate

I have seen people complain that there are too many errors in jump Serves and it interrupts the narrative of the story. But this is really normal even at the international level, it is very common to have a high percentage of service errors.

So even the likes of Oikawa and Ushijima who are the best servers in the Prefecture having so many errors in Jump serves is very realistic and anything otherwise would have been unrealistic.
---
5. Learning curve of Float serves and Jump Serves

Serves are really difficult to learn and even more difficult to execute in a match situation. Spiking a toss with net in front is considerably easy than jump serving from serve line. The height of the toss, the run up towards the serve line, the timing of the jump and the spatial awareness of the net need to be in sync for a successful serve.

Though Asahi who is an ace and has great midair form while spiking doesn't become great at jump serves and remains only a decent server even after practicing two months. I also like how the likes of Hinata, Tsukishima don't even attempt other types of serves since it requires lot of practice and both of them need to get better at their basic strength first before attempting something else.

Yamaguchi started practicing Jump serves before Inter High Prelims. But he only manages to get successful at it after several months in Spring High. Even in Spring High he is far from perfect and makes mistakes frequently.
---
6. Players' Position in Rotation

The series has placed immense care in players' position and rotation. As you may have known the players have to rotate a place whenever opponent serve is broken. For any given moment in any match in the series, Furudate maintains the correct positions of the players.

The final point in Shiratorizawa match shows the best example of it. Nishinoya is out and Hinata is at the right side of the back row covering the cross. Since the three man block is set up to prevent a straight from Ushijima, Kageyama switches places with Hinata in the middle of the point to get the cross. And thus he manages to save the spike from Ushijima.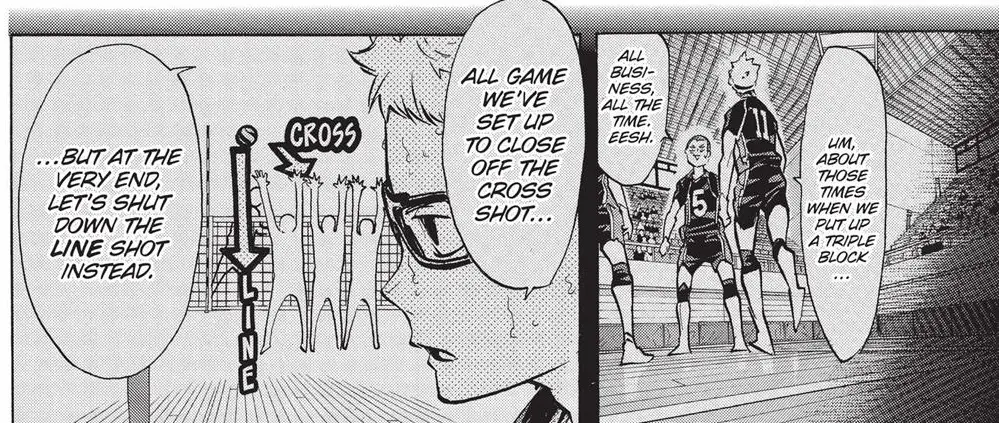 These kind of moments further exemplifies the brilliance of Furudate and his immense care in volleyball details in story telling.
---
7. Blocking by aligning with Spiking Hand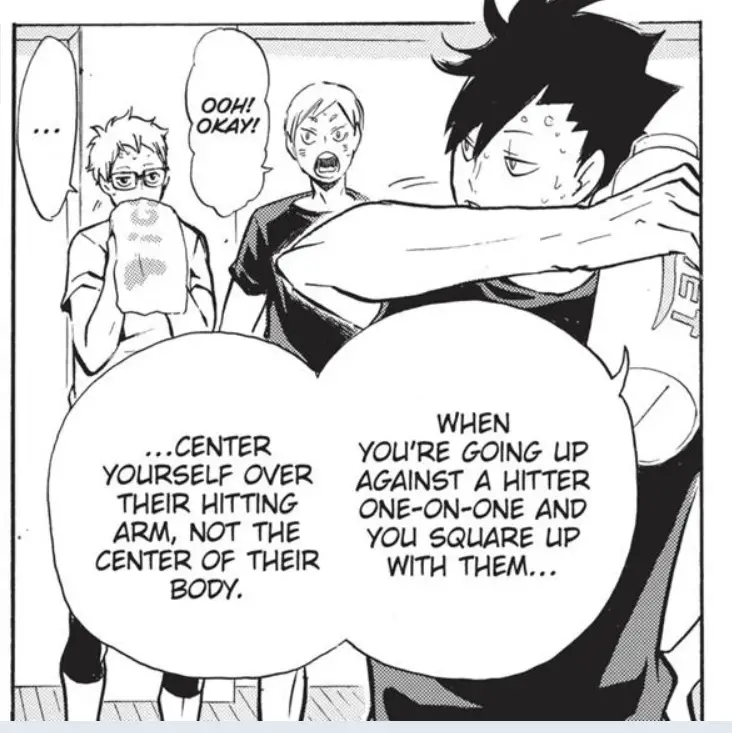 Kuroo teaches Lev to align himself over the spiker's hitting arm rather than their body. Even many of those play volleyball don't realize this and many probably learn to do it just by intuition. These kind of info are difficult to get by research and one must have played the game to get it.
---
8. Straight Spikes
Do you remember who are the spikers that managed to hit "Straight" spikes really well? Ushijima, Bokuto and Goshiki are the only ones who use straight spikes as a powerful weapon. Ushijima and Bokuto are the elites of the nation in school level and Goshiki is the most talented spiker in the prefecture next to Ushijima.


On the other hand Yūdai Hyakuzawa who just began his volleyball can only manage to hit crosses. Karasuno even set up a plan to just cover his crosses and left the straight open.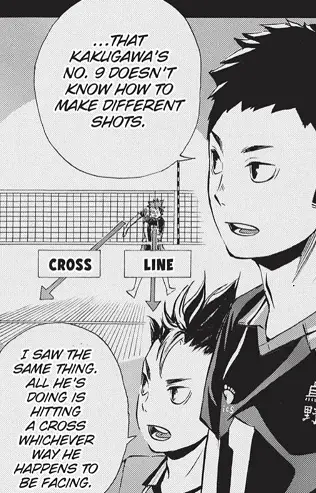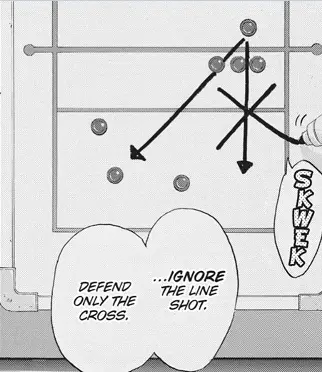 When you start playing Volleyball your natural body position and arm alignment while spiking will be in the cross position. Hitting straight spike is very difficult and also to use it as a weapon requires really high skill. This is also the reason why everyone is shocked of Kageyama's straight spike because it is insanely hard and also shows how talented Kageyama is.
---
9. Overall Emotional Mood
Have you seen anyone who played Volleyball complain about the portrayal of the sport in Haikyuu? Probably No and the single most important reason for that ? You can say it portrays the Volleyball Language perfectly.

Haikyuu manages to capture the emotional mood that goes in a Volleyball team and in a Volleyball player and in a Volleyball setting overall. There are several characters in the series each with different approach to the game and the audience who played volleyball can relate to any one of them. There are several scenes and events that are relatable to a real volleyball player and will make one nostalgic while watching it.

Above things are intangible points and hence very difficult to explain. But I tried to elaborate on them in the following passages.
10. Asahi's feeling of not able to visualize spiking past blockers

Early on in the series, Hinata and Kageyama requests Asahi to come back to the team and Asahi explains his reason to not come back. He reasons that he isn't able to visualize spiking past the opposition anymore.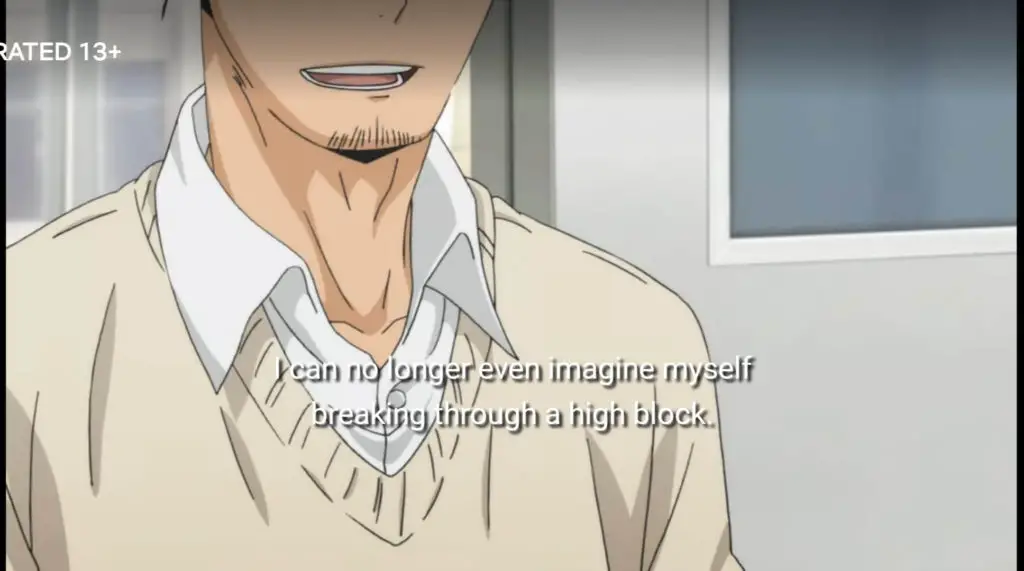 Everyone who has played volleyball as a spiker would have undergone the same feeling atleast once at some point in their volleyball history. Sometimes nothing goes right for you in the match and you get the feeling of not wanting to be in the court itself and it is worse for a spiker since he will have no place to hide in the match.
11. Yamaguchi's perseverance

Yamaguchi is one of the most relatable person in the show.
He goes to practice serves outside of school practice knowing that he is the weakest of the first years. Finally when he managed to score a Ace in a tournament, it hit me personally. Whenever I watch his aces against Aoba Joshai it brings me a great deal of happiness.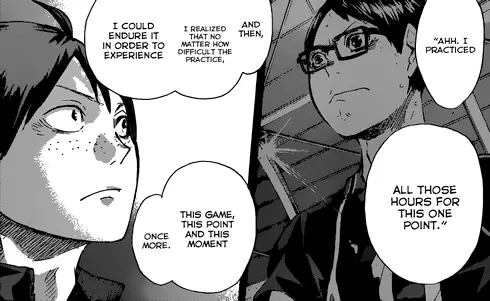 12. Third Years Not Quitting Volleyball

Third years of Karasuno face a dilemma of choosing to continue playing or retiring to concentrate in studies. The teachers ask them to concentrate in studies and secure their future. Despite that they chose to continue playing Volleyball knowing very well that it has no merit in deciding their future.

Usually in many asian countries(not sure about western countries) playing sports is seen as a negative thing by teachers. Most teachers don't support sports and see it just a hobby and a waste of time. They don't understand that not everyone plays for career and many does it just for fun.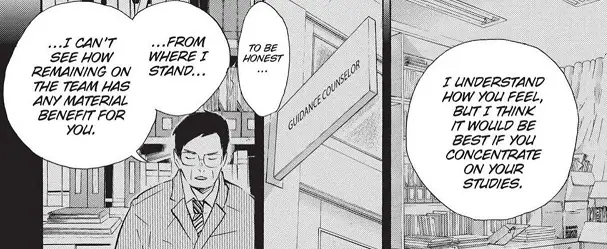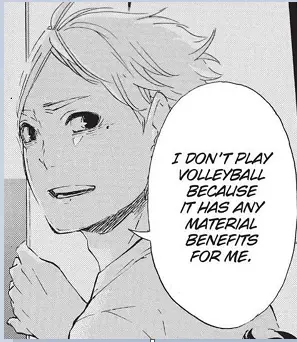 Considering only very few make it to professional level teachers may be right in a way. I usually got the dialogue "whether the game will put food on the table for me in future" from teachers during my school and college days. But personally I never played the sport hoping I will make it to pro level and it is the same for most people around the world. Sugawara puts it perfectly when he said that he doesn't play volleyball for merit.
---
13. Is Karasuno's growth realistic?

One criticism I have heard people say is that Karasuno becomes too good too easily. That isn't really true. Their growth isn't that strange and it is completely realistic.

Even before Kageyama, Hinata and Tsukishima joined the team, Karasuno were a decent team. As Daichi said they aren't a great team but not a bad team either. Nishinoya is the best Libero in the prefecture and Asahi is really good too.

Once Kageyama, Hinata and Tsukishima joined the team, in Interhigh tournament Karasuno managed to beat Date Tech who are one of the powerhouses in the Prefecture and also nearly beat Aoba Joshai who are the second best team at that moment.

After Interhigh tournament they had about two months to prepare for Spring Tournament. As we know they became good enough to beat Shiratorizawa in just two months during Spring High. Let us see how they managed to do that.

Karasuno added the following weapons to their team which made them able to compete against Shiratorizawa
Asahi Jump Serve
Synchronized Attack
Kageyama-Hinata Revamped Quick
Tsukishima improvement in Blocking
Yamaguchi improvement in Serving
Nishinoya as Setter
Asahi Jump Serve

The main requirements for successful jump serves are 1) Good mid air ability, 2) Spike power, 3) Proper runup and 4) Proper serve toss. Asahi easily satisfies all the criteria and infact the real question should be why didn't he start jump serves in his previous years itself. Also note that he never became as good as Kageyama and is still a novice at jump serves.

Synchronized Attack

For a team to use synchronized attack effectively they need 1) Good setter, 2) Good decoys and 3) Decent spikers. Synchronized attack works by fooling the opposite team blockers and defenders and setter plays the main part in it. Karasuno having Kageyama, Hinata as decoy and more than decent spikers, it is no surprise they achieved to do synchronized attack perfectly.

Tsukishima, Yamaguchi, Kageyama and Hinata all took separate training apart from School practice. The team's improvement is pretty obvious considering everyone put that much extra effort. The most important thing is Karasuno team wasn't afraid to include so many new techniques and also all the players put effort in them.
Practice is good but the other team would have also practiced at the same time. So is it realistic for Karasuno to beat Shiratorizawa?
---
14. Is Karasuno's win against Shiratorizawa realistic?

If I have to place a bet on a team between Karasuno and Shiratorizawa at the time of Spring High I would have put my money on Shiratorizawa. Shiratorizawa is without doubt the better team than Karasuno at that time but the thing is Karasuno isn't that far behind from them either.

Having said that, is Karasuno's win unrealistic? The answer is no. Shiratorizawa though having a better team had many flaws and Karasuno had several great things that went right for them on that day.

Team Strategy

The biggest problem for Shiratorizawa is their naive one dimensional tactics. Washijo has a mental trauma from his childhood that made him very stubborn and conservative in his coaching style. His tactics actually in a way chains both Ushijima and the team as a whole from progressing further.

Karasuno was able to setup three blockers consistently against Ushijima from second set and their timing also matched him. Shiratorizawa lacked any other ideas and just hoped that Ushijima will just break them by pure force. It isn't that bad of an approach but you get the feeling that the team kind of went into a mental block with no other clear option.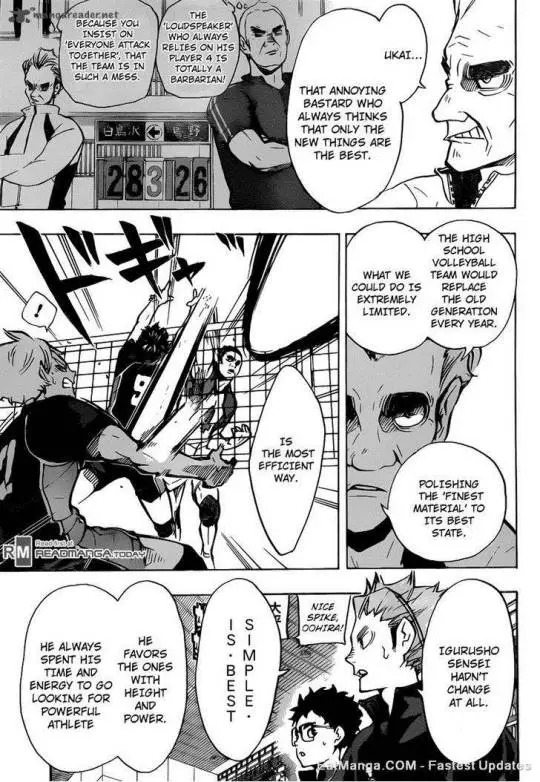 Karasuno on the other hand is one of the most intelligent teams out there. Ukai is a very proactive coach and their approach to add so many techniques before the tournament in the end helped them. Shiratorizawa has an outdated approach while Karasuno takes a modern approach.

If Ushijima played for Karasuno he mightn't have scored that many points. But he would have become more versatile and an even better player. Ushijima is head and shoulders above every single player we have seen so far and it is a pity that Shiratorizawa kind of restricts him.

Having said that, still Karasuno beating Shiratorizawa is an upset and Karasuno is without doubt were the underdogs. As in any sport, the team that plays better on a given day can be a winner regardless of their reputation.
---
There are several other things that I want to explain here but the article will never end. So let us go to the part of unrealistic portrayals
Everything wrong with Haikyuu

There are few things which Furudate took liberty in exaggerating more than reality. But there are certain things which aren't necessarily wrong but audience might have got false conception about them. I will explain about them in the following passages.
---
1. Learning to Spike looked easy

The show is about Hinata and majority of the things about volleyball you will learn as an audience will be from his point of view. We get to see that his receives, blocks and serves are very poor. It sets a basic threshold for those skills as how poor an amateur can be.
Hence when we see Daichi's and Nishinoya's receives we realize how much better they are and how much practice they must have put to reach that level. Same goes for Kageyama's and Oikawa's jump serves and Yamaguchi's floats. And as for blocks even Tsukishima is schooled by Kuroo, and Aone is terrifying in blocks. With these we are able to gauge the learning curve of these skills.

Spikes on other hand isn't delved deeply in this way and the basic reason is Furudate decided to make Hinata good at spiking from get go. From the show it is easy to interpret that either with good jump (Like Hinata) or with good height (Like Lev or Hyakuzawa) one can start spiking the ball easily as soon as you start volleyball. It cannot be far from the truth.

Spiking requires a good run up, good jump and good arm swing and also all these need to be in synchronization. The timing of the jump should match with the toss and it takes great amount of practice to make it a habit. Also the arm and wrist position and the point of contact of the ball all need to be great to have a successful spike. But Hinata manages to spike really well even from his middle school time and he didn't even practice that much infront of a net (Though it could have been offscreened).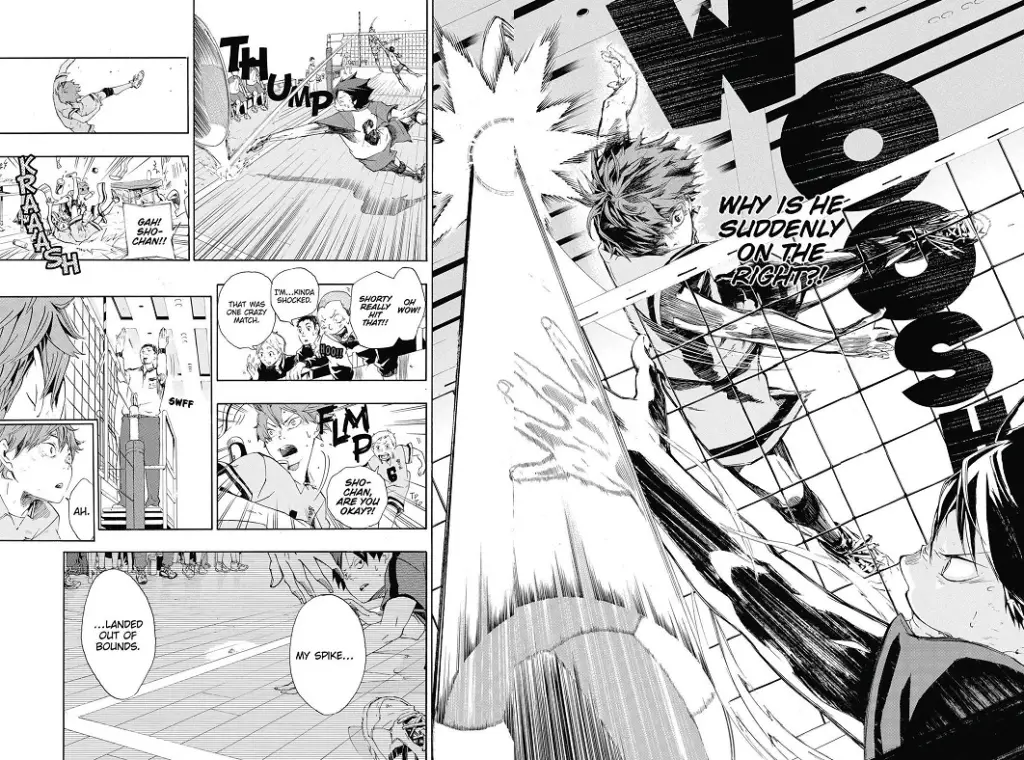 Anyone who has played volleyball know how hard spiking a ball is initially. Though to be fair to the show they neglected only the initial learning part and the learning curve of the advanced skills are portrayed pretty well.
---
2. Everyone Jumps too High

Hinata reaches 333cm which is insanely high but let us assume that Hinata is a prodigy and it is realistic for him to jump that high.

But everyone else seems to have a vertical reach of more than 300cms which is unrealistic for High schoolers of 15-18 years old. You could argue that they are the best players in school level and it is natural for them to have more than average vertical. The problem is even players from lowly rated schools jump really high.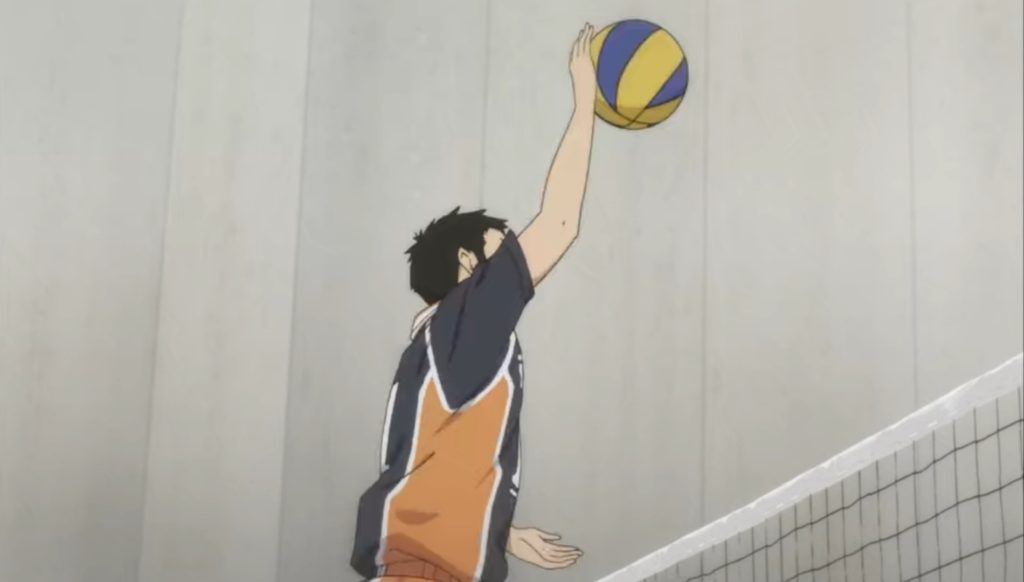 Also the anime seem to have taken it to next level as you can see in the above panel. Daichi is half a meter above the net and is probably reaching a spike reach of International level players.
---
3. Hinata – Kageyama Quick With eyes closed.
This is probably known to all as unrealistic. Even in Haikyuu universe noone believes their eyes when they see it. And only Kageyama and Hinata are capable of using it.

Even if someone has the accuracy of Kageyama and jumping and reflex ability of Hinata they still cannot do it. As I said earlier spiking involves lot of things than just jumping and it is 100% impossible to spike with your eyes closed.
---
4. Real Life Volleyball is Quicker.

This is also something that probably everyone knows. Volleyball is a very fast sport and there is very little time to think between the points. The show had to pause between the points to let audience know what the players are thinking. This isn't a big problem but I just wanted to point it out.
---
All the above things are made for the show to be more entertaining to people that are unfamiliar with the sport and I don't have any problem with any of the above. But there is one genuine criticism of the series for me and that is
5. Runup for Spikes

This problem only exists in Anime since they exaggerated the runups to the point it looks like a 100m sprint rather than a volleyball spike.

The court is only 9 meters in both width and length. Usually the wing spikers take about 4-5 meters for runup and the middle blockers take even less as they usually don't have that much time to react. Unfortunately the anime made them look like running for many meters.

This becomes worse in synchronized attacks and Hinata's slide attacks.

If you can see in real-life attacks they take very few steps but the anime overly exaggerated them to the point Synchronized attack was slightly annoying for me to see. This problem exists only in anime.

Also Hinata changes his direction midway of a rally which is impossible no matter how reflexive you are. Also the blockers are seen running which is also not possible in real life. Blockers have the least amount of time to take decisions and they don't have the luxury of doing normal sprinting in middle of a point.
---
---
Final Thoughts

All the above are based on my personal experiences playing and watching the game and I tried to list the things as best as I could. To summarize I think the series did a really fantastic job of portraying the game to an audience that won't have volleyball knowledge.
---