Top 25 Haikyuu Best Moments in Anime.


Haikyuu is one of the best sports TV series of all time. Staying true to its sports genre, it focuses primarily on Volleyball game in its narrative. It is one of the most heartwarming feel good anime you will ever see.

While having no real villain or enemy, the story is purely driven by the game and the characters. All the characters are likable and the volleyball moments are made as accurate as possible. With nearly 70 episodes and so many great sporting actions and emotional moments, it is difficult to breakdown the Haikyuu best moments to just 25.

Definition of term "Best" is highly subjective. But I followed a simple rule that the said moment should have had the highest emotional impact for me personally. It could be happiness, sadness, comedy or any emotion but should have had an memorable impact.

Unsurprisingly you will end up disagreeing with most of my options in the rankings of Haikyuu Best Moments.
Feel free to comment the moment which you felt should have made it to the list.


Here are the top 25 Haikyuu Best Moments from ranked from good to best.
---
25. Yamaguchi's serves against Shiratorizawa.
Episode – Season 3 Episode 8
Premise – Yamaguchi after getting subbed in as a pinch server for Hinata, manages to secure three points including an ace against Shiratorizawa.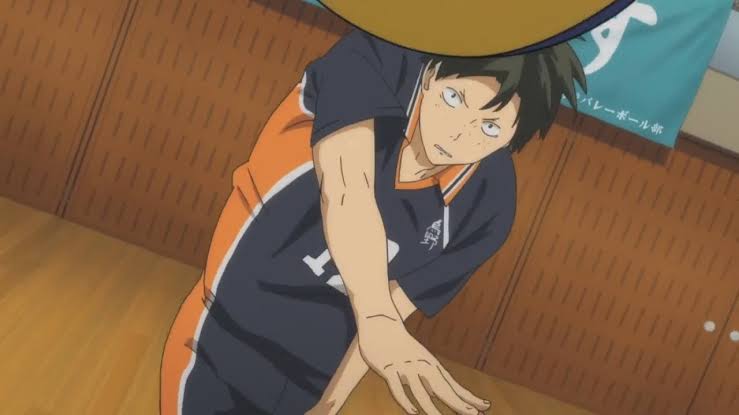 ---
24. Mad Dog's Cross Shot.
Episode – Season 2 Episode 21
Premise – Against Karasuno, Kyōtani approaches the net from outside the boundary lines and he attempts to spike a sharp cross shot. He dodges three blockers Kageyama, Hinata and Tanaka with no problem at all.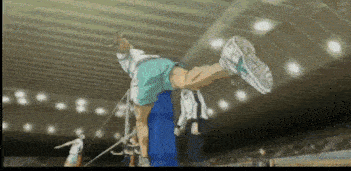 ---
23. Underarm Serve against Karasuno in Nationals.
Episode – Season 4 Episode 10
Premise – In Nationals, Himekawa from Tsubakihara serves a high ball into the stadium by underarm. It results in difficulty in adjusting the perception of the ball path and thus securing a service ace. He manages to get another service ace but Nishinoya safely receives the third serve.
---
22. Kageyama and Hinata meets Ushijima.
Episode – Season 2 Episode 1
Premise – Hinata and Kageyama get lost in a run and meets Ushijima. After Ushijima claims that the only good player from Aobajohsai High is Oikawa, Hinata challenges him.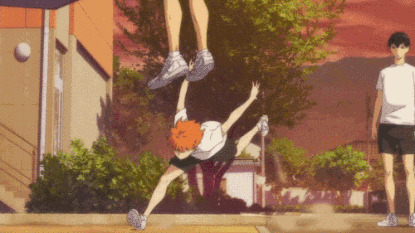 ---
21. Kageyama invited to Japan Youth training camp.
Episode – Season 3 Episode 10
Premise – After his impressive showings in Spring Prelims, Kageyama gets invited to Japan's Youth Intensive training camp.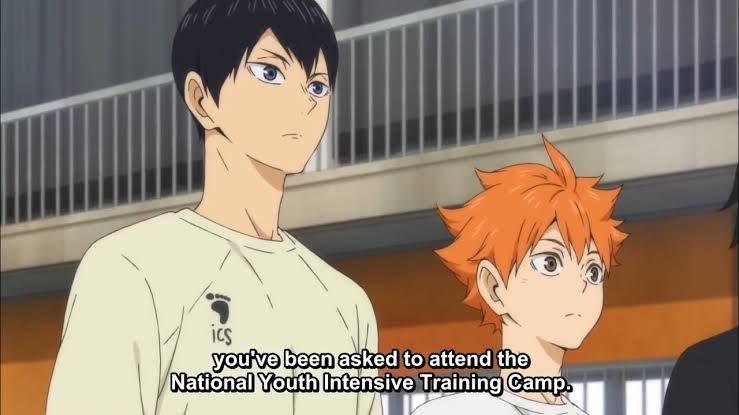 ---
20. Kageyama fights with Hinata
Episode – Season 2 Episode 5
Premise – Kageyma and Hinata get into disagreement over their quick where Hinata closes his eyes. Hinata wants to see the ball whereas Kageyama doesn't want to change anything that late before tournament. Disagreement turns into physical brawl only to be separated by Tanaka.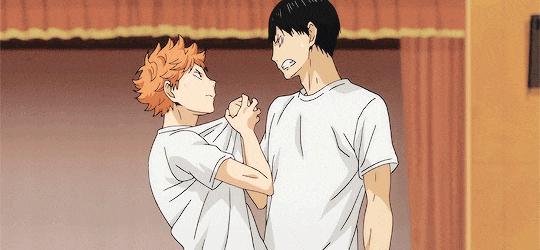 ---
19. Hinata acts as Decoy for Asahi against Date Tech.
Episode – Season 1 Episode 17
Premise – In the match against Date Tech, Aone anticipating a Hinata's spike goes into blocking early. But the set is actually towards Asahi in back court and Hinata is just a decoy and Asahi spikes it without blockers.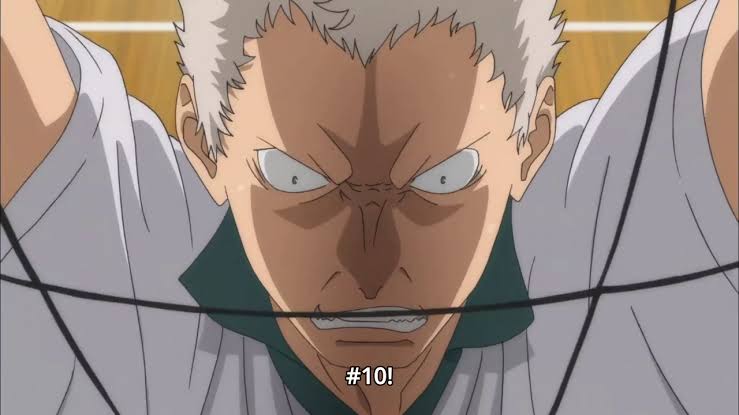 ---
18. Oikawa's flashback – Almost attacks Kageyama
Episode – Season 1 Episode 22
Premise – Oikawa during the match against Karasuno remembers his past with Kageyama in middle school. With fear that Kageyama will replace him in future, Oikawa trains harder almost in panic. When Kageyama asks him to teach jump serves, he becomes angry and is about to hit him only to be stopped by Iwaizumi.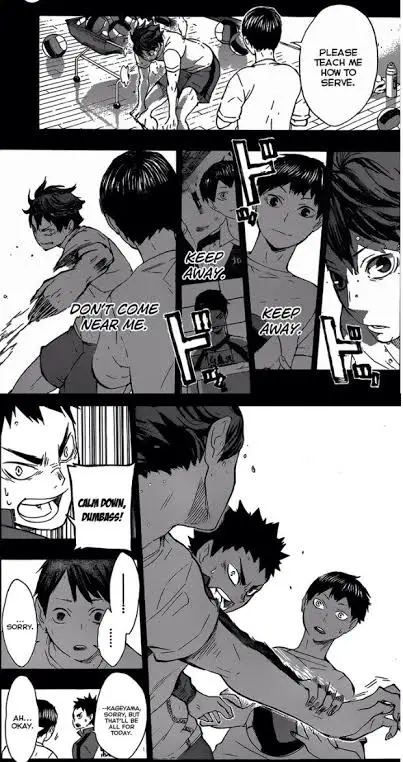 ---
17. Hinata wants to do everything.
Episode – Season 4 Episode 2
Premise – After becoming a ball boy and seeing others grow above him, Hinata gets frustrated. He squishes himself between several mats and asks himself what he is doing. He then desires to learn everything in Volleyball.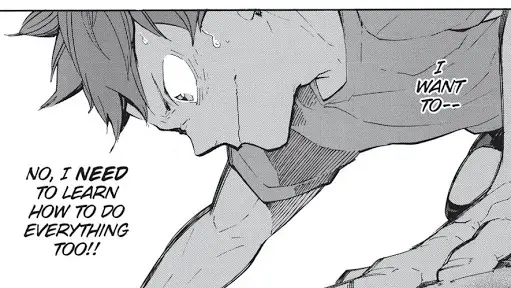 ---
16. Kageyama and Hinata Super Quick.
Episode – Season 1 Episode 4
Premise – During the regular first year introductory match, Kageyama asks Hinata to jump as high as possible and swing his arms. Hinata literally does it without even seeing the ball but successfully spikes it. It later becomes their iconic move.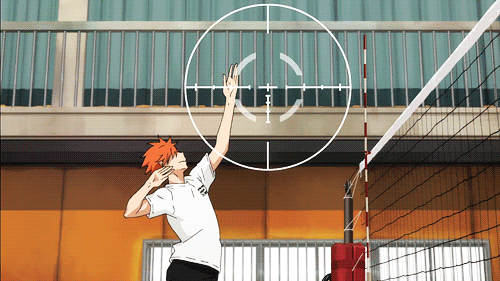 ---
15. Miya's Service Ace against Karasuno
Episode – Season 4 Episode 13
Premise – In Nationals second round, Karasuno faces Inarizaki High school. After doing his signature stance of clenching his fist to make audience silent, Miya Atsumu serves a powerful ace with his jump serve.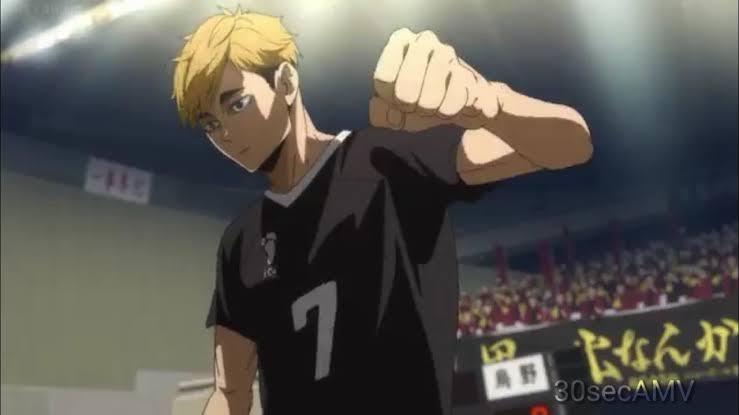 ---
14. Kageyama subbed out against Aoba Joshai in Interhigh Prelims.
Episode – Season 1 Episode 20
Premise – In Interhigh Prelims, Overhelmed by Oikawa and with Karasuno losing points, Kageyama loses focus and increases the pace of his tosses. Seeing his usual composure off, Ukai subs him out for Sugawara.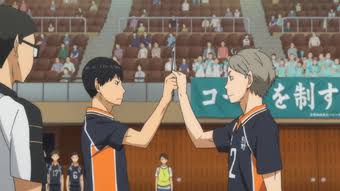 ---
---
13. Hinata's Half Block/ Half Dig against Ushijima
Episode – Season 3 Episode 8
Premise – Hinata manages to stop Ushijima serve with a block. Since Ukai asked him to do a soft block, Hinata times his run late which causes him to block the ball halfway inside his court making it look like a dig.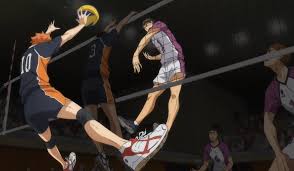 ---
12. Oikawa and Iwaizumi speaks after the losing match .
Episode – OVA
Premise – After losing the semis against Karasuno, Iwaizumi and Oikawa takes a walk to their home. They realize that the concluded match is their last match as they will be separated with different paths. Iwaizumi assures that he will always be proud of Oikawa no matter where he goes.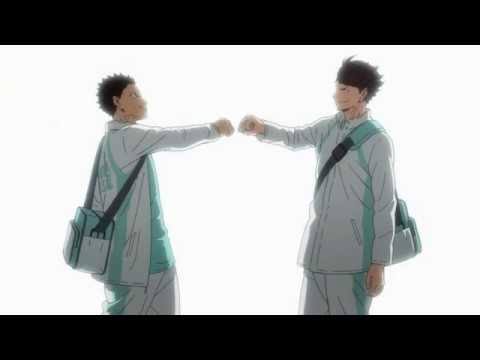 ---
11. Kageyama's and Hinata's revamped quick.
Episode – Season 2 Episode 10
Premise – Both Kageyama and Hinata goes separate training to polish their skills in quick attack. During the practice match against Fukurodani, they attempt the new set successfully much to everyone's delight.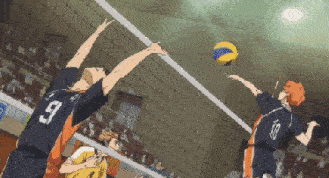 ---
10. Tsukishima's backstory with his Brother.
Episode – Season 2 Episode 8
Premise – As everyone in the team is pushing hard, Kei Tsukishima remembers his brother who did the same only to regret and doesn't want to train hard. Despite practising very hard, his brother failed to become a regular player for Karasuno due to the number of more talented players on the team.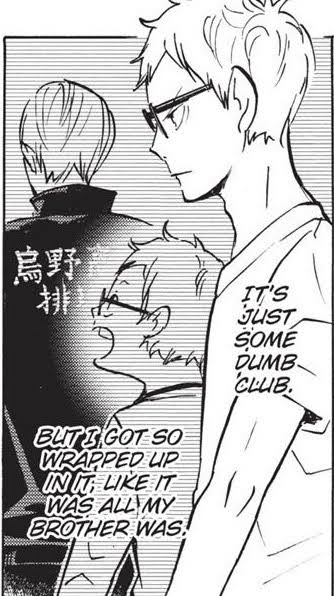 ---
9. Asahi returns to join the team.
Episode – Season 1 Episode 9
Premise – After getting blocked by Date Tech and feeling responsible for their loss against them, Asahi decided to quit. But his heart still longs for volleyball and he decides to join them again with new found strength and mindset.
---
8. Karasuno's Total Defense against Shiratorizawa
Episode – Season 3 Episode 3
Premise – Karasuno plans to stop Ushijima spikes with Total Defense. Three blockers will jump to prevent cross hits from Ushijima and make him hit straight to Nishinoya, the Super Libero who gets adjusted to his spikes.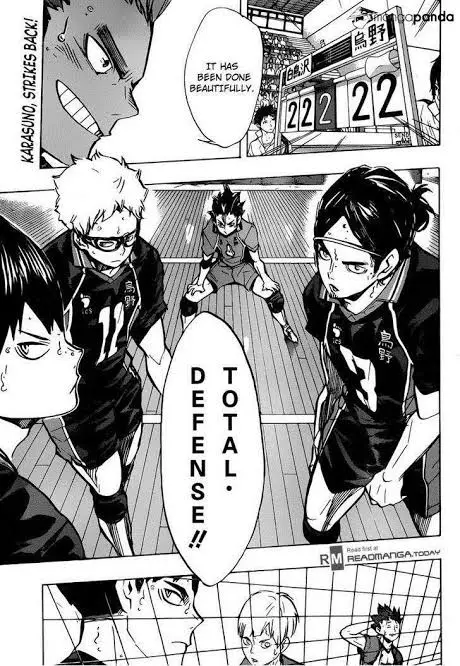 ---
7. Final point against Date Tech
Episode – Season 1 Episode 18
Premise – In Karasuno's match point against Date Tech, Asahi gets blocked. But Nishinoya saves it using his feet. Then Kageyama again tosses it to Asahi who scores the final point after block out.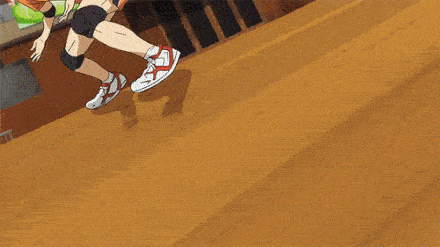 ---
6. Final point versus Aoba Joshai in Interhigh Prelims.
Episode – Season 1 Episode 24
Premise – In Aoba Joshai's match point, Kageyama tosses his strong freak quick with Hinata. But Oikawa predicts it and a three man block is set and Hinata gets blocked by them leaving Aoba Joshai victorious.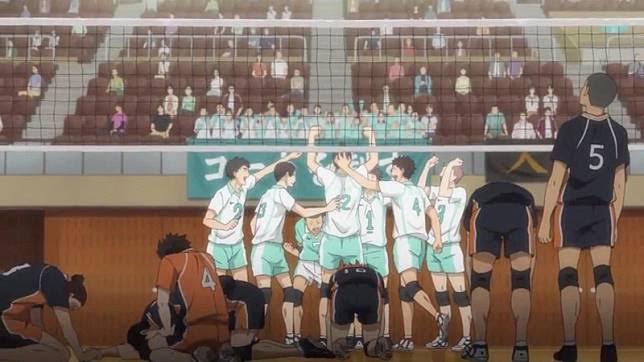 ---
5. Nishinoya's Double Save against Shiratorizawa
Episode – Season 3 Episode 9
Premise – Shirabu's serves hits the top of the net and begins to fall to the front. Daichi sees the ball falling right before him but is unable to move his legs. But Nishinoya dives forward and receives. The ball goes directly to the net and Goshiki does a direct spike. But from his position from saving the last ball, Nishinoya is able to receive once more to everyone's surprise.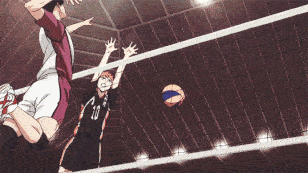 ---
4. Yamaguchi's Aces against Aoba Joshai.
Episode – Season 2 Episode 22
Premise – Yamaguchi gets subbed in as a pinch server against Aoba Joshai. His first serve goes directly to the back end and Watari misjudges it to be going out. But the ball suddenly drops and lands in to give his first ace. His next serve goes directly to Kyōtani who prepares to receive only for the ball to change its course hitting him in the face and goes out securing second ace. His practice in last six months pays off.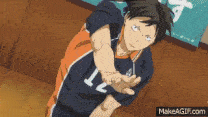 ---
3. Match point versus Aoba Joshai in Spring Tournament.
Episode – Season 2 Episode 24
Premise – Karasuno and Aoba Joshai faces off in the semis of Spring Prelims. At Karasuno's match point, both teams engages in a long rally. Finally Karasuno manages to secure the winning point by Kageyama's quick with Hinata.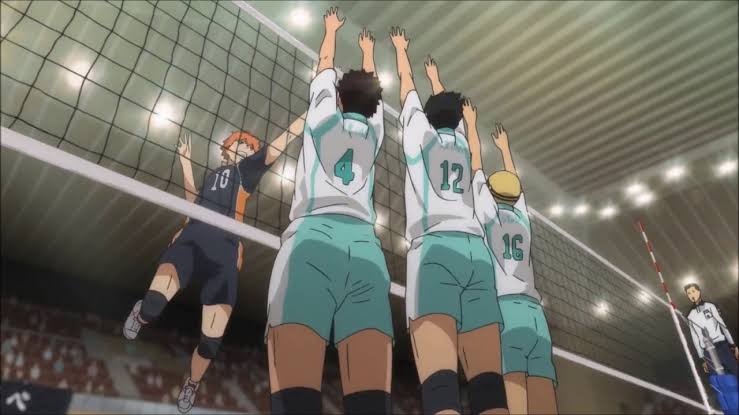 ---
2. Match point against Shiratorizawa
Episode – Season 3 Episode 10
Premise – Karasuno reaches the fifth set against Shiratorizawa in the finals. With Nishinoya out, Karasuno completed the three man block blocking the path to straight. After making desperate saves, Karasuno finally manages to secure the match point through Hinata's spike.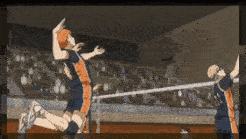 ---
1. Kei Tsukishima's Block against Ushijima
Episode – Season 3 Episode 4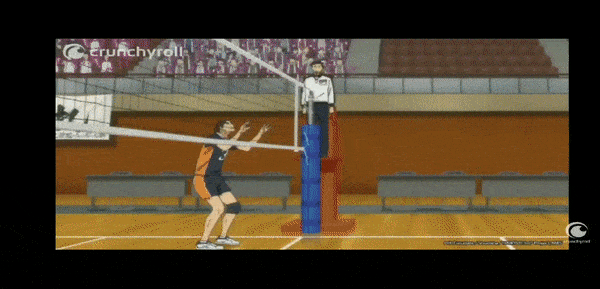 Premise – Kei Tsukishima continuously one touches all the spikes of Shiratorizawa irritating Shirabu. Finally due to pressue, Shirabu sets a slightly off ball to Ushijima on Karasuno's set point. Tsukishima blocks the spike from Ushijima giving Karasuno the set. Kei celebrates enthusiastically, finally starting to enjoy volleyball.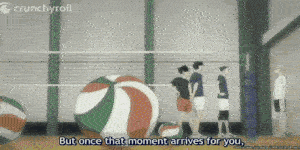 Final thoughts
There are tons of other moments that may have made the list. But since there are only 25 places, only the above can make the list of top 25 Haikyuu best moments. Do leave your Best moments below in the comments.
---